Last Updated on September 12, 2023 by Verna Meachum
Curly hair is easiest to style after washing, but you can't always manage to wash it in the morning when getting ready for the day. This can become a struggle and leave your hair in a mess. But I am here with tips on refreshing your curly hair in the morning without rewashing.
Refresh your curls in the morning without rewashing by shaking out your curls, dipping your hair upside down in a bowl of water, spritzing your hair with water, using conditioning or curl refreshing spray, using drying shampoo, applying gel or mousse, scrunching your curls, finger twirling, and more.
When I started my curly hair journey, figuring out how to get my curls right in the morning was challenging; I had no idea where to start. But with some research and much trial and error, I found easy and effortless methods. And I share them all with you in this post.
Refresh Curly Hair in the Morning without Rewashing: 13 Ways
These are the 13 best techniques to get your curls looking fresh, defined, and bouncy after a night's sleep and without rewashing them:
1. Preserve Your Curls While Sleeping
Preserving your curly hair at night is one of the best ways to make it as easy as possible to have fresh curls in the morning without rewashing. There are multiple ways to do this, and you can visit this post to read more.
In a nutshell, you want to use overnight curling methods and invest in quality accessories for curly hair to ensure you don't cause friction, frizz, flattening, tangling, and loss of curl pattern during the night while you sleep.
2. Shake Out Your Curls
Even if you took all the steps to protect your hair while sleeping at night, your hair may still have slightly flattened. The easiest and quickest solution to add volume to your hair is to shake out your curls.
You can simply run your fingers beneath your hair and gently jiggle it from the roots. This will lift your curls and give them back their bounce. Sometimes, that's all your hair needs, and sometimes, it requires a little more effort, which we discuss in the following points.
Watch the tutorial below on how I shake out my curls.
3. Dip Your Hair in a Bowl of Water
If you don't want to get in the shower and do a full wash but don't mind if your hair needs to get wet again, use the dip method. This is a very simple technique where you either fill up your clean sink or a separate bowl with water, and if you prefer, you can add some conditioner or leave-in conditioner.
Then, you turn your hair upside down and dip it into the water; you can scrunch each time you lift it. Use a microfiber towel to dab it dry, and follow your regular styling routine. You can dry it with a diffuser or leave it to air dry.
Watch the tutorial below that shows you how to use the bowl method.
4. Spray Your Hair with Water
Similarly to the dip method, spraying your hair will help make it wet without washing it. All you need is a clean spray bottle filled with water. Spray your hair in sections and add your styling product as usual.
Some curlies like to add a little conditioner or oil to the spray water. This helps with tangles that may have occurred while sleeping and reduces frizz while hydrating your hair. You can also use a Denman brush to work through the sections as you spray. 
5. Use a Conditioning Solution Spray
A conditioning solution spray could be similar to the water mixed with the conditioner mentioned in the previous point. But you get sprays explicitly formulated for hydration and, even better, for curls. Whether it's leave-in conditioner you buy or mix at home, it will bring your hair back to life.
Some sprays can be used on wet or dry hair, while others are formulated only for wet hair. But they will restore lost hydration and work on defining your curls so you can be ready to tackle the day confidently. Wet your hair slightly if needed before using a conditioning spray.
6. Use Curl Refresher Spray
What better way to refresh your curly hair in the morning without washing it than using a refresher spray to bring life back to your curls? These sprays can be used lightly around the roots and lower strands to restore hydration and redefine your curl pattern.
Curl refresher sprays can be used on dry hair, but always read the label to ensure you use it properly. Curl refresher sprays are excellent if you find your roots flattened after sleeping or your curls lose due to friction or moisture loss at night.
7. Detangle Your Strands
A big reason curls require attention in the morning is because of tangles during the night. But the issue with curly hair is that once you brush or comb your tangles out of dry hair, you look like you touched an electric fence or have no idea how to style your hair.
Detangling your curls is possible without rewashing in the morning. All you need to do is spray your hair slightly with a detangling spray or any conditioning spray (as mentioned in previous points) and gently remove the tangles with a Denman brush, curly hairbrush, or a wide-tooth comb.
Once you do that, your hair will almost automatically return to normal. Sometimes, you may need to scrunch it a little to add definition and bounce. You can style as usual using your preferred styling products like gel, mousse, or styling cream.
8. Use Dry Shampoo
When your hair is too oily or has build-up, it is more likely to lose shape, wear itself down, and get flat during sleep and rest. But maybe you just don't have the time to wash it in the morning. That's where dry shampoo comes in. Dry shampoo will absorb oily residue and refresh your hair.
It's best to follow the instructions on the can, but spraying it around your roots and then shaking your hair with your fingers is the general process. This is helpful between wash days when your hair looks lifeless and you just need to refresh it before styling in the morning.
9. Apply Gel or Mousse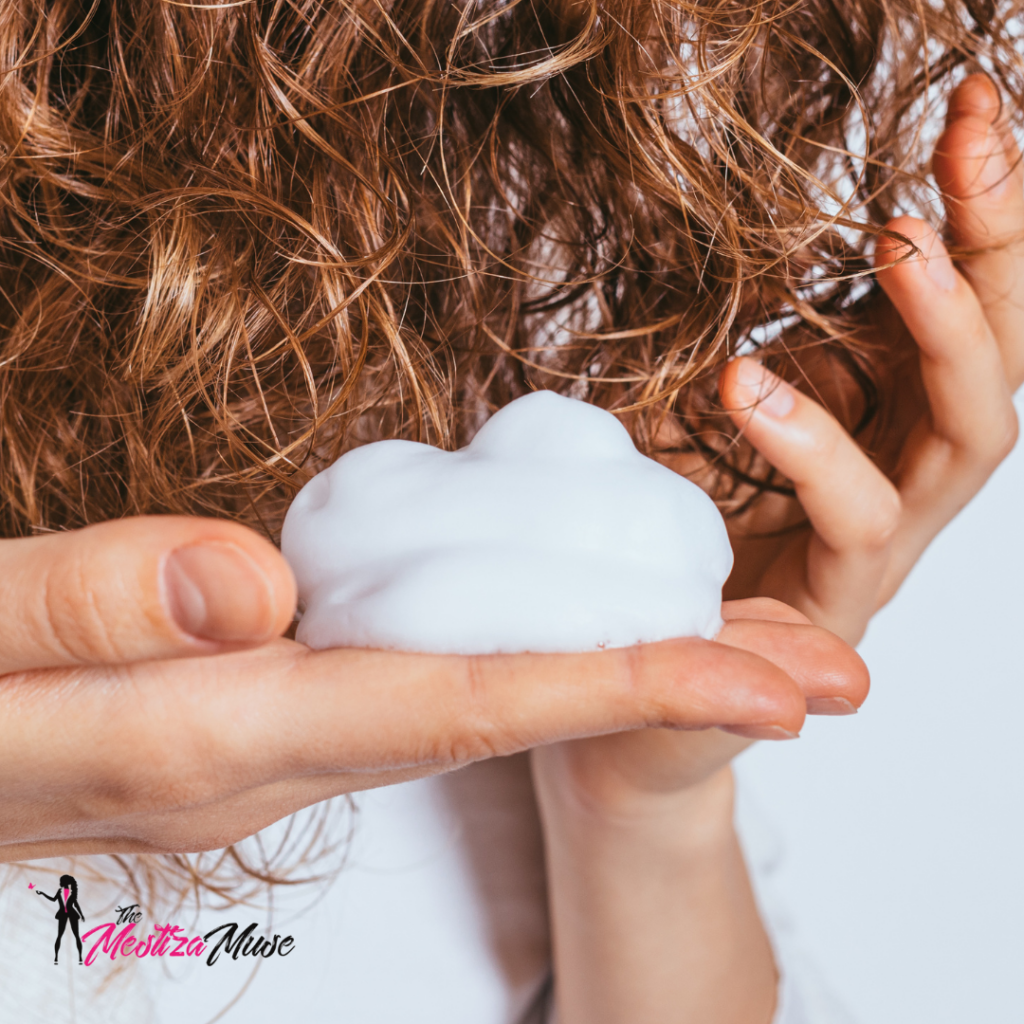 When your curls are not cooperating or need help to gain some definition in the morning, you can use a styling product to hold them in place. Gels and mousses are excellent options to achieve this and can be applied to dry or wet hair but work best on slightly damp hair.
You don't need a wash, but you can spray your hair with water, apply the product, and style your hair as you prefer. It will give your curls the oomph they need and create definition in your pattern while ensuring you have a good hair day all day.
10.Apply Curl Cream
Most curlies use curl cream after a day. But if you need to refresh your curls in the morning without washing them, you can apply curl cream after making your hair a little damp. You can also use the dip method and then apply your curl cream.
Curl cream is formulated to provide hydration and definition to your curls. Even if your hair is not extremely curly, curl cream can add depth and improve your pattern. It will also provide bounce and allow your hair to appear as if you had freshly washed and styled it.
11.Use a Pick on Your Roots
Sometimes, the best solution is to return to the traditional and time-honored methods. Picking your hair is a fantastic way to bring back life to your hair if it is flattened at the roots while sleeping. This is common amongst curlies, and there are many solutions to bring back volume to your roots.
When you pick your roots, avoiding the top layers of the hair is best, or you could lose the smoothness. But gently picking your roots closest to your scalp will bring back volume, and your hair won't look like you've just slept for 6-8 hours.
Watch the tutorial below that shows you how to pick your roots.
12.Use the Finger Curling Method
Most curlies, especially those with ringlets, are familiar with finger curling. This is excellent if you want to avoid creating too much friction or ruffling your strands with brushing and combing. It only requires a little conditioning spray or cream and your fingers.
You can take your hair in small sections and twirl it around your finger, then gently release it. Once all your hair is done, apply hair spray, and you are done. This technique helps you refresh those coils after a night's sleep messed with your hair, but you don't want to rewash it.
Watch the tutorial below that shows you how to finger coil your curls.
13.Scrunch Your Curls
This is probably the easiest, quickest, and most curlies' favorite method. It truly refreshes your curly hair in the morning and requires no washing. You can use the dip method or spray bottle to wet your hair. Then, apply a product in conjunction to do the job.
A conditioner spray, curl cream, or leave-in conditioner are all great options. You can brush the product through sections or run your finger through your hair. Then, scrunch your hair in different sections to get it into place. Use hair spray or mousse to set it and keep it in place.
Conclusion
Caring for and styling curly hair always seems daunting until you find the correct, easy, and simplistic methods. The above techniques are all helpful and take little time. Now, you can always refresh your curly hair in the morning without rewashing it and enjoy great hair days every day!