Fact Checked and Reviewed By
Leonela Carabajal Paladino
Leo possesses more than 17 years of valuable experience as a researcher and lecturer within the fields of Biology and Genetics. Holding a PhD in Biology from the University of Buenos Aires, Argentina...
Last Updated on November 16, 2023 by Leonela Carabajal Paladino
In the hair care world, the term hair types have been floating around for years.1,2,3 Type 2C hair is one of those types which seems complex to understand. But knowing and learning your hair's needs can help you maintain its health. That's why I have created this optimal guide for type 2C hair.
Type 2C is a subcategory of type 2 in the hair typing system and the rarest. It is considered wavy, but its pattern is more pronounced than other wavy types and less defined than curly types 3 and 4. 2C hair has S-shaped spirals from root to ends. The texture of this hair type is often frizzy and dry.2
Understanding your curl type can be an excellent blueprint to determine the correct hair care routine because not all hair types require equal care.
This post will cover what to expect from type 2C hair, how to tell it apart from other hair types and suggest the right products and hair care routines to help you embrace and enhance your natural c waves.
Understanding Type 2C Hair
Before learning about 2C hair, you must understand the different hair types, their purpose, and why each is so unique.
Check out the complete guide to the type 2 wavy hair in my blog called, "The Ultimate Guide for Wavy Curly Hair: 2A, 2B, and 2C." And, you can find the comprehensive guide to different curly hair types in my other blog titled "Curly Hair Types: The Definitive Guide."
Now, what is type 2C hair? You may think you have straight hair, but if you pay attention, you'll notice your hair develops a natural wave after showering or in humid conditions. This wave falls under the type 2 C category. Wavy hair is not entirely straight, and neither is it completely curly.2
The shape and texture of each follicle determine the curly hair type.4 A hair typing system or chart is generally used to assess a curl pattern. Although looking at a chart can be a reference point, curls have more to them than just shape, and some people have various textures.1,2,3
If you want to better understand and discover if you have 2C hair, look out for these characteristics:
Type 2C hair is mostly voluminous with thick and well-defined "S" waves, giving it a curlier look within the type 2 hair category.
Has a spring factor of approximately 2 to 4 inches when stretched.
It is prone to frizz, and the ends may be dry.
Has a wave-curl pattern that falls vertically.
Ranges from fine to thick.
To better understand what type 2C hair looks like, check out the following type 2C hair photos below. Also, be sure to check out my blog on low-manipulation hairstyles for 2C hair.
How to Care for Type 2C Hair
Wavy and curly hair is often more fragile than straight hair due to the shape of the hair fibers.1 They naturally tend to lean more towards dryness5 because the natural oils cannot travel down the hair shaft as quickly. This type is also more prone to frizz, tangles, and breakage.2
While this hair type naturally looks fuller and more voluminous, owing to that luscious curl pattern, it can hold damage and be difficult to manage because of the excessive dryness, frizz, and tangles.6 But there are techniques to implement that will improve your hair texture and create ease.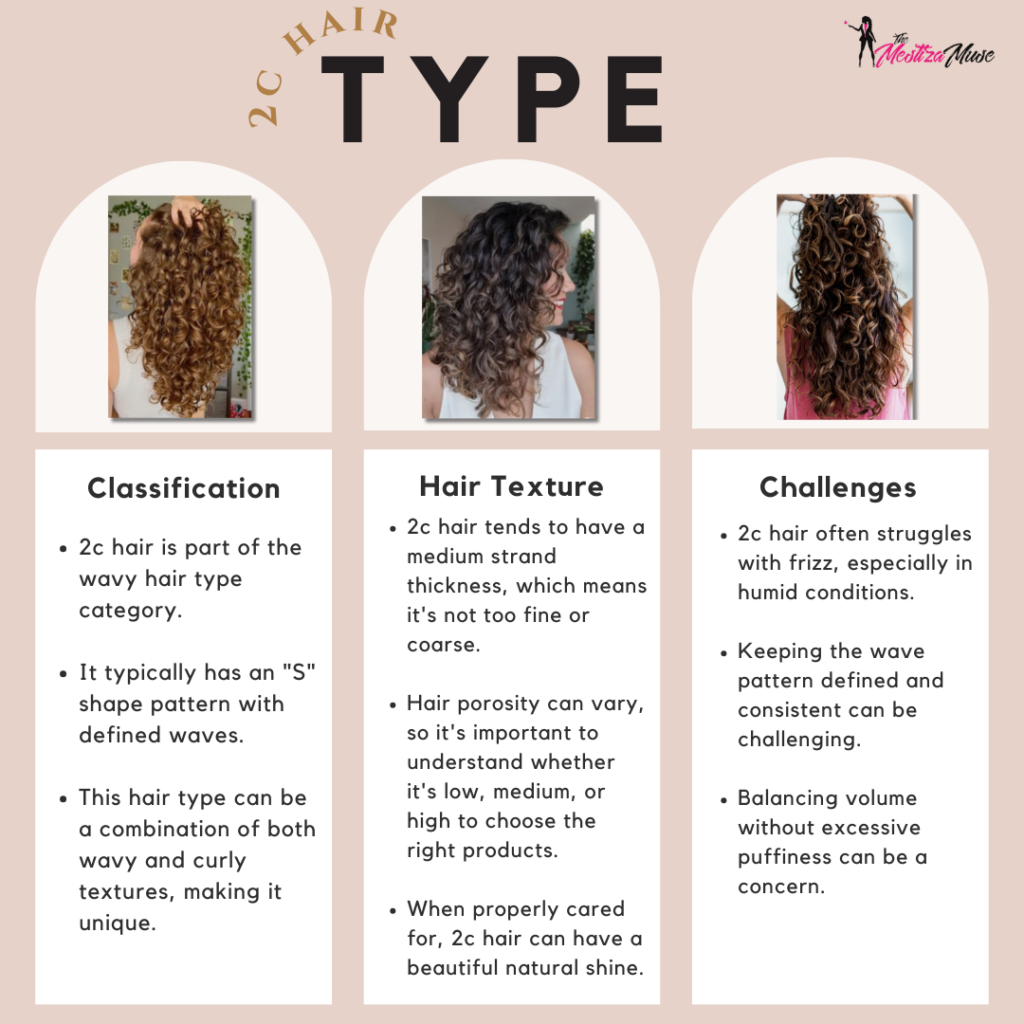 Here are some things you can do to take care of your type 2C hair:
Reduce Washing
You should aim to lock in as many natural oils as possible. Washing daily with shampoo can strip your hair of these oils.7
By sticking to a less frequent washing schedule, your hair will maintain moisture longer and keep frizz at bay.
Use Moisturizing Products
Pattern textures require extra moisture to prevent dryness and reduce frizz. When you choose products, ensure they have moisturizing ingredients and are suitable for wavy hair types.
Get a Cut
Haircuts might feel like a bad idea if you prefer long hair, but your waves will look best when cut or trimmed and styled with your wave pattern and bends in mind.
An optimized cut for your wavy pattern, texture, and shape will give it form, structure, volume, and fullness.
Heat styling tools like blow dryers (on high setting) and flat irons can cause damage to your hair. They can make your hair feel smooth, but they pull the cuticles apart, causing breakage and frizz.8
Instead, use a diffuser attachment on your blow dryer if you must use one.
You should also invest in a heat protector spray. And it is advised to apply styling products before using heat on your hair. This helps to lock in the moisture.
Wash Your Hair with Warm Water
Using hot water on 2C hair can be damaging. Exposure to temperatures above 140°C causes severe and permanent structural alterations to the hair. These changes manifest as folding in the cuticle and the gradual disappearance of its scales, leaving the hair more susceptible to dryness, hair fall, and breakage.9
Try using warm or cool water instead, especially at the ends of your shower. This will help to seal your hair cuticles, protecting them and locking in shine and moisture.
Opt for a Microfiber Towel
Consider using a microfiber towel instead of a traditional cotton towel. Microfiber towels are gentler on your curls, reducing frizz and breakage.10
They absorb excess water quickly, so your hair spends less time being manipulated, resulting in less frizz and better-defined waves.
Oil Your Hair
Hair oils are a great option for softening and lubricating your hair and keeping your hair follicles healthy. It also helps to keep your strands moisturized throughout the day.11 Add in some essential oils for additional benefits.12
Add extra TLC with a pre-poo or hot oil treatment. This is a type of treatment you do before shampooing your hair.
It helps to protect your strands from the harshness of shampoos and adds moisture to your hair.
Sleep on a Satin Pillowcase
The material you lay your locks on at night significantly impacts friction and breakage. Your hair will thank you for making the switch to a satin pillowcase!
Satin is much smoother than cotton, so it causes less friction and breakage. It also helps to keep your hairstyle intact and prevents frizz.13
You can opt for a satin scarf or bonnet if you don't want to invest in a pillowcase, which also helps to prevent your hair from rubbing against your clothes and causing frizz.
Use Deep Conditioner
Your type 2C hair needs moisture, especially if you've been washing it daily. Give your strands some much-needed TLC once a week using a deep conditioning treatment (or as required).
Check out my blog, "Deep Conditioner for Curly Hair Showdown: Which One is Right for You?" to learn more about finding the best deep conditioners for your hair type.
Find Your Styling Methods
Making sure you style your curls correctly is important. The less time you spend on them, the better they will look, so find products that will help you achieve this.
For a quick and easy styling option, try the following:
Wash and go: This is the simplest way to style your 2C waves. All you need to do is wash and condition your hair as usual.
Use styling products on your wet hair and scrunch from the bottom upwards to remove the excess water. Then diffuse on medium or low until your hair is about 80% dry.
For low-manipulation styles, check out my blog, "2C Hair and Low Manipulation Styles."
Add Texture and Structure
To enhance your waves into something more uniform, consider adding products, like mousses and gels, to give them texture, structure, and a strong hold.
This will also help keep your hair in place throughout the day without making it crunchy or heavy.
Product Suggestions for Type 2C Hair
Wavy hair types benefit from being well-conditioned. Always Look for styling products explicitly formulated for wavy hair, such as mousses, gels, and creams.
These will help to add definition and hold to your waves. And sulfate-free formulas are always a good idea.
Here are some of our best product picks for 2 C hair type:
Clarifying Shampoos
Clarifying shampoo plays a crucial role in your hair care routine.14 These waves can be prone to product buildup, which can weigh them down and make them lose their natural bounce and definition. A clarifying shampoo helps to remove residue, excess oils, and product buildup, allowing your waves to breathe freely and maintain their volume and shape. It's a key step in keeping your hair fresh, vibrant, and full of life.
Suave Essentials Daily Clarifying Cleansing Shampoo
Curl Creams
These specialized products are designed to enhance and define natural waves while minimizing frizz. Curl creams provide moisture and light hold, allowing your waves to maintain their shape and bounce. They work by smoothing the hair cuticle, reducing frizz, and promoting the formation of uniform curls.
Tip: use these sparingly as a little goes a long way. Start with a small amount and gradually add more if needed, ensuring even distribution throughout your hair.
Over-application can lead to a heavy or greasy feel, so finding the right balance is key to achieving perfectly defined waves without any unwanted buildup.
Innersense Organic Beauty – Natural Quiet Calm Curl Control
Deep Conditioners
Deep conditioners offer intense conditioning and repair when needed.8 They help restore moisture and strengthen wavy hair, particularly after exposure to harsh environmental conditions or when hair feels dry and brittle. Using deep conditioners as needed can revitalize and maintain the health of your hair c waves.
As I Am Classic Hydration Elation
Olaplex No. 8 Bond Intense Moisture Mask
What Sets 2C Hair Apart from 2B Hair 3A Curls?
Type 2C hair falls in between 2B and 3A on the curl spectrum. It typically displays a wavy hair pattern with slightly more defined waves compared to 2B hair, but the waves aren't as tight or springy as those of 3A hair.1
2B hair often has a diameter of around 1/2 inch to 1 micron/micrometer, making it distinct from both 2C and 3A hair types.1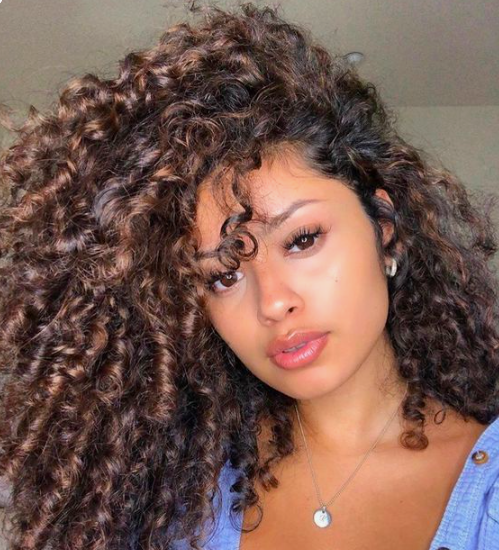 2C and 3A hair can be pretty confusing to tell apart. While 2C hair and 3A may seem similar at first glance, you can look at the pattern of the curls to distinguish between the two types.2
Type 2C hair has a defined S-shaped pattern.2 The curls are well-defined but not as tightly wound as type 3A curls.
3A curls are characterized by the tighter curls forming ringlets that hang down loosely. They are loopy, springy curls. The diameter usually ranges from 1 inch to 1/2 1/2 to 1 micron/micrometer.
Conclusion
Type 2C hair has its benefits and drawbacks. The best care for type 2C hair lies in tailoring your routine and product list. If you identify with the characteristics of 2C wavy hair, this guide and product suggestions will help you start your journey to healthy, luscious strands.
---
References