Last Updated on April 9, 2023 by Verna Meachum
Hair mousses for curly hair have become quite popular in recent years due to their ability to help shape and define curls.
If you grew up in the 80s or 90s as I did, you may remember mousse as an unpleasant combination of the sticky and crunchy hard mess that left your hair feeling brittle and dried out. Nowadays though? It's not something any person would use on their curls!
So, what makes the mousses from today different? The key difference is the ingredients. The best mousse for curly hair will define and shape your curls, boost volume, smooth out frizz, and add some moisture to your hair.
I've been on this healthy curly hair journey for a while, and I know how important reading the ingredients list is. Not all mousses are created equal and some ingredients are not so good.
When it comes to hair styling, mousse stands out as the most effortless and multipurpose product available. Undeniably, mousse holds a special place in my heart as one of my all-time favorite products.
In today's blog, we will evaluate the elements needed for an optimal hair mousse, which ingredients to avoid, and how to attain desired results with a hair mousse.
What is a Hair Mousse?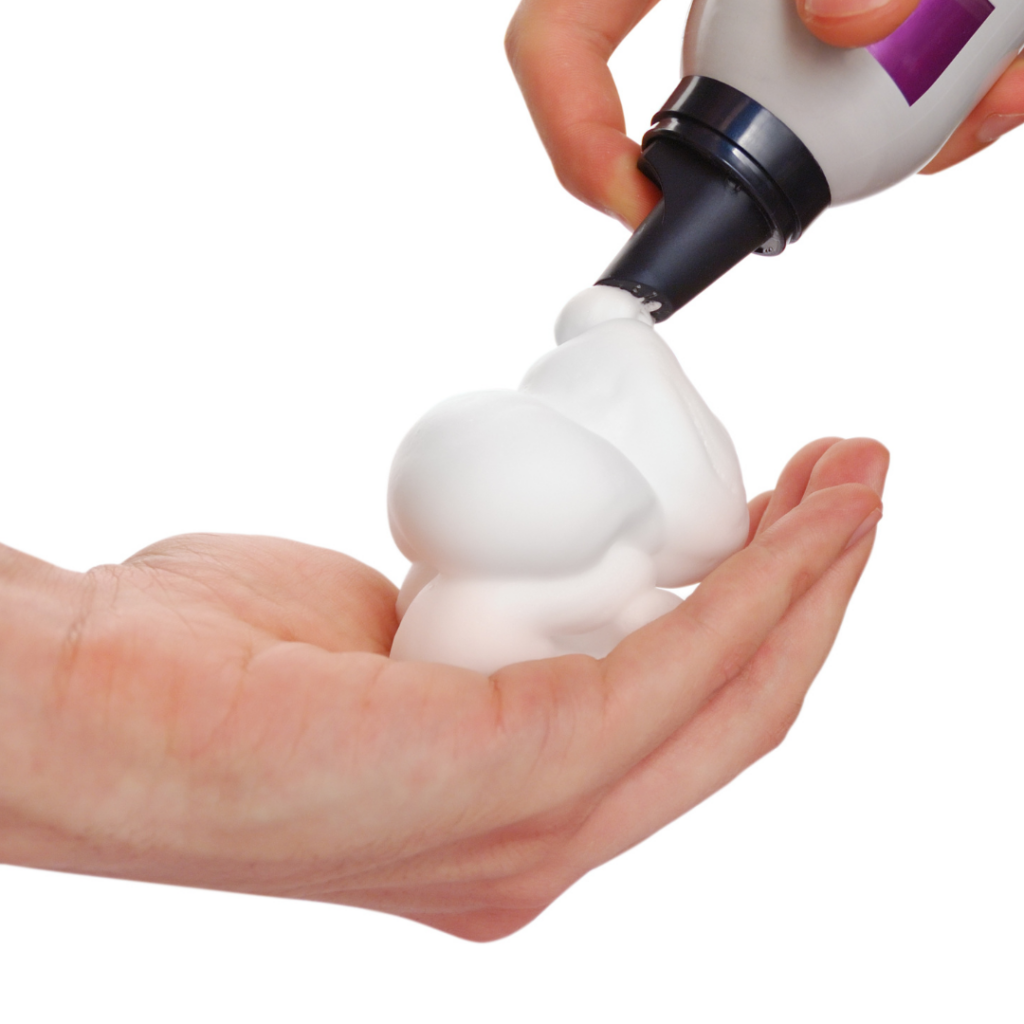 Hair mousse is a super versatile styling product designed to define the hair, impart body, lift, and provide a long-lasting hold, and style memory to keep your hairstyle in place without stiffness or sticky texture.1
The right hair mousse can also provide curl retention, protect your curls from humidity, help smooth out frizz and leave curls with a shiny finish.
Mousse is typically a creamy thick foamy texture and is typically applied on damp hair from roots to ends before either blow-drying or air-drying.
Typical Formulation in a Hair Mousse
Crafting the perfect hair styling product requires a combination of certain basic ingredients and thoughtful formulation strategies to achieve desirable results.
A mousse may contain volatile organic compounds (VOCs) dispensed from an aerosol bottle or it can be a liquid formulation that also generates foams when pumped.
In response to growing environmental consciousness, consumers have begun favoring more eco-friendly products; as a result, VOCs are rapidly decreasing.
Film Forming Polymers
Hair fixative polymers are an integral part of any styling recipe; they form the backbone of a successful styling formulation. In a hair mousse, they may make up to 5 – 20% of the total formulation weight.
These film-forming polymers are large synthetic polymers that form a fine coating on the hair shaft. As the solvent dries out, the film dries and hardens for maximum definition and lasting control.
Formulators have access to a range of polymers, each with its unique characteristics that affect compatibility, solubility in the solvent, and strength of hold. The right choice depends on how these qualities fit into their specific needs.2
A polymer should form a fine coating that should be humidity resistant.
Foaming Agent
To successfully craft mousse, one must incorporate foam which can be achieved by adding a special foaming agent.
The best surfactants for this task are amphoteric mild or non-ionic varieties as they provide creamy lather with great volume; however, this foam should rapidly break down and vanish when blow-dried to fix the active styling ingredient.3
Moisturizing Ingredients
To thoroughly hydrate curls and reduce stiffness or hardness, mousse formulations should include fiber moisturizing agents.
Several humectants can be used in the formulation, such as glycerin, and propylene glycol. Novel hydrating ingredients are preferred due to their superior performance and multifunctional benefits.
Denatured ethyl alcohol is incorporated into the formulation to act as a co-solvent, working with water to dissolve styling polymers and other resins.
The concentration level of ethyl alcohol depends on what kind of polymer is used. Unfortunately, excessive usage can be detrimental to hair–causing dryness, brittle ends, and dead ends.
Hair-detangling or softening ingredients
Cationic hair-detangling agents are used to provide hair with softness and detangling benefits.
They will not only improve the texture of your hair fibers but also reduce curl rigidness or dryness.
These cationic ingredients help reduce static charge density over the hair shaft so that your hair can remain free from flyaways.
A commonly used example:
Cetrimonium Chloride – is water soluble and therefore is easy to incorporate in water-thin mousse formulation.
Thickening or Suspending Agents
Most hair mousses are formulated with a water-thin consistency. They may have a thickening or suspending agent to ensure the stability of the liquid product.
Styling polymers are used in high dosages and can settle down at the bottom due to density differences. To avoid any stability problem, a small dosage of thickening or suspending ingredients is added.
Ingredients To Avoid in a Hair Mousse
VOC(s) – Choice of Formulation
Mousse comes in two formulation categories. They are either water-thin or aerosol-based sprays.
Aerosol formulations contain volatile organic compounds, some of them are chloro or fluoro compounds.
These are gases that cause air pollution. Regulatory authorities are working along with the industry to limit their usage and emission into the air.
Consumers are also encouraged to limit these aerosol products to protect and preserve our environment.
Water-thin formulations without VOCs are perfectly safe to use and do not pose the same level of risk or threat.
Alcohol
Ethyl alcohol is incredibly drying to the scalp and hair. Therefore, it's wise to choose an alcohol-free mousse instead of a formula that contains ethyl alcohol whenever possible. Doing so can help protect your scalp and hair from becoming overly dry or brittle over time.
Alcohol is used as a co-solvent to boost the solubility of solid polymers. However, recent advancements in polymer science have yielded exciting results: new series of styling polymers with good solubility and low dosage need. With them, there's no longer any need to use alcohol!
Dioxane Residues
Many mousse products may contain ethoxylated ingredients. Examples are ingredients starting with PEG (polyethylene glycol). They are added to solubilize non-polar ingredients.
Ethoxylation may have trace residues of 1,4-dioxane which is carcinogenic. The industry is working to minimize exposure to this chemical. Consumers should avoid any such PEG ingredient in any hair or skin care formulation.
Sulfates
Sodium lauryl sulfate and sodium laureth sulfate are cost-effective foaming agents. They can have a drying effect on the scalp and also solubilize hair proteins. For ideal performance, products with amphoteric and non-ionic foaming agents are preferred.
Other Ingredients to Avoid in a Hair Mousse
Preservatives are added to inhibit the growth of microbes (bacteria, fungi). Formaldehyde preservatives are commonly used and they are known for their high toxicity and carcinogenicity.
Consumers should look for mild and gentle preservatives such as sodium benzoate, potassium sorbate, or hexylene glycol.
How To Use Mousse Based On Your Hair Type
Hair can come in a variety of textures and hair types and each carries its unique physical and chemical properties, including shaft diameters, porosity, and moisture levels.
When selecting a mousse for styling your hair, it's essential to pay mind to both the cosmetic features and physical properties.
Depending on your hair type, different styles will require varying levels of hold and specific styling techniques.
Next up, we'll provide a recommendation for each hair type and texture and also include the ingredient list so that you can decide if the mousse is best for your needs. Please note, these are merely recommendations and best practices, as each individual's preference can depend on their unique situation.
The definitive way to find out if a mousse (or any hair care product) functions optimally for you is by testing it on your hair. As you experiment with the product, you can easily evaluate how your hair reacts and fine-tune it as necessary. This is all part of establishing the best hair care routine tailored to your specific needs.
Coarse Hair
Coarse hair can be extremely rough and difficult to manage. To achieve curls with definition without the hassle of styling tools, simply apply a small amount of mousse to help control and define the curl pattern.
Start with small sections of your hair at the roots, then work in the mousse using your fingers. Once it's evenly distributed throughout your curls, style it as desired for a voluminous and shiny finish.
Mousse Recommendations for Coarse Hair:
Curly Hair
Curls need a boost in body and a well-defined shape. A mousse with a soft hold is the perfect product to give your curls exactly what they need.
To create beautiful curls with lift, simply start by taking a medium-sized amount of mousse and work from the roots all the way down toward the tips of your hair.
Once applied, scrunch to help define each curl. You can also use the shingling method to help define the curls further.
Mousse Recommendations for Curly Hair:
Wavy Hair
To achieve stunning glorious waves, you need both definition and volume.
Apply a small to medium amount of mousse to each section of your hair. Diffuse on low to medium warm air to get that boost of volume (especially in the root area).
Mousse Recommendations for Wavy Hair:
Coily Hair
Coily and kinky hair is dry, super fragile, and prone to breakage. Using a mousse can help to lock in moisture while defining coils.
Here's a quick video on how to use mousse for coily and kinky textures.
Mousse Recommendations for Coily Hair:
Fine Hair
With its small shaft diameter, fine hair is particularly fragile and can easily become limp.
A medium-hold mousse can add volume and body to these fibers. Take a small amount of foam or mousse and apply it gently to your hair, then scrunch to encourage curl definition.
Mousse Recommendations for Fine Hair:
Damaged Hair
Damaged hair lacks moisture and needs a conditioning and hydrating mousse. Damaged hair is also highly frizzy.
To help control frizz, apply mousse to each section of your hair. Make sure to evenly distribute the product and then use a diffuser on low heat or air dry.
To achieve my desired look with mousse, I start by using a leave-in conditioner and work it through the roots of my hair until reaching the ends. Then, I evenly distribute mousse throughout before allowing it to air dry naturally. Here's how mine looks below!
How to Use a Hair Mousse
Get the perfect head of hair without having to use heat by styling with mousse. A mousse will give your style definition, dimension, and bounce.
Follow these tips for applying mousse correctly so you can enjoy a full-bodied do full of texture.
Start with clean hair.
Applying mousse on overly-wet hair won't be very effective, and you may end up with sticky hair.
After rinsing your hair, flip it over and give a few squeezes to remove any dripping water. Then use either an old T-shirt or a microfiber towel to "plop" your hair to get rid of any excess water.
Shake the mousse well before using it.
Dispense one to two pumps of the mousse into your hand, and then emulsify it between your palms.
Using your fingers, rake and smooth the product into your hair beginning at the roots down to the tips. If you have thick or long hair, you may need to use more product.
Optional – scrunch the product into your hair.
Air dry or use a diffuser for additional volume.
To refresh your curls between washes: Dispense a small amount of product onto your palms and emulsify it, then run your hands through dry hair. Smooth down in sections (or concentrate on the areas that need refreshing the most) from root to tip lightly to reduce frizziness and re-activate curls into their defined shapes.
FAQs
Which is Better; Hair Mousse or Hair Gel?
Mousse and hair gel are distinctively different products, each offering unique benefits. With mousse, you can add volume to your curls as well as definition, hold, frizz control, and heat protection.
Hair gel is a heavier styling product than mousse and can weigh down the hair, however, it is also great for achieving well-defined, frizz-free curls and protecting it from the elements.
On the other hand, while mousse creates more volume (especially in the root area) and holds along with shaping your style, the gel is better for defining, sleeking, and sculpting the hair.
When Should You Apply Hair Mousse?
Applying mousse to your hair when it is damp produces the best results.
Can You Put Mousse On Dry Hair?
Yes! Mousse can be a handy tool to help with quick touch-ups on dry hair too. However, do not apply too much mousse, or else your hair will become rigid. Use it sparingly.
Alternatively, you can lightly mist your hair with water and then re-apply the mousse to refreshen your curls.
Summary
Mousse is a foaming styling formulation that is highly sought to enhance curl definition and impart body to hair. The product comprises moisturizing ingredients blended with film-forming styling synthetic polymers.
Excipient ingredients are added to the formulation to control the frizz, moisture, and softness of the curls.
All types of hair can use mousse with careful selection of the product and by using an appropriate technique of application.
---
References
1. Zviak, C., The Science of Hair Care. Taylor & Francis: 1986.
2. Zhou, Y.; Foltis, L. C.; Rigoletto, R.; Moore, D. J. Protection of Oxidative Hair Colour Fading from Shampoo Stripping by Styleze® W-20 Polymers [Online], 2008.
3. Kozlowski, A. C., Formulating Strategies in Cosmetic Science. Allured books: 2009.