Last Updated on April 9, 2023 by Verna Meachum
As we move toward the hot and humid days of spring and summer, curly-haired folks can almost hear their manes screaming out in fear: the dreaded frizz!
Don't worry – curly hair gels are here for you in these times of high humidity so you can master your curls with ease.
But how can you tell which gel will be the most effective, when all gels are not alike? What makes one worthy of an A-list ranking?
The key lies in the ingredients. The gels of today are nothing like the gels you grew up with – you know, the kind that left your curly hair feeling super hard, crunchy, and stiff!
It's all about finding curly hair gels that contain ingredients that are designed to nourish, provide definition and hold. Additionally, the gel can be dense or thin, and even take the form of a crème gel.
Today, let's uncover how hair gels offer hold to your curls and what ingredients you should be seeking out when selecting a formula.
What are Curly Hair Gels?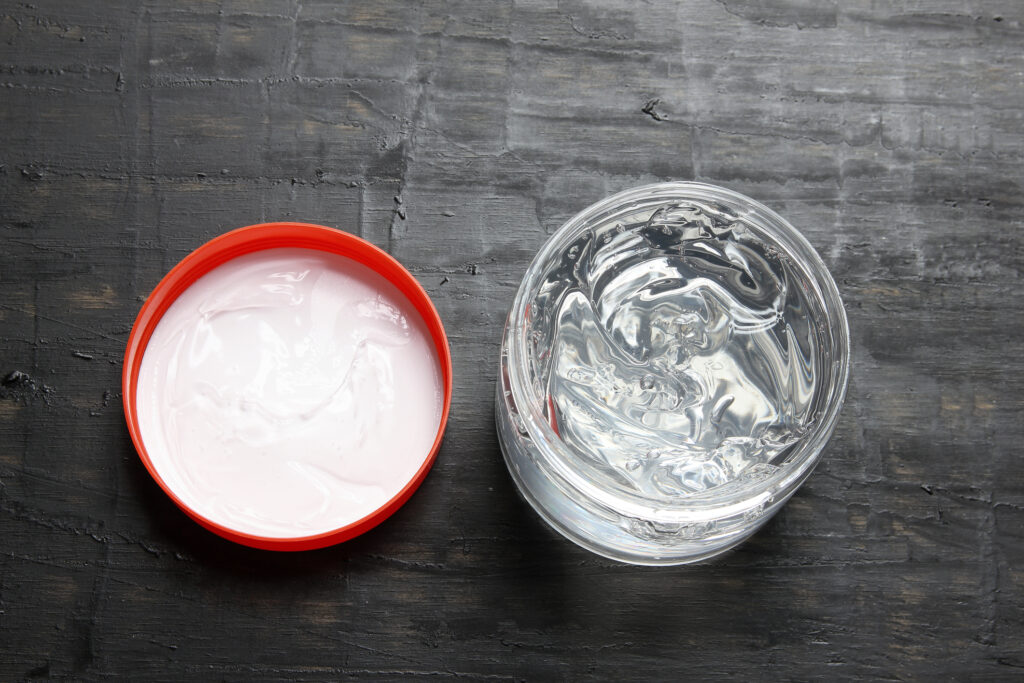 Curly hair gels are styling products that help you achieve defined curls, texture, and body without sacrificing moisture.1-2 They usually contain ingredients like polymers, proteins and oils to help your curls stay bouncy and shiny.
When it comes to hair gels, there's a wide array of options to choose from. Depending on the hairstyle hold level desired, these products are generally categorized as strong-hold, medium-hold, or low-hold.
Each one offers something unique in terms of how long your style will stay put and how well it holds up against humidity and other environmental factors.
How Styling Gel Works
There are several delivery vehicles to create the perfect hair styling formula, including gels, aerosol sprays, and pomades specifically designed for a desired hairstyle retention.
When it comes to hair stylers, gels are the most requested product. They are typically thick highly viscous and transparent. These products rely on several different ingredients, but their main component is something known as 'styling polymers.'
To create a hair gel, styling polymer must be evenly distributed in an aqueous medium (water phase)and thickened with the appropriate thickening agent.
After applying a hair gel, the ingredients in its formulation dry quickly and a thin film of styling polymer is deposited on the hair surface. This coating helps to keep each strand of hair firmly set in place while creating any desired hairstyle.3-4
The strength and longevity of hold and styling capabilities depend upon:
The type of styling polymer used.
The concentration of styling polymer.
Auxiliary ingredients that support the application of styling polymer and its film formation.
The Composition of a Hair Gel
A typical formulation of a hair gel comprises the following ingredients.
Hair styling polymer – some examples are discussed below.
Thickening polymer – xanthan gum, carbomer, etc.
Moisturizing agent or Humectant – glycerin, propylene glycol.
A co-solvent or solubilizer – polysorbate 20, or 80 or PEG-40 hydrogenated castor oil.
Fragrance
Preservative – sodium benzoate, potassium sorbate, hexylene glycol.
Styling Polymers: Holding Agents
Styling polymers are the main ingredients in a hair gel formulation.5 They are the main performer in providing the hair style, body, volume, and desired texture.
These polymers could either be anionic or non-ionic large molecules designed to form a gentle yet rigid film over the hair shaft.
A styling polymer should meet the following criteria:
Form a uniform coating over the hair shaft.
Dry off quickly to give a rigid outer surface.
No flake formation through the drying process.
Resist humidity changes and the styling film should remain intact under high humidity conditions.
No stickiness.
Easy to rinse off during the shampoo stage.
Does not cause any build-up.
Here are some examples of polymers making waves in the current market:
Polyvinylpyrrolidone (PVP)
PVP/VA Copolymer
Acrylates Copolymer
Vinylpyrrolidone (VP)/vinyl acetate (VA) copolymer
Polyquaternium – 11
Polyquaternium-16
Polyquaternium – 28
Polyquaternium – 69
PVP was one of the first styling polymers used in hair care products. It is still widely used, however, it has some drawbacks. It dries off leaving a huge amount of white flakes on the hair.
Subsequently, PVP underwent modifications and new vinyl versions were created by polymer chemists to address the shortfalls and improve the film formation process and style retention.
What Other Ingredients Should Be Included in Hair Gels
In addition to the styling polymer, several other elements are essential for achieving a good hold, style retention, and providing an attractive hair outlook. These include:
Thickening Agent
A thickening agent is required to create a gel, enhance the product viscosity, and stabilize the dispersion of styling polymer in the water phase.
For generations, Carbomer has been the go-to choice for creating high-viscosity clear gels.6 It is a synthetic acrylic polymer that does not pose any dermatological concerns to the skin or hair.
Various grades of carbomer are now accessible to produce the desired viscosity and clarity.
Natural thickening agents like xanthan gum and modified cellulose can be used to give a gel-like viscosity. These agents have been found to successfully produce the desired consistency in many cases.
Moisturizing Ingredients
Maintaining moisture is paramount for keeping hair in its best condition. Therefore, moisturizing ingredients are essential in almost every hair care formulation. Glycerin and propylene glycol are often used when it comes to formulating a hair gel.
Not only do these multifunctional ingredients add moisture to your hair, but they also improve the solubility of styling polymer and minimize the polymer tackiness.
Furthermore, humectants also help combat frizziness under extreme humidity conditions.
Other moisturizing agents that are often found in hair gel formulations:
Propanediol
Sodium PCA
Acetamide MEA
Ingredients to Avoid in Hair Gels
To achieve the optimum styling product, it is important to stay away from formulas with alcohol because they are notorious for creating that crunchy look of decades past.
Drying Alcohols
Some hair gel formulations may contain ethyl alcohol (also called ethanol or denat. Alcohol). It is added to enhance the polymer solubility and improve product clarity.
Alcohol also accelerates the drying time and deposition of styling polymer. However, ethanol is drying alcohol and is known to cause dryness to the scalp and hair and should be avoided. Opt for alcohol-free curly hair gels.
Harsh Preservatives
Preservatives are required to inhibit microbial growth and extend the shelf-life of the formulation. Low-end products might contain formaldehyde-releasing preservatives, parabens, or a blend of thiazolidinediones. They are all harsh and should be avoided.
Green, mild, and skin-friendly preservatives should be the goal since it stays on the scalp and hair for some time. To prevent any skin irritation, harsh preservatives should be avoided to minimize their contact with the skin.
Considerations When Purchasing Curly Hair Gels
Before you invest in curly hair gels, here are several essential factors to beat in mind.
Hair Type
All hair types are not created equal and require different ingredients for the best results. Therefore, it's wise to assess your hair type and select a product that caters to it.
Porosity
Porosity is a measure of the hair's capability to absorb and hold moisture. It affects how the product interacts with your strands and consequently, influences the end result.
Therefore, selecting a product based on hair porosity can make a significant difference in your styling routine.
If your hair has low porosity, then it doesn't absorb moisture with ease. To avoid product build-up and ensure that you get the best results from your styling products.
If you have high-porosity hair, which easily takes in moisture but loses it just as quickly, then it's better to choose a product that is designed for this particular hair type.
To see a list of high-porosity hair gels, read – Best Gels For High Porosity Hair: Key Ingredients.
Price
While there is no shortage of excellent products on the market, a higher-priced gel does not mean it is better for your hair. Many top-notch items are priced moderately.
To find a gel that works for you without breaking the bank, shop around and read reviews before making your decision.
Whatever your budget, it's wise to compare products and select the one that offers you the best value for money.
When using a gel, begin with a lower amount of product and add more as needed. Applying too much can lead to result in flaky or crusty hair, leaving it inflexible when styling.

The Mestiza Muse
Curly Hair Gels
To make it easier for you, we have curated the greatest curly hair gels available on the market by thoroughly analyzing their formulas and ingredients.
For a more comprehensive list of curly hair gels, be sure to check them out here – Best Hair Gel for Curly Hair: The Top 25.
Dippity-Do Girls with Curls Light Hold Gelee
Achieve soft, silky curls and waves with a natural hold that will not leave your hair dull or crunchy. It contains natural aloe, vitamin E, and wheat protein to help work to eliminate frizzy texture while calming curls for all-day definition.
Ingredients: Aqua/Water/Eau, PVP, Sorbitol, Carbomer, Triethanolamine, Polysorbate 20, Tetrasodium EDTA, Propylene Glycol, Panthenol, Parfum/Fragrance, Aloe Barbadensis (Aloe) Leaf Juice, Tocopheryl Acetate, Hydrolyzed Wheat Protein, Diazolidinyl Urea, Iodopropynyl Butylcarbamate, Benzophenone-4, Benzyl Benzoate, Red 33 (CI 17200).
Irish Sea Moss is a powerful natural solution to your hair moisture as it holds 50x its weight in water! This unique formula also includes Passion Fruit, Açai, and Rice Bran Oil which work together to replace silicones while reducing frizz and adding dazzling shine.
Ingredients: Aqua/Water/Eau, Chondrus Crispus (Irish Sea Moss) Extract, Passiflora Edulis (Passion Fruit) Seed Oil, Euterpe Oleracea (Acai) Fruit Oil, Oryza Sativa (Rice) Bran Oil, Aloe Barbadensis (Aloe Vera) Leaf Extract, Polyquaternium-37, Sorbitol, Polyquaternium-69, Behentrimonium Chloride, Guar Hydroxypropyltrimonium Chloride, Hydroxyethylcellulose, Citric Acid, Glycerin, Phenoxyethanol, Ethylhexylglycerin, Fragrance/Parfum.
Curls So So Def Vitamin C Curl Defining Jelly
This jelly is infused with Vitamin C to give your curls body and bounce. It's packed with essential vitamins – A, B1, B6, and C. This is super affordable and great for all curly hair types.
Ingredients: Water, Sorbitol, Polyacrylate-14, Hydrogenated Castor Oil, Polysorbate 20, Ananas Sativus, Certified Organic Fruit Pineapple Extract, Certified Organic Aloe Barbadensis Leaf Juice, Keratin, Hydrolyzed Quinoa, Silk Amino Acids, Panthenol, Shea Butter, Certified Organic Mango Seed Butter, Certified Organic Argan Kernel Oil, Certified Organic Evening Primrose Oil, Jojoba Esters, Tocopheryl Acetate, Tetrahexyldecyl Ascorbate, Xanthan Gum, Carbomer Aminomethyl Propanol, Phenoxyethanol, Caprylyl Glycol, Tetrasodium Glutamate Diacetate, Pineapple Fruit Fragrance, Sodium Hydroxide.
Here are my results in the video below.
This is a medium-hold gel that provides bouncy juicy curls. Formulated with Aloe Vera, Coconut Oil & Cacay Oil to nourish curly hair while providing definition and shine.
Ingredients: Water (Aqua, Eau), Glycerin, Behentrimonium Methosulfate, Cetearyl Alcohol, Aloe Barbadensis Leaf Extract, Sodium Benzoate, Citric Acid, Sodium Sulfite, Potassium Sorbate, Cocos Nucifera (Coconut) Oil, Cetrimonium Chloride, Phenoxyethenol, Hydroxyethylcellulose, PEG-40 Hydrogenated Castor Oil, Guar Hydroxypropyltrimonium Chloride, Wheat Amino Acids, Fragrance (Parfum), Ethylhexylglycerin, Disodium EDTA, Hydrolyzed Silk, Cocos Nucifera (Coconut) Fruit Extract, PEG-60 Hydrogenated Castor Oil, Rosmarinus Officinalis (Rosemary) Leaf Extract, Helianthus Annuus (Sunflower) Seed Oil, Phenethyl Alcohol, Caprylyl Glycol, Caryodendron Orinocense Seed Oil, Amyl Cinnamal, Benzyl Benzoate, Butylphenyl Methylpropional, Citronellol, Hexyl Cinnamal, Hydroxycitronellol, Limonene, Linalool.
---
This definer not only reduces shrinkage but enhances stretch too. With the help of nature's best moisturizers and curl boosters, you can lock in moisture to achieve spirals that boast bounce and vibrancy.
Ingredients: Aqueous (Water, Aqua Purificada, Purified) Extracts: Aloe Barbadensis Leaf¹ and Beta Vulgaris (Beet) Root¹, Glycerin¹, Hydroxyethylcellulose, Xanthan Gum¹, Pectin¹, Citric Acid², Tocopheryl Acetate, Potassium Sorbate, Diazolidinyl Urea (and) Iodopropynyl Butylcarbamate, Fragrance/Parfum, Limonene.
---
References
1. Zviak, C., The Science of Hair Care. Taylor & Francis: 1986.
2. Corbett, J. F., The Chemistry of Hair-care Products. Journal of the Society of Dyers and Colourists 1976, 92 (8), 285-303.
3. Robbins, C. R., Chemical and physical behavior of human hair. 4th ed.; Springer-Verlag: New York, 2002.
4. Kozlowski, A. C., Formulating Strategies in Cosmetic Science. Alluredbooks: 2009.
5. Goddard, E. D.; Gruber, J. V., Principles of polymer science and technology in cosmetics and personal care. CRC press: 1999.
6. Braun, D. D.; Rosen, M. R., Rheology modifiers handbook: practical use and application. Elsevier: 2013.