Are you looking for gels for low porosity hair but don't know where to start? Don't worry, we've got you covered!
Seeking out that one perfect gel to meet your needs can be a difficult quest, particularly when you have low-porosity hair as not every product is suited for all types of strands.
To get the most out of your styling products, you should look for key ingredients when choosing a product for your hair type.
That's what today's blog is all about, so sit back and relax while we take you through all the key ingredients to look out for and which ones are most suitable for low-porosity hair.
Introduction
Hair gel is a product created to provide hair with texture, body, and volume while also aiding in styling.
Gels provide unparalleled hair styling that lasts a good amount of time, and they're a hit with customers of every age group!
No matter what look you want to achieve, these products are your perfect choice for long-lasting style retention.
Different hair gels offer different levels of hold. These gel formulations are composed of several synthetic polymers, moisturizing ingredients, and thickening materials.1,2
Additionally, a variety of hair gels are necessary to meet the specific needs of people from different ethnic backgrounds with different hair types.
There is a vast disparity in the composition of hair between individuals. Notable distinctions include moisture levels, porosity, and curl pattern.
Porosity is a major issue for many customers when it comes to hair styling, posing an immense challenge.
So, let's delve into the particulars of what low porosity hair is.
What Is Low-Porosity Hair?
Porosity for hair is a parameter to describe the nature of hair fiber and the extent of hair damage.
High-porosity hair indicates more damaged fibers due to higher pore density and pore volume. Whereas, low-porosity hair fibers have a relatively low extent of damage.
Individuals with low-porosity hair face a unique challenge when it comes to managing and styling their strands; formulators too find creating specifically tailored formulations for this type of fiber difficult.3
Low-porosity hair fibers are virgin, non-chemically treated resulting in a relatively low number of pores with low pore volume and less damage.
These hair fibers are more damaged towards the hair ends (tips) while they are healthy and normal towards the roots due to exposure to solar radiation, normal wear and tear, combing, brushing, etc.
Those with low-porosity hair necessitate specialized hair styling products that offer moderate moisture and a sufficient hold to maintain the desired style.
Choosing Hair Styling Gels for Low Porosity Hair
Low-porosity has a generally healthy shaft and the cuticles are almost in good condition and alignment.
Towards the tips, hair fibers may be broken and cuticles might not exist due to excessive brushing. Fortunately, they generally don't experience much dryness and simply need to balance hair's moisture level.
Crafting the ideal hair gel for low-porosity hair requires an intentional blend of specific ingredients.
Key Ingredients to Look For in Gels for Low Porosity Hair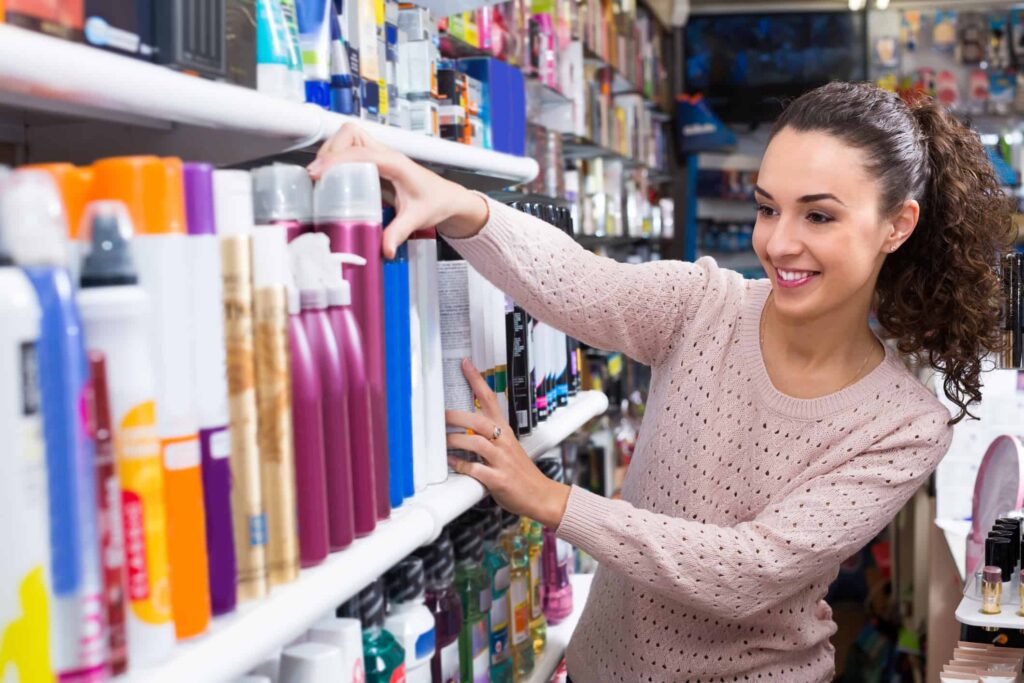 ● Styling Polymers
Polymers are the backbone of any hair styling gel and come in a variety of formulations. These synthetic polymers are designed to adhere to hair fibers, allowing you to style it exactly how you want without fear that it will fall limp within a certain period.
These polymers perform this fixative job by forming a fine polymeric film over the hair shaft. An ideal polymer should hold your hair fibers in place without fail but also dry quickly without leaving any flakes upon drying.
Polyvinylpyrrolidone (PVP) has been one of the first polymers used in hair styling gel. Unfortunately, it creates extreme flaking after drying and fails to maintain its style when exposed to high levels of humidity.4
The polymer should form a thin, even layer over the shaft that will dry rapidly to effectively "fix" hair fibers in place.
The evenness of film is vital for low-porosity hair fibers because of their low extent of damage and gradient damage level from roots to tips. This ensures that the hair fiber is equally and uniformly "fixed" all along the shaft.
Thickening Agents
Styling products for hair come in two variations: thickened transparent gels or fluid liquids. Gels are generally preferred and require a thickening agent to achieve the desired viscosity level, which may be either synthetic or natural polymers.
Carbomer is the ideal ingredient for creating hair gel, as it boasts high viscosity, superior transparency, and remarkable product stability.
On top of that, this powerful compound helps to improve style retention. Furthermore, it's safe for use in personal care products which makes it a reliable choice amongst many manufacturers.
In addition, natural thickening agents such as Xanthan Gum can be used to create hair gels. It's a great option because it offers good viscosity and product stability; however, its styling hold is not quite up to par.
Moisturizing Ingredients
Although low-porosity hair is virgin and non-chemically treated, it still needs moisture to maintain its vibrancy, natural outlook, and bounce.
Without the proper hydration, your hair will never have its desired style retention and would be difficult to manage.
Furthermore, those with low-porosity hair need to add water molecules to their strands to avoid split ends and breakage.
Hair styling gels that contain glycerin and propylene glycol are the ideal option to keep your hair looking its best.
Not only do both of these ingredients excel at enhancing hair's moisture levels but they are cost-effective (low-cost ingredients).
New-generation moisturizing ingredients are also gaining attention. They are multifunctional and are more advantageous.5
Emollients
Emollients are added to hair gel to impart fiber protection, lubrication, and conditioning. Low-porosity hair needs this emollience at its tips to address the problem of dryness and shield against cuticle damage.
Natural oils are the ideal choice due to their natural green origin and easy biodegradation.
Our favorite natural oils/butter for a gel formulation are:
Coconut Oil
Sunflower Oil
Avocado Oil
Olive Oil
Shea Butter
Additives: Preservatives
To keep hair products fresh and increase their shelf-life, preservatives are essential in preventing the growth of potentially dangerous microbial organisms.
Some traditional preservatives may be harsh and may have a high toxicity. For example, isothiazolinones, DMDM hydantoin, and formaldehyde. Among them, formaldehyde is is a well-documented contact allergen and carcinogenic.
Fortunately, these preservatives have been proven to be safe when used in finished products at 0.2% levels or below – a level that regulatory limits will guarantee is respected. If you do not wish to have them in your products, you can opt for natural preservatives as listed below.
Not only are these mild and gentle, but they also are easy to undergo biodegradation.
Additives: Fragrances
Most of the styling formulations contain synthetic fragrances which is a blend of lab-made organic volatile chemicals.
Natural essential oils provide a convenient replacement for synthetic fragrances and offer a natural aromatic scent. Peppermint, Clove, Eucalyptus, and Rosemary oil are good examples.
Furthermore, these products are natural, with a sustainable supply chain, and are biodegradable.
Should I Choose Protein or Protein-Free Gels?
Many styling gels are packed with proteins. Protein-rich products can help to make hair stronger, add volume and body, reduce breakage, and enhance shine. But these benefits are dependent on the type of protein used.
On the other hand, those with low-porosity hair don't need extra protein in their styling products. But, it's okay to have protein in gels for low porosity hair.
Proteins are excellent for moisturizing and conditioning low-porosity hair. To achieve the best results, opt for a low to moderate dosage of proteins, which will help improve the fiber quality, enhance the fiber moisture content and address the problem of split ends.
You can find a list of suitable proteins for low porosity hair in my blog – Best Proteins for Low Porosity Hair.
Top 10 Gels for Low Porosity Hair
---
References
1. Corbett, J. F., The Chemistry of Hair-care Products. Journal of the Society of Dyers and Colourists 1976, 92 (8), 285-303.
2. Zviak, C., The Science of Hair Care. Taylor & Francis: 1986.
3. Hessefort, Y. Z.; Holland, B. T.; Cloud, R. W., True porosity measurement of hair: a new way to study hair damage mechanisms. J. Cosmet. Sci. 2008, 59 (4), 303.
4. Robbins, C. R., Chemical and physical behavior of human hair. 4th ed.; Springer-Verlag: New York, 2002.
5. Schueller, R.; Romanowski, P., Conditioning Agents for Hair and Skin. Taylor & Francis: 1999.