Last Updated on April 25, 2023 by Verna Meachum
Curly hair is fun and voluminous, allows for multiple styles, and looks beautiful. But it does require a little extra love and care.
People are also often confused about what accessories to use when styling curly hair because many traditional hair accessories don't always work with them.
Having curly hair means you must invest in specific tools, products, and accessories that someone with straight hair might not require.
Our top 15 picks of hair accessories for curly hair are designed to make styling your curls easier and help you get the most out of them. They are also sure to quickly elevate your hairstyle!
Using hair accessories is a great way to celebrate and express different types of curly hair, whether for functionality, decoration, or a combination of both.
Below is a list of 15 essential items for hair care and accessories for fun styling of your hair.
1. Satin/Silk Hat/Bonnet
Accessories are for styling and caring for the hair well enough to make it easier to style. That is why we never go without recommending a silk or satin bonnet for curly hair, especially if you have coily curls. While at home doing chores or when sleeping, the bonnet protects the hair.
It helps prevent drying and friction from rubbing against the pillow or headrest surfaces. This reduces hair fall, breakage, frizz, and the undoing of your curls. Furthermore, you can also invest in a silk or satin pillowcase to give your hair extra care during sleep.
2. Satin Scrunchies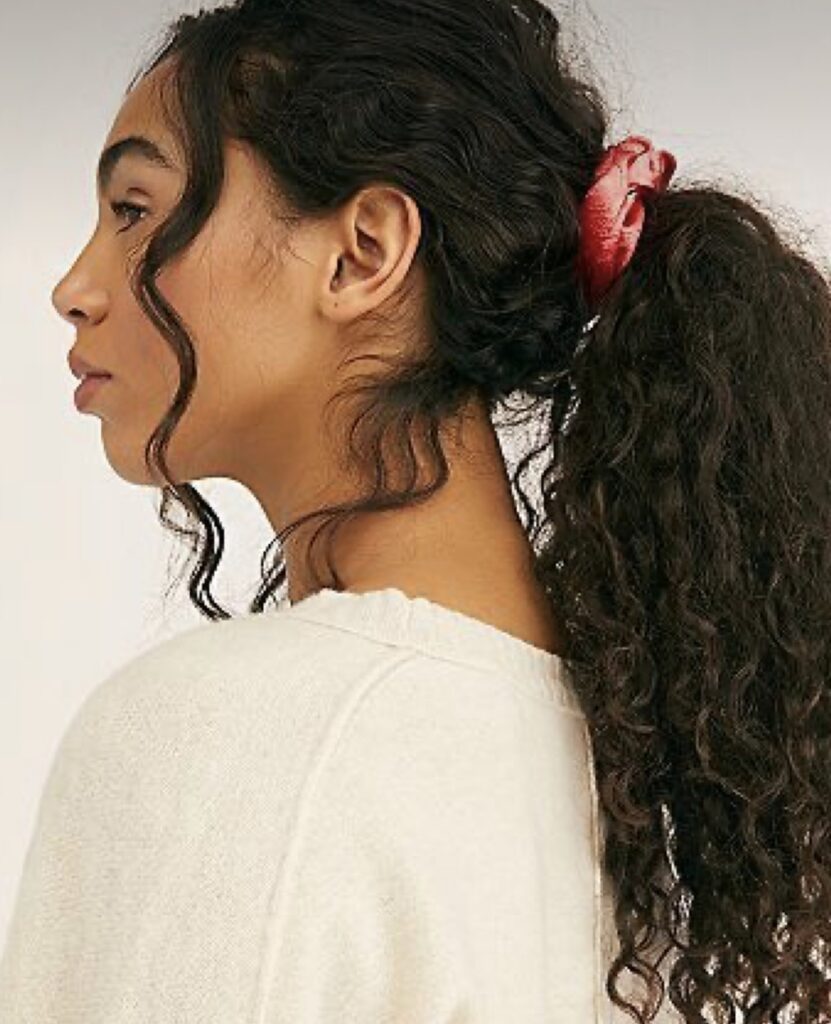 The list of satin accessories grows. Satin scrunchies are a curly girl's best friend. They are better and safer than any other hair ties. Satin scrunchies are smooth and don't pull on the hair strands; they don't leave dents in the hair and won't cause breakage.
3. Silk/Satin Headband
Yet another satin item, and this time silk or satin headband. Whether poofy or flat, soft bands or harder Alice bands covered in satin, they are a beautiful way to add color or accessorize. You can also use them to lift those lovely locks out of your face or wear them when washing your face or putting on makeup.
4. Printed Satin/Silk Scarves
Scarves are a fun accessory to use when styling your curly hair. And, of course, they must be satin or silk scarves because that helps to prevent friction, pulling, tangles, and breakage. You can use a scarf as a bonnet, hair tie, or headband. The more color and patterns, the funkier and prettier.
5. Satin Lined Baseball Cap
The last one on the satin list is a satin-lined baseball cap (my favorite). Everyone needs a hat, but curly hair does best with materials like satin to prevent breakage or damage. You also get half-head baseball caps which are great for upholding a top knot, ponytails, or a messy bun.
6. Gym Headband
Gym headbands are ideal hair accessories for curly hair. They help keep your hair away from your face while exercising. They also come in various colors and materials, but the best material to use is a sporty fabric that keeps sweat away from your forehead. More importantly, you want one that preserves your style, prevents your curls from swelling, and wicks away moisture.
7. Microfiber Turban Towel Cap
Another hair care item that every curly curl must have is a turban towel cap. You use this as you would a bonnet but after wash day. It helps absorb water much more efficiently and causes less friction than traditional cotton towels.
8. Spiral Hair Ties
These are hair ties that are ideal for curly or natural hair. They are designed to lessen the tension on your scalp and not leave a dent or crease in your hair.
This hair accessories grip hair securely with minimal pulling and tightening. They are designed to be sturdy yet pliable, which helps reduce tension on the head and scalp.
You can use them in several ways. To name a few, you can create a loose bun or top knot, add some volume to a ponytail or braid, or just secure your curls away from your face.
9. Claw Clips
Claw clips are probably any curly girl's best friend. They are super helpful for quickly getting your hair back or keeping it in place. You get them in various sizes. The smaller ones are great for styling, holding braids, and adding color to your hair.
10. Embellished Clips and Barrettes
Clips and barrettes are fun accessories for curly hair to keep hair from falling in your face. They also work wonderfully for styling and adding color, embellished or not. The flat barrettes help prevent dents in the hair. All clips come in different sizes to suit various hair textures.
Here are some helpful examples of using clips and barrettes with curly hair.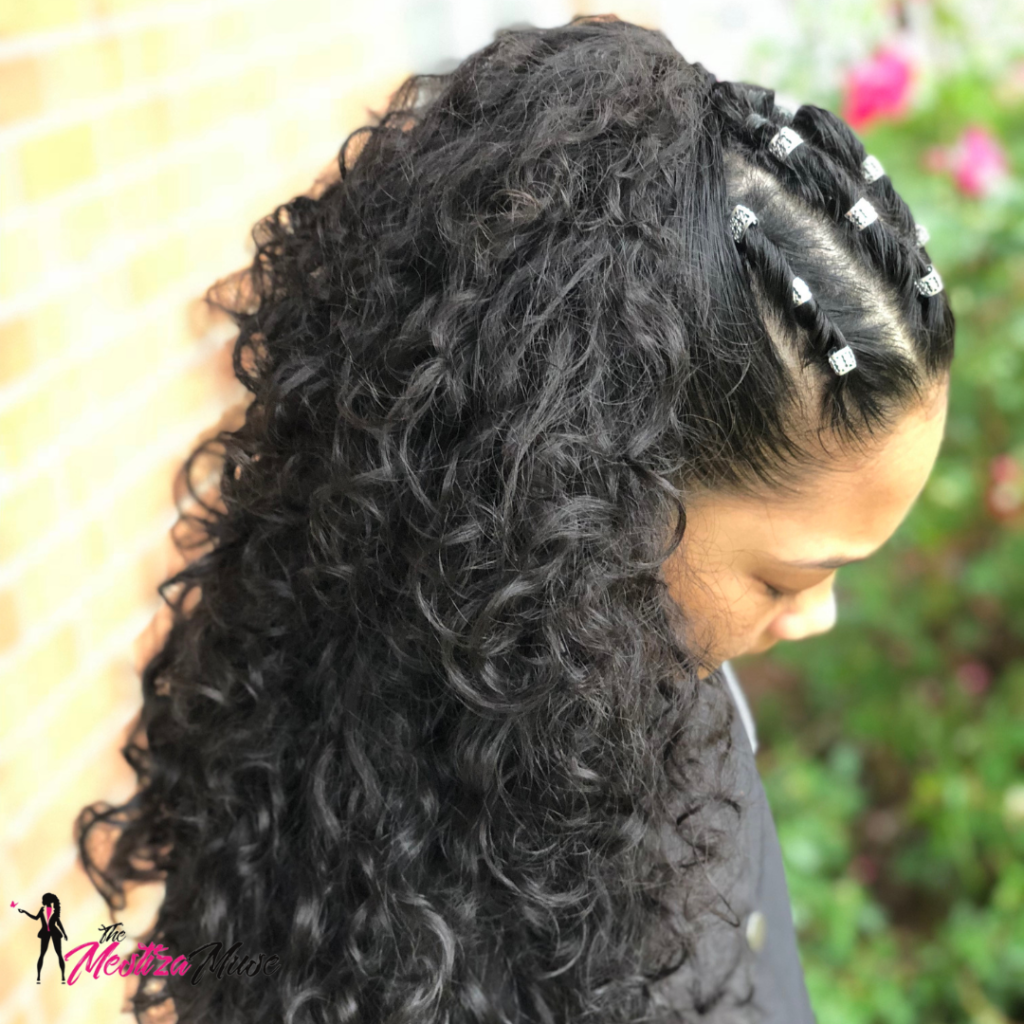 Another hair accessories for curly hair are the metal cuffs. Metal cuffs are a stunning accessory for curly hair. You get them in different colors and can add them to various sections of your hair, regardless of the length. They add depth to style and stay in curls easier than straight and wavy hair.
12. Puff Cuffs
Puff cuffs are a version of a barrette-style clip that has a baby with a claw clip. You get small and large kinds. The bigger ones are more commonly used and work like hair ties. They don't hurt you or pull your hair, or cause tangles. And they also don't make dents or undo your curls. These are great for thick hair, braids, locs, and twists.
13. Earrings
It may seem odd, but earrings are amazing hair accessories for curly hair. They work best on most curly hair types. You can attach the earrings as you would on your ears to your hair, and they will hold in place. Or decorate your braids with them. Use various shapes, sizes, and colors.
14. Hair Bows
If you think hair bows are not in fashion, it's time to learn that they will always be trendy. From small to large sizes, hair bows are a perfect accessory for curly hair. They add a fun layer of style by complementing your curls beautifully. Add them to your ponytail, the top of your head, or even the side.
15. Bobby Pins
Bobby pins are not uncommon and used by people with all hair types, but did you know that besides holding your hair in place, you can use colored ones as a styling accessory? You can lift your curls and pin the side of your head with a few pins in a checkered shape or as you prefer.
Conclusion
There are unlimited options of hair accessories for curly hair. Whether for hair care or styling, the above list has you covered.
Curly hair doesn't have to be hidden away or look dull. You can play around with accessories and complement your beautiful, luscious, wispy locks.