Last Updated on April 6, 2023 by Verna Meachum
Are you someone who is blessed with naturally curly hair? And do you feel like your curls could use a little more life and glory? Well, look no further because we've got some great curly hairstyles for you for 2023.
Curls can be incredibly high-maintenance. Just washing, conditioning, and drying them the wrong way can lead to problems and unhealthy tresses, not to mention frizz.
We know curls and coils need extra care to stay looking beautiful and in good condition. from product picks, hairstyle ideas, and instructions on how to look after your tresses.
This article will show you the ins and outs of your curly hair type and how to maintain it as well as offer some of the best curly hairstyles for 2023.
Why Do Some Strands of Hair Curl and Others Don't?
Curly hair is a unique and beautiful trait that many people are blessed with. How curly your hair is depends on the structure of the hair follicle and how that grows out of your scalp.
Rounder hair follicles produce straighter hair, while more oval follicles produce curlier strands. The curvature of the hair structure also has to do with an uneven distribution of keratin beneath the curve.
But ultimately, your curls and coils will come down to genetics. If your parents have curly locks, or if there is a long history of curly locks in your family, you're likely to follow the trend.
In addition to genetics, environmental aspects can affect your hair texture and curls. For example, the temperature and humidity levels play a role in how curly or straight your strands will be.
Higher humidity levels tend to make curls more pronounced, while lower levels can make them less defined.
What Are the Different Types of Curly Hair?
There are four hair type groups, which include:
Type 1: Straight
Type 2: Wavy
Type 3 – Curly
Type 4: Coily/Kinky
Within these groups, there are subsections to classify their textures. A means you have wide strands, B suggests medium strands, and C shows tightly packed strands. For example, 3C hair implies you have curly hair with compact curls.
You could have thin or thick hair, but to discover where your curl type lands on the spectrum, you can check out a hair type chart to confirm.
In general, you can feel the density and texture of your strands by rubbing them between your fingers.
You can ask yourself, "Is there a bounce in your curls?" Do you notice any curl patterns, like zig-zags or naturally wavy hair?
Double-check your hair type with a chart to confirm how your texture is classified. Use this hair type chart to assess your hair yourself.
7 Best Curly Hairstyles for 2023
For a look that is sophisticated and effortless, we went to Pinterest in search of stylish hairstyles for curly hair. Be prepared to stand out from the crowd with one of these looks!
Some of these curly hairstyles are popular for the way they can enhance the natural texture of your hair.
These styles include:
1) Fluffed-Out Curls
---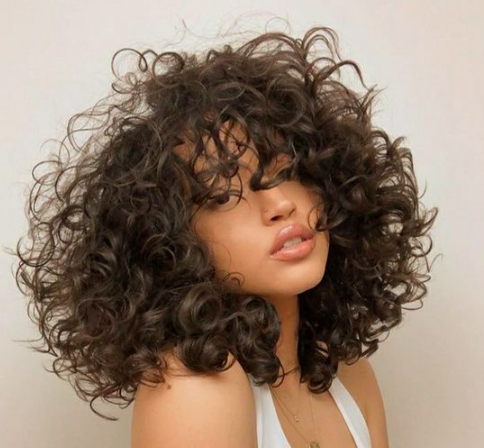 Fluffed-out curls are all about va-va-volume! The key to fluffed-out curls lies in the products you use and the way you style your hair.
How to fluff out curls
To volumize your curls, delicately insert a wide-tooth comb or pick into the roots and tug outwards gently. Keep in mind that you don't have to drag it all through.
With this method, not only does your hair appear fuller and more voluminous but it is also lifted from the scalp.
Here's a step-by-step video on how to fluff out your curls.
---
2) Curly Fringe
Growing up, I was convinced straight-haired girls were the only ones that could pull off bangs. If this sounds familiar to you, then don't be discouraged; those of us with curly hair can wear bangs too!
Curly fringe is all the rave this year and is a super easy way to add texture and definition to your look.
---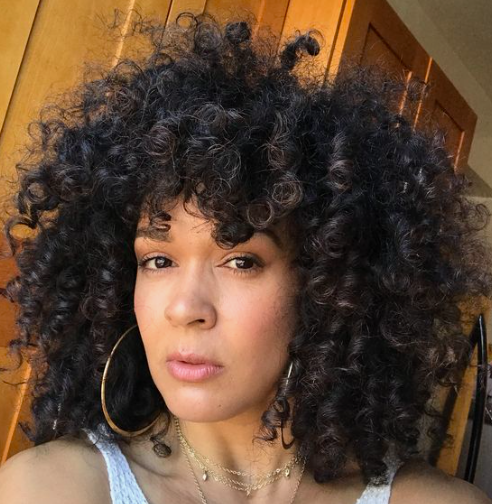 ---
3) Long Layered Curls
Long layered curls create the optical illusion of volume and length with minimal bulk, making them ideal for those who want a stylish hairstyle.
Unlocking your naturally curly hair's full potential is as simple as adding layers! With a layered hairstyle, you can achieve beautiful definition, texture, and movement throughout all of your curls.
Whatever your hair length and face shape may be, layered haircuts for curly hair are a perfect choice!
---
4) Mid-Length Curly Hair
A classic mid-length sits slightly above the collarbone or between your collarbone and chest (aka Grown-Out Mid-Length).
There is one thing I love about the mid-length – it's playful, wild, springy, and bouncy! From layered cuts to curly shag styles to classic looks – these beautiful curly hairstyles are ideal for turning heads and making your life easier.
Mid-length curls include:
Asymmetrical Lob
Angled Lob
Curly Shag
Long Bob
Layered Lob
Shaggy cut
---
5) Short Haircuts
Reinvigorate your style with a chic, chopped hairdo! Though the 2023 short hair trend is not entirely novel, they remain modern and stylish.
Many beautiful short hairstyles can highlight your natural beauty. Having shorter locks will reduce the weight on your curls and make them more lively, bouncy, and full of movement. You'll be sure to turn heads!
From pixie cuts to French bobs and wavy crops, there are plenty of options for you to choose from.
---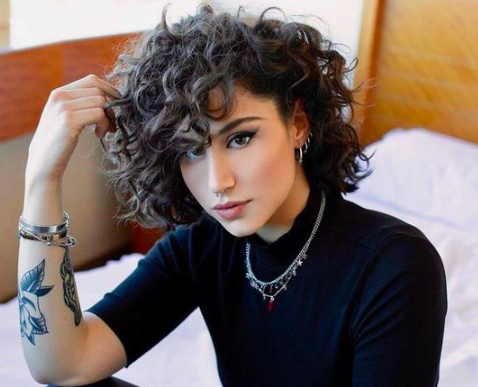 ---
6) Messy Bun 
These are a great way to show off your natural waves and look stylish at the same time.
A messy bun is similar to a ponytail, only instead of leaving your hair hanging down like a ponytail, you put a twist and a loop in your hair that allows it to remain up with your curls hanging off to one side.
Even when you're pressed for time, there's still enough room to quickly sculpt a glorious messy bun!
---
7) Updo with Curly Bangs
The journey of maintaining naturally curly hair can be a monotonous one, with moments where you're strapped for time. In these cases, throwing your curls into a bun may be the simplest solution worth considering.
However, if you're looking to add a creative touch, why not try pairing your simple updo with curly bangs? Whether you opt for a high or low bun, this look is bound to add texture and definition to your style.
---
Tips on How to Care for Your Hair
Looking after your curls is essential if you want them to be their best. So here are some tips on how to care for your curly hair and what hair products you should consider when prepping to help your waves, curls, or coils stay bouncy and full of life.
Sulfates can be harsh by removing any natural oils from your scalp, making your hair dry and brittle.
So look for products that are specifically designed for curly hair and may include ingredients like shea butter, castor oil, or glycerine to increase moisture retention.
Use a wide-toothed comb
Use a wide-tooth comb to gently detangle your hair, causing less tension on the strands and hair shaft. There are also curly hair brushes that can gently detangle your hair without damage.
Deep condition
Curly hair is generally the driest hair type. This is because it's harder for the scalp's natural oils to coat the strands from the root to the ends compared to straight hair.
So, it's essential to deep condition your hair (as needed) so it can get that much-needed hydration and prevent breakage.
Use a leave-in conditioner
Leave-in conditioners are also great for curly hair types, as they provide extra protection from the elements and help limit the risk of having dry hair.
You can use it after you've shampooed, conditioned, and dried your hair. It can also be reapplied once a week if more moisture is needed.
Heat styling should be avoided or minimized
Heat styling can damage your curls, so try to avoid it as much as possible to maintain your healthy hair.
And if you need heat, ensure you use a heat-protectant product and remember to keep the heat setting low on the appliance.
Sleep with a satin pillowcase or satin scarf
Satin pillowcases help to keep your curls hydrated and prevent them from getting messy and tangled.
Satin headscarves work similarly and help prevent many frizzes, especially if you move around a lot while sleeping.
Use a clean T-shirt or microfiber towel to dry
Regular towels can be rough, causing hair to break and frizz. So using a t-shirt or microfiber towel is gentler on your curly strands.
It will be less likely to cause any breakage or damage to your hair as it won't snag or pull out strands when drying.
Additionally, these materials don't dry out the scalp, which can leave your curls looking healthy and bouncy.
Trim your hair consistently
Regular trimming is paramount to keeping your curls healthy and looking their best. So consider a trim every 6–8 weeks.
Trimming your hair removes split ends, which are quite common in curly and coily hair types, and allows the hair to grow more evenly.
Final Thoughts on Your Curls
All in all, understanding and caring for your curly hair is essential. With regular care, you can keep your loose curls and tight coils looking healthy and vibrant.
Remember to limit heat styling and moisturize regularly to pamper your curls and keep them hydrated with deep conditioning treatments.
So whatever approach you decide upon, you'll never know how great your curls can be until you've given a routine a shot.