If you have curly hair, you're likely aware of the challenges in finding diverse styles that work. Enter the "wolf cut," a trendy new haircut that has been making waves across social media platforms, with TikTok in the forefront. And the reason for its popularity? It's both stylish and highly versatile.

Celebrities such as Keke Palmer, Miley Cyrus, and Billie Eilish have each sported distinctive variations of the wolf cut. You might have also noticed this style being worn by K-pop idols from South Korea.
The wolf cut is inspired by two iconic trends – the classic 80s mullet and the 70s shag cut. It's basically a hybrid of those two styles. It typically features long hair with a plentiful fringe and some wispy layers.
What's particularly noteworthy is that hairstylists have skillfully adapted this "wolf cut hairstyle" to suit various hair textures and lengths, including the unique needs of curly hair.
In this blog post, we will discuss everything you need to know about the wolf cut, including how to style it, what type of hair works best with this style, and more.
What Is A Wolf Cut?
A wolf cut is a type of haircut that is shorter and thinner on the sides with shaggy messy bangs. It emphasizes face-framing layers and rugged texture.
As its name suggests, the wolf cut is a little wild. Think of it as a shaggy haircut with a lot of personality. It's more stylish than a mullet and less fussy than a shaggy style, while still looking great.
The main difference between the wolf cut and the classic mullet is the placement of the layers. In the wolf cut, these layers are distributed throughout the style instead of being solely at the top of the head.
The signature look of the wolf cut is characterized by a lot of volume at the top that tapers towards the bottom, accompanied by heavy bangs or side bangs.
This style allows for versatility in terms of the length of the hair on top – some people prefer to keep it fairly short, while others let it grow out with longer layers for a different effect.
The trick is to appear just enough wild for the style to exude a laid-back, cool-girl vibe without making the cut impossible to style. It's a really cool, lived-in type of hairstyle with a lot of movement and layers.
What Type of Hair Works Best with a Wolf Cut?
The wolf-cut hairstyle is an edgy style that suits a wide range of hair types, from straight to curly, and both short hair and longer lengths.
However, if you have very fine hair with shorter layers, this style may not be the best choice for you. The wolf cut is all about creating volume, so those with thinner, shorter hair may struggle to achieve the desired look.
On the other hand, if you have thick, coarse, or curly hair, the wolf cut can be a game-changer, helping you achieve a more manageable, tamed appearance with its unique blend of shorter and longer layers.
If you're looking for some wolf cut hair inspiration, take a look at these pictures.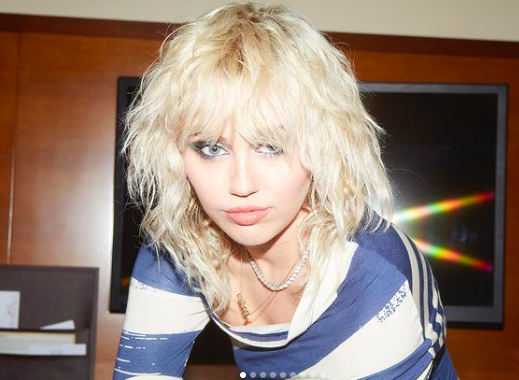 One of the best things about the wolf cut is that it's relatively low-maintenance. This cut is easy to style – just run your fingers through your hair and you're good to go.
If you want to add a little bit more volume or texture, you can use a sea salt spray or texturizing product. For a more polished look, you can use a pomade or wax to style your hair into place.
If you have bangs, you can style them however you like – sweep them to the side, wear them straight down, or even style them in a messy, undone way.
Wolf Cut At A Salon
If you're thinking about getting a wolf cut, we recommend going to a salon. This is not a style that is easy to DIY (although it can be done), and it's best to leave it to the professionals.
When you go to the salon, be sure to bring pictures of wolf cuts that you like so that your stylist can get an idea of what you're looking for.
Ask your stylist for a lot of shaggy layers with bangs. You can go as far as you want with the trend, so you can request more texture or keep it simpler with just a few face-framing layers.
If you're not sure if the wolf cut is right for you, ask your stylist for their opinion. They will be able to assess your hair type and face shape to see if this style would work well for you.
Wolf Cut for Curly Hair
The wolf cut is also a great option for those with naturally curly hair. The style can look as fresh on curls as it does on straight hair and there are a lot of variations.
Curly hair has a lot of natural volume and texture. So, we recommend working with a stylist who is experienced with cutting and styling curly hair. This will help to ensure that your wolf cut looks its best.
Styling at home
Depending on the hair texture, you may need to use some styling products to maintain the wolf cut look. You will need to manage it.
The style may not be as full or volumunious and may fall flat, so you'll need to apply products to add texture, fullness, and hold.
If you have curly texture, you won't have to do as much since your natural curls will provide some movement to the cut. For a natural look, just use your fingers to style your hair into place.
If you want to make your curls pop, a great way to do that is to scrunch in leave-in conditioner or curl-defining cream and allow it to air dry for a more playful, tousled look. Because this is a tousled look, you'll need something to help control the frizz.
Try this gel to add definition to your ringlets. If you want more volume and texture, use a voluminizing spray or mousse.
For wavy textures, I recommend a gel for a more polished look. Also, try a sea salt spray by Not Your Mothers (link below). You can also use a dry shampoo to add volume.
For straight textures, you'll need extra volume throughout the crown. The best product to use is a mousse. Apply it to damp hair then blow dry it using a diffuser.
There are no rules when it comes to styling a wolf haircut. It's all about having fun and trying new things.
No matter how you style it, the wolf cut is sure to turn heads!
Products To Help Maintain Your Wolf Cut
---
---
---
---
What Are The Pros and Cons of the Wolf Cut?
Like with any haircut, there are some pros and cons to the wolf cut.
Let's take a look at some of the pros and cons of this style:
Pros:
Great for most types of hair
Can be worn in a number of ways
Cons:
May require frequent trips to the salon to maintain the style
FAQs
Why are they calling it a wolf cut?
A wolf cut is a cross between the classic mullet and shag hairstyle. It's a modern day cut that's similar to a mullet in terms of texture, however it has the comfort and wearability of a shag haircut.
Why is the Wolf cut so popular?
It combines the nostalgia we all like with a contemporary spin. Part of what makes the wolf haircut appealing is that the choppy layers.
What's the difference between layer and a Wolf cut?
The main difference is where the layers sit. They're spread throughout the style, instead of being concentrated solely at the top of the head like the mullet.
What's the typical price of a wolf cut hairstyle?
On average, it usually runs about $100.
Does wolf cut work for wavy hair?
Yes, the wolf cut can work for wavy hair. It's a versatile style that can be adapted to suit various hair textures, including wavy hair. The key is to work with a skilled hairstylist who can customize the cut to enhance the natural waves and hair lengths to achieve the desired look.
Can the wolf cut work with thick hair and short layers?
Yes, the wolf cut can work with thick hair and short layers. In fact, thick hair can often benefit from the wolf cut as it helps to reduce some of the bulk and create a more manageable and textured appearance. Short layers in thick hair can add depth and dimension to the style, making it even more versatile and stylish. However, it's essential to work with a skilled hairstylist who can tailor the wolf hairstyle to your specific hair type and preferences to achieve the best results.
Related Articles
Conclusion
So, there you have it! If you're open to a more tousled look and seeking for a fantastic way to spice up your hairstyle, give it a shot.
See how you like it. We think you'll be surprised at how easy it is to style and how great it looks. Let us know how it goes!