Last Updated on April 6, 2023 by Verna Meachum
Ever been to the hairdresser with unwashed hair and thought, 'Wow! Here comes an extra challenge for my stylist!' Then you must be familiar with the age-old debate on whether or not washing your hair before heading for a haircut is necessary.
Who knew that something so trivial can spark such heated debates? While some people strongly advocate for it, it remains one of those things that never gets settled. So, is it really necessary to wash your hair before going in for a cut?
In this blog post, we will dive deeper into the matter and try to find out what should usually be done when preparing yourself – and your tresses – for a fresh cut.
So buckle up ladies (and gents) and get ready to jump into this wild ride as we try to answer this intriguing question once and for all: should you wash your hair before getting a haircut?
Things to Consider Before a Haircut
Before choosing whether or not to shampoo ahead of a haircut, several key factors should be taken into account.
Hair Type And Condition
One of the most important factors to consider is the type and condition of your hair.
If you have curly hair, then you may be familiar with several popular curly haircutting techniques, such as the Rezo cut, Deva cut, Ouidad Cut, etc.
Typically, these haircuts are done on dry, detangled, and freshly washed hair. This allows for curls or waves to fall into their natural form, enabling the stylist to observe and perfect each snip with precision.
By washing your hair, you can ensure that your hair is in its purest form, free from any product build-up or residue.
While wet cutting is a familiar concept to many of us, this process prevents stylists from anticipating how the curls will sit in their natural state when they're dry.
If you have fine, limp hair then washing it before the cut is usually a good idea. Dirty hair will cause your strands to look even more flat and limp, making it difficult for your stylist to get an accurate reading of the desired look and shape.
If you have straight hair, your hairstylist can easily cut them wet or dry; it just depends on what type of style you're going after.
Type of Haircut
To ensure you have a clear vision of your desired hairstyle before arriving in the salon chair, it is best to thoroughly examine your hair and discuss the styling options with your stylist.
For straight hair, the distinction between cutting hair wet or dry isn't so much about the hairdresser's approach, but more the type of cut they create.
If you have thin, straight hair, a wet haircut is the best way to go if that's your situation. Professional stylists may opt for this technique when they cut your locks at the salon.
Crafting a sophisticated hairstyle requires your tresses to be fresh and free of product residue. Not ridding your hair of dirt can cause an unappealing, disheveled look after you wash it.
Most stylists think it best to cut your hair while wet, so they typically begin with a wash before beginning the cutting process. This is especially important when aiming for larger haircuts that involve the removal of an inch or more from the ends.
Ultimately, it's up to you and your stylist to determine the best course of action. Check with your stylist to see what they recommend for your hair type and needs.
If you're uncertain whether a new salon or stylist will provide you with a dry cut or wet cut, don't hesitate to get in touch before your visit and ask.
Type of Hairstyle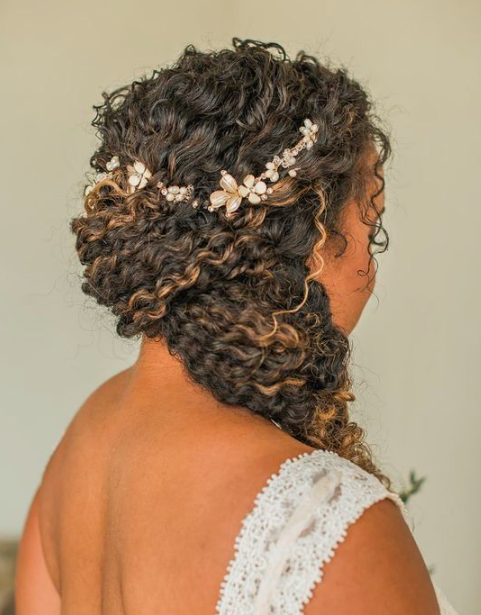 If you have an intricate hairstyle (i.e. for a wedding or prom) that requires your hair to be set in a specific way, then it is not essential to wash your hair before the appointment. However, you'll want to ensure that your hair is clean but not freshly washed.
If you have the opportunity to use second-day hair for your appointment, that is ideal as it allows for greater styling flexibility and longevity.
However, if showering before the session becomes a necessity, no problem! Your stylist can work with what you have.
4 Reasons To Wash Your Hair Before A Haircut
When deciding whether or not you should wash your hair before a haircut, the experts overwhelmingly agree – yes! Washing your hair before a cut ensures the stylist can see and work with your natural texture and shape.
Here are four reasons why washing is important.
#1 It Makes Styling Easier
Washing your hair before a haircut can help the stylist accurately assess your natural hair texture and condition. This will ensure that they can give you the best possible cut for your look.
Plus, it's a lot easier for them to work on clean hair than it is if it's dirty or greasy – so you'll end up with a much better result in the end!
#2 A Better Foundation for the Haircut
Washing your hair before heading to the salon also allows you to remove any product residue that might be making it difficult for the stylist to style properly.
Any excess oils or products can weigh down your locks, making them hard to manage and leaving you with an unsatisfactory finish.
#3 It Ensures a Clean Slate
Pre-wash cleansing also allows you to use a deep conditioner for extra hydration and shine, as well as a shampoo with nourishing ingredients that helps protect against damage and breakage during styling. That way, whatever hairstyle you choose will look even better!
#4 Prevents Contamination
Washing your hair before a haircut also helps to prevent contamination of your hair. This is important because dirty hair full of product build-up can affect the quality of the cut.
Tips: We recommend using a clarifying shampoo to achieve squeaky-clean hair. The goal of clarifying shampoos is to eliminate grease, dirt, and product build-up.
Does Your Hairstylist Prefer to Wash Your Hair?
Not all hairstylists will advise you if it's necessary to wash your hair before your appointment, so be sure to ask.
Some hairstylists often request that their clients come in for an appointment without washing their hair, as they would like to assess the structure and state of the client's locks before cleansing them with carefully selected products.
If your hairstylist has a strict no-dirty hair policy, you must honor their wishes and make sure to wash your locks before the appointment.
In many hair salons, shampooing your hair is included in the styling session. If that's true for you too, then let your hairdresser wash and refresh your mane before proceeding to cut it.
Some stylists will wet your hair before cutting it anyway and might even prefer to wash it themselves. That way, they know that there are no residual hair products or oils in your hair; they're working with a blank canvas, in a sense.
How Many Times A Week Should You Wash My Hair?
Most people don't give much thought to how often they should be washing their hair – but depending on your hair type and within reason, there are some guidelines that you should be aware of.
Generally, those with oily scalps should opt for washing daily (or every other day), while those with normal or dryer scalps can probably get away with it once a week.
The recommended frequency is just once or twice a week for curly textures (which can be especially prone to dryness). Of course, this will vary depending on individual circumstances and lifestyle.
For instance, if you have an active lifestyle – whether going to the gym or spending time outdoors – then more regular hair washing may be necessary.
Final Verdict
So, there you have it. Should you wash your hair before a haircut? The answer is, it depends.
Ultimately, the decision will come down to your hairstylist's preference and your hair type. So, if you're ever in doubt – just ask! The professionals you visit will be able to put your mind at ease, informing you if it is necessary to shampoo right before the appointment.