Last Updated on April 6, 2023 by Verna Meachum
If you're like me, you're always looking for the best protein treatments for hair. I've tried a lot of them, and I've narrowed it down to 10 that are my favorites and that I've personally used.
As a curly-headed gal with a lots of hair, I have dabbled in various protein treatments all these years to locate my Holy Grails.
Heads up! You won't find a single protein treatment that works for everyone because everyone's hair is unique.
After lots of trial-and-error, I've narrowed down the top 10 treatments that have worked best for my own curls – and they might just be perfect for you too.
Keep reading to discover which protein treatments made it on this exclusive list and learn why they're worth every penny!
What are Protein Treatments
Protein treatments are your best choice to prevent and repair damaged hair, whether they're bought over-the-counter or from a professional. Not only do these products restore strength, but also provide shielding against additional damage.
Protein treatments are helpful for those with relaxed, permed, colored or bleached hair. Because the protein helps to fortify and reconstruct the hair, it's an ideal treatment for those with very porous or fragile hair.
Protein treatments are not just a "one and done" kind of treatment – if you want to keep up your hair's health over time, then periodic maintenance treatments can help.
How Protein Treatments Work
Protein treatments are designed to revitalize and protect your hair from any additional damage by restoring its needed moisture levels. The proteins penetrate the hair strands and bond with it to create a protective barrier.
When applied, these treatments will help to restore protein levels, which can improve the overall health of your hair.
Protein Treatments for Hair: The Benefits
Before unveiling my top product picks, let me make a quick case for protein hair treatments. These hardworking formulas are essentially liquid gold for your curls, infusing strands with strengthening proteins to boost elasticity, shine, and overall health.
Using a quality protein treatment will make such a difference in how your hair looks and feels – a worthwhile investment in your hair's happiness.
Types of Protein Treatments for Hair
Protein-based Conditioners
Protein-based conditioners come in a variety of protein concentrations, from light to heavy. These formulas temporarily rebuild the cuticle layer of the hair shaft by filling any gaps or cracks along its surface.
Protein conditioners are capable of strengthening hair—that strength, however, is contingent on the extent of hair damage and methodical application.
After all, proteins coat the surface level only; due to water interactions that take place with every shampooing session these proteins have a tendency to slip away from each individual strand.
Protein conditioners are not only packed with nourishing proteins, but they also boast a moisturizing element as well. Consequently, you don't have to apply a secondary deep conditioning treatment.
Hair will retain the strengthening effects of these protein-rich conditioners for approximately one week to ten days (or until you wash your hair). The efficacy of these formulas for strengthening will depend on the condition of your hair.
Light to Moderate Reconstructors
Protein-rich conditioners that contain a high amount of proteins are named protein reconstructors. The fundamental difference between the protein-based conditioner and a protein reconstructor lies in their composition -type, size, and concentration of proteins.
Light to Moderate Reconstructors are formulated with a higher concentration of protein than regular protein-based conditioners, and they work wonders when it comes to restoring dry, brittle hair.
This powerful solution provides much-needed elasticity while reinforcing the internal structure of severely damaged hair due to chemical treatments.
Heavy Reconstructors
Heavy protein reconstructors offer the most concentrated levels of protein. For optimal penetration or adhesion of the protein molecules, these treatments are typically more intensive and necessitate heat during application.
Protein treatments provide long-lasting, dramatic results by penetrating and repairing the hair shaft from within. They have a lasting effects that remain in your hair for approximately four to six weeks.
However, the power of these reconstructors is contingent upon the amount of damage inflicted, as well as how often you shampoo your hair.
These reconstructors are best suited to hair that is porosity-ridden and especially damaged. With that said, hair with a healthy cuticle and protein structure, such as low porosity hair, cannot easily accept additional proteins.
Instead, these molecules accumulate on the exterior of this already-satisfied shaft which can make it overly rigid and dry, leading to breakage if overexposed to too much protein.
Protein reconstructors are designed to bolster tensile strength and structure within the hair strand, providing only minimal conditioning benefits.
To bring back elasticity and prevent breakage in your hair, you must supplement a protein reconstructor with an intensive moisturizing deep conditioner. I would highly recommend using a protein free deep conditioner.
Discover the Protein Treatment that is Right for You
Now that you know a little more about protein treatments, how do you choose the right one for you?
Well, it depends on what your needs are.
Finding the optimal balance of protein and moisture for your hair is essential – no matter its type. Just as in life, it's key to not overdo either component.
Ultimately, you need to find a protein treatment that matches your specific needs because there is no one-size-fits-all product.
It is always essential to check the ingredients list when making a purchase, so you know how the product will benefit your hair.
Protein Treatments for Hair: My Personal Favorites
Without further delay, I present to you my top ten favorite protein treatments in no particular order.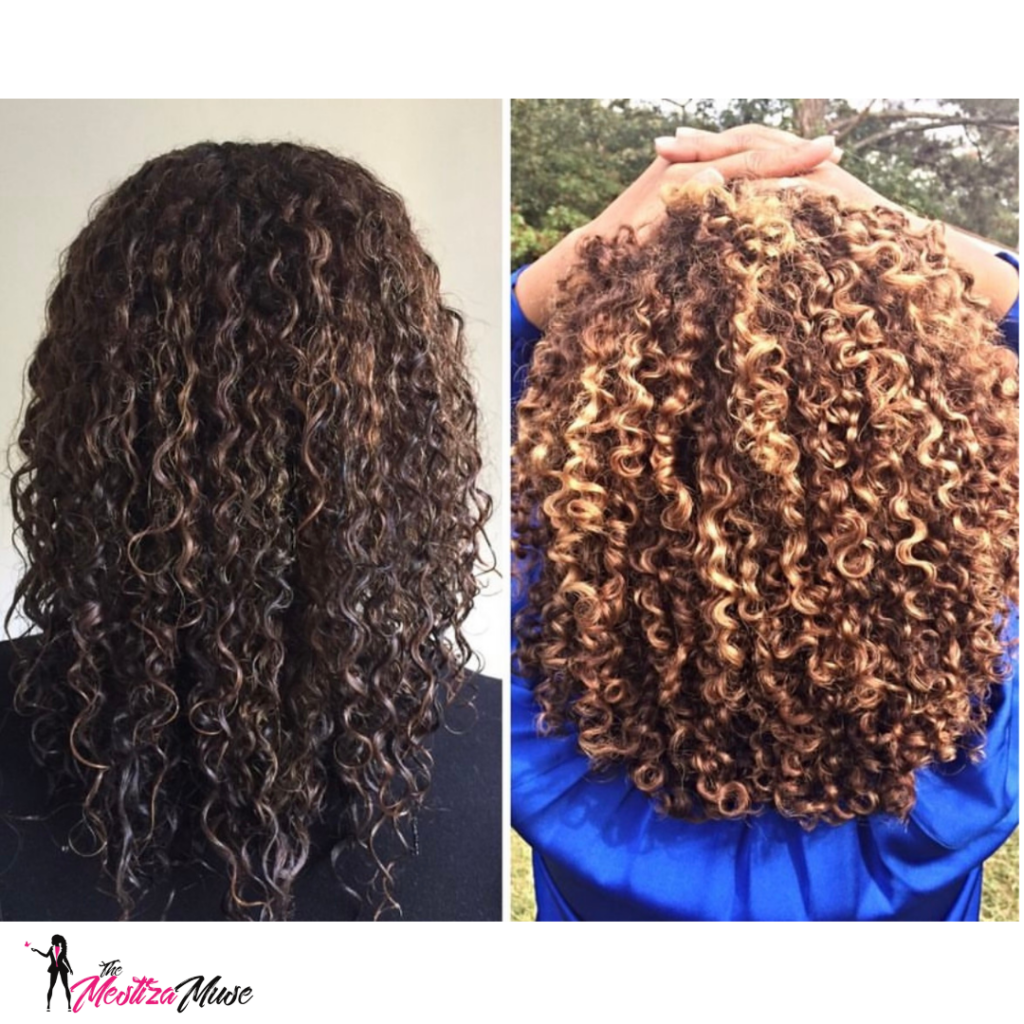 Ingredients: Water/aqua/eau, behentrimonium methosulfate, cetearyl alcohol, cetylesters, *Orbignya oleifera (babassu) seed oil, Pyrus malus (apple) fruit extract, glycerin, sodium PCA, sodium lactate, arginine, aspartic acid, PCA, glycine, alanine, serine, valine, proline, threonine, isoleucine, histidine, phenylalanine, *Euterpe oleracea (acai) pulp oil, Pentaclethra macroloba (pracaxi) seed oil, *Rosmarinus officinalis (rosemary) leaf extract, *Helianthus annuus (sunflower) seed oil, *Lavandula angustifolia (Lavender) oil, *Pelargonium graveolens (Geranium) flower oil, Salvia officinalis (Sage) oil, Mentha piperita (peppermint) oil, Citrus paradise (Grapefruit) peel oil, Litsea cubeba fruit oil, Mentha Viridis (spearmint) leaf oil, isoamyl laurate, dehydroacetic acid, benzyl alcohol. *CERTIFIED ORGANIC INGREDIENTS.
Prevents breakage and split ends
Restores the hair's elasticity
It has anti-oxidant green tea to protect hair
It contains a blend of keratin amino acids, botanical oils, and vitamins to restore strength and softness to hair.
It contains silicone and parabens (for those following the CG method)
One of my faves. It's quick and easy to use and only needs to be left on the hair for 2 minutes. I usually use this twice a month.
Ingredients: Water (Aqua, Eau), Glycerin, Cetyl Alcohol, Stearalkonium Chloride, Mineral Oil (Paraffinum Liquidum, Huile Minerale), Cetearyl Alcohol, Panthenol, Tocopheryl Acetate, Persea Gratissima (Avocado) Oil, Hydrolyzed Vegetable Protein PG-Propyl Silanetriol, Mauritia Flexuosa Fruit Oil, Triticum Vulgare (Wheat) Germ Oil, Hydrolyzed Keratin, Phytantriol, Petrolatum, Polysorbate 60, Amodimethicone, Stearyl Alcohol, Polyquaternium-10, Hydroxyethylcellulose, Trideceth-12, Cetrimonium Chloride, Collagen Amino Acids, Squalane, Hydrolyzed Glycosaminoglycans, Linoleic Acid, Linoleamidopropyl PG-Dimonium Chloride Phosphate, Trimethylsiloxyamodimethicone, C11-15 Pareth-7, C12-16 Pareth-9, Linolenic Acid, Citric Acid, DMDM Hydantoin, Disodium EDTA, Fragrance (Parfum), Benzyl Alcohol, Benzyl Benzoate.
FAQs
How do I know if my hair needs protein?
All hair is consists of approximately 65% to 95% proteins, thus protein is essential for hair growth and maintenance.

The protein structure in your hair can be affected over time due to chemical treatments, environmental factors, and rough mechanical styling. If your hair is experiencing dryness, breakage, feels dry and brittle, it may need a protein treatment.

To determine if your hair needs protein, you can do a strand test;
– Take a small section of hair from the roots to the ends and gently tug on it.
– If the hair breaks easily, then it likely needs a protein treatment.
How often should I use a protein treatment?
The frequency with which you need a protein treatment will depend on your hair type and the condition of your hair.

Some people only need a protein treatment every few months, but those with very dry or damaged hair may need one more often.

Light hair protein treatments should be used once a week for the first month to restore the hair's strength and elasticity. After the first month, protein treatments can be reduced to every 6 weeks.

For heavy protein treatments, it should be used once per 4-6 weeks.

As always, let your hair be your guide and use protein treatments as needed.

It's critical to follow the directions that come with the product as well as seek expert advice from your hairstylist if you're not sure.
Can I use protein treatments every day?
No, over using protein treatments (especially for low porosity hair) may actually make your hair more brittle, so it's important to find a happy medium that works for you.

If you're not sure how often to use protein treatments, ask your stylist for advice.
Should you use heat with protein treatments?
It depends on the formula of the protein treatment. Some protein treatments should not be used with heat, while others can be used with a little bit of heat.

Always adhere to the directions of whatever protein treatment you plan on utilizing for best results.
Should I wash my hair before a protein treatment?
Yes, for best results, protein treatments should be used after shampooing your hair.