Last Updated on August 16, 2023 by Verna Meachum
Unless you're into fitness, I guarantee you would prefer to chill on your couch with snacks while watching Netflix in your bonnet, ensuring your curls are safe. But working out comes with taking care of your health. So, how do you also care for your curls during workouts? 
You can care for your curls before and after workouts by avoiding tight hairstyles and using satin scrunchies if you tie your hair. Ensuring you wash your hair to eliminate sweat residue or use dry shampoo to freshen your hair. You can also find curly-friendly gym hairstyles that will prevent damage.
Working out with curly hair can be a challenge. Between the sweat, heat, hats, and friction during certain workouts, it's easy for your curls to go from looking fabulous to a tangly, oily, frizzy mess in no time. I share a bunch of tips and ideas to help you better care for your curls when exercising.
How Working Out Affects Curly Hair 
Unlike other hair types, curly hair requires extra love and care. It requires a lot more effort to ensure your hair does not get damaged, and it can't just be tied up and let down as you would with straight or wavy types. Working out with curly hair can lead to substantial damage without proper care. 
If you have curly hair and wear tight hairstyles, it can tug on your strands and cause hair to fall or mess up your curl pattern. It can also lead to frizz.
Curly hair also generally has a lot of products in it, such as curling creams and mousses. This can lead to excess scalp sweating. 
Combining product and sweat can lead to build-up and oiliness and weigh your hair down. That also requires extra washing, and excess washing can lead to dryness and damage to curly hair, which is already pretty prone to dehydration. 
When wearing caps and hats during workouts, the humidity can also damage and frizz. Hats and caps can also cause dents in the hair pattern and loosen or mess up your locks.
How to Care for Curls When Working Out 
Working out with curly hair requires hair care before, during, and after exercising. It does not take much extra effort or time, so maintaining your hair's health when working out is not daunting. There are simply a few things and tips to remember, avoid or incorporate. 
Let's run through some of those aspects:
Caring for Curls Pre-Workout
Apply Leave-in-Conditioner
While you don't want to use too many products in your hair before a workout to avoid excessive sweating and buildup, a small amount of leave-in conditioner can be a barrier between your scalp and hair strands. 
Apply Dry Shampoo
Dry shampoo before a workout is helpful because the formula can absorb excess sweat and oils. It is also deodorizing and can make your life a little easier when trying to fix your hair after exercising because of the reduced sweat and oiliness.
Avoid Tight Hairstyles
Tight hairstyles will cause tugging and pulling. It will also cause dents in your hair, mess up your pattern, and can flatten your curls. Wearing looser hairstyles and using accessories like satin scrunchies or claw clips that don't tug on your hair is best. (More on hairstyle ideas later). 
Avoid Tight Hats/Caps
Hats and caps might seem like workout accessory staples, but not for curlies. Caps can dry the hair out and flatten your curls. It is best to avoid these. If you must, wear a satin-lined hat or wrap that wicks away the moisture instead. These are also great if your head is on the floor or against machines. 
Caring for Curls During Workouts
Use A Headband 
Wearing a headband is a fantastic way to soak up sweat where it accumulates on the top of your head. This prevents it from running down to your strands. You can also wear a wristband to dab the top of your head as you sweat. 
Use a Microfiber Towel
Instead of traditional cotton and terry towels that dry your hair, pull on your hair strands, and cause breakage and hair fall, carrying a microfiber cloth for your workouts is a better idea. They are ideal after a workout, during one to dry sweat, or to place on machines when you sit or lay on them. 
Avoid Touching Your Hair
It can be an instinct to touch or fix your hair during workouts. Doing that can transfer dirt and bacteria to your hair, causing more oil buildup and unnecessary tugging, resulting in breakage or frizz. It is best to wear a hairstyle that won't fall or bother you and prevent touching and adjusting.
Caring For Curls Post Workout
Rinse with Water
After a workout, if you feel it necessary to wash the sweat out, but it isn't actually hair wash day, you can rinse with plain water instead of shampooing. This will prevent drying while still cleaning the surface dirt and sweat and giving you a refresher.
Apply Dry Shampoo
Dry shampoo is the holy grail for post-workouts. When it isn't wash day, and you need to soak up sweat from your hair and scalp or refresh your hair, spray some dry shampoo, fluff your hair, and style as usual. This will keep your curls going until wash day. 
Here are some dry shampoo options: 
Innersense Organic Beauty – Natural Refresh Dry Shampoo
Klorane Dry Shampoo with Oat Milk
Use a Refresher Spray
A refresher spray works similarly to dry shampoo. It soaks up excess sebum and sweat, leaving your hair feeling clean and fresh without washing. Hair refreshers are also hydrating, can prevent frizz, and do not weigh your hair down. They can also help deodorize your scalp and bring back bounce.
Here are some hair refresher options:
Cleanse Your Hair
The most apparent post-workout curly hair care tip is washing your hair. But you must be careful with this.
Washing after excessive sweating at the gym can seem appealing and properly clean your scalp, but too much frequent washing will dry your hair and result in frizz and breakage. 
However, there are hair cleansers you can use occasionally to deep clean your hair.
There are products for daily use if you genuinely require daily washing, and then there is also the option of co-washing.
Additionally, the occasional clarifying shampoo for deep cleansing is a must.
Gym Hairstyles for Curly Hair
Cute hairstyles while working out are fun and make you feel good and ready to tackle the gym. But the key with curly hair is to keep it simple and low-maintenance. That way, you can effortlessly prepare to exercise and avoid damage to your locks.
Here are some easy curly hair gym hairstyles to try:
The high ponytail: This style has been around for a while, and it's perfect for workouts because your hair is up and out of your neck. It is also not flying around, so it prevents tangling.
The low ponytail: This style is great because it is out of your face, prevents tangling, and works great for low-intensity workouts that don't require a lot of movement and result in less sweating.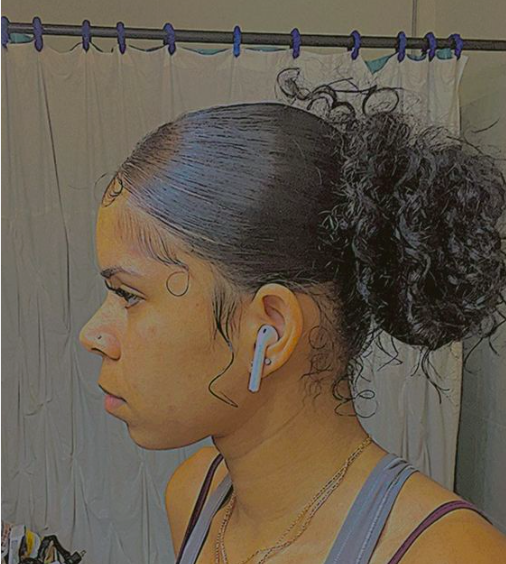 The bun: This style is perfect for all workouts and is easy to do. Simply put your hair into a ponytail, twist it, and tie it with a satin scrunchie. This ensures your hair is out of your face and neck and no strands are out or hanging loose. That means no tangling, tugging, or flattening.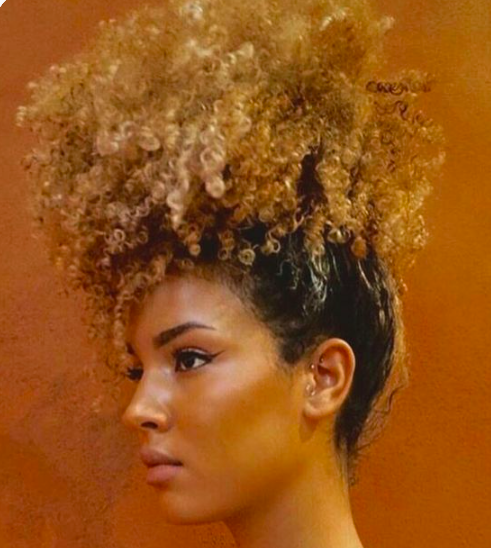 The pineapple: All curlies know this style always works in all situations. It is a high ponytail but on the top of your head. It keeps your hair out of the way, looks super cute, and maintains curls.  For more ideas on gym hairstyles for curly hair, check out my article on NaturallyCurly.
How Do Exercise and Sweat Affect Your Hair?
Exercising increases your body temperature and helps it to release toxins and boost blood flow to your skin and hair. Increased blood circulation to the scalp provides follicular nutrition and promotes hair growth. Working out is great for general health and nourishes hair follicles. 
Sweating itself is not harmful to your hair. It is a natural consequence of working out but can lead to an itchy scalp, dry curls, and clogged follicles if you do not care for your hair and scalp efficiently. Clogged follicles can harbor bacteria and fungus, leading to inflammation on the scalp. 
Additionally, sweat has a naturally high salt content that can dry the hair. The straightforward solution to cure a sweaty scalp and greasy hair is to wash it. Overwashing can potentially dry out your curls, but it is unlikely to happen with a couple of extra shampooing sessions.
Stumbling blocks to working out: The Sweaty Version
A survey of nearly 200 women with textured hair showed that 45% avoided working out due to concerns about how their hair would look and feel after sweating. Here are some considerations: 
Many women with curly hair may find sweating a major stumbling block to exercise if they're not used to working out.
Sweating can wreak havoc on your hair and ruin your style, which is why it may often be a major deterrent.
Not having time to do your hair after working out might be another stumbling block.
Needing to wash your hair more often is another stumbling block. Curly girls are intimately acquainted with the terror of a wash day, and the idea exhausts us. The last thing we want is to wash and style our hair after a workout.
Fortunately, there are measures you can take to ensure sweat doesn't ruin your hairstyle or cause excessive dryness. It is possible to continue engaging in your workouts while maintaining healthy locks.
Conclusion
Working out with curly hair does not have to be challenging or feel like too much of an effort. Once you remember the tips we mentioned and incorporate some into your routine, it becomes quick, easy and ensures that your curly hair health is always a priority, even when exercising!