As a mom who raised curly-haired kids with different curly hair patterns and textures, I understand how challenging it can be to figure out the best way to care for their hair.
It also tends to be a different ballgame from caring for adults, as babies often have sensitive scalps and delicate tresses that require special and gentle treatment.
It is important to find the right products and ingredients as well as develop the right routine to keep the little ones' hair looking healthy and beautiful.
With my experience, knowledge, and a little help from a scientist friend, I'd like to share some tried-and-true tips for baby curly hair care that can help make it easier for you.
In this article, we explore the scientific facts related to baby curly hair care and the best practices for keeping their curls clean while maintaining thier natural texture.
Baby Curly Hair Care Introduction
Cosmetic science has always been especially mindful of the unique needs of infants and babies when it comes to hair care and personal grooming.
Recent scientific breakthroughs have enabled us to further understand how intricate baby skin, hair, and scalp are in comparison with adults – leading to the creation of this specific field.1,2
Creating a baby hair care routine demands the utilization of carefully crafted products to cleanse, condition, and style.
Why Babies Need a Separate Hair Care Regimen
Compared to adult skin, infant and baby skin is significantly different.3,4 It contains a reduced amount of water and loses moisture from the epidermis at an accelerated rate.
In addition, it has relatively fewer amounts of lipids as infants and young children do not possess fully-developed sebum glands. Also, their skin barrier function has yet to fully function.
The infant skull has not fully developed and the skull bones are still soft. These morphological and biochemical differences have serious implications.5
That said, given the fact that shampoo and conditioners come in direct contact with scalp skin, it's important to understand that due to babies' poor barrier function, chemicals have a higher magnitude of penetration.
As such, baby shampoos or conditioners should be formulated with green, very mild, and gentle ingredients.
Because regular shampoos and conditioners may contain strong surfactants and cationic hair-softening ingredients, they are unsuitable for babies or toddlers.
These ingredients can disrupt the delicate skin structure of infants; thereby increasing their risk of discomfort from potential allergens and irritants.
That's why infants and babies need customized and specially formulated products for their everyday hair grooming needs. 6,7
Baby Curly Hair Care Regimen
Cleansing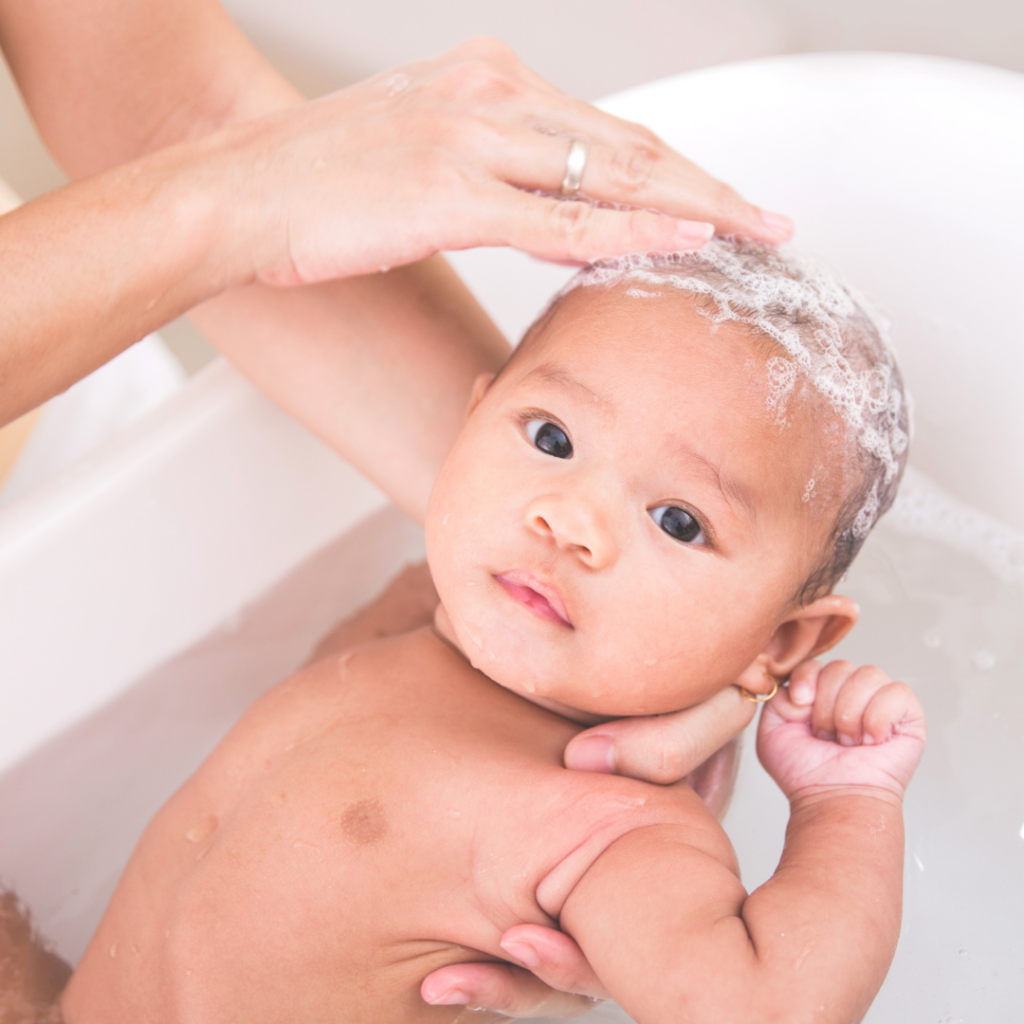 Infants' hairs are delicate, fine, and fragile. They also feel fluffy and soft. Hair gains diameter and texture with age due to the maturity of follicle activity.
Washing your infant's hair 2-3 times a week is fine, but be sure to use a gentle shampoo that is rich in emollience, conditioning, and natural oils.
Non-ionic surfactants are the optimal choice to use for baby shampoo because they not only provide superior cleaning abilities but are also mild and have a low irritation. Sulfates can be considered as an alternate possibility when it comes to formulating baby hair shampoos.
Before buying shampoo, it is essential to thoroughly analyze the ingredients list.
The following surfactants are preferred for a baby curl care shampoo:
Sodium Lauroyl Sarcosinate
Conditioning
Traditional conditioners are not recommended for infant and baby hair.
To create the perfect conditioning formulations for adult hair consumers, we utilize cationic hair-softening ingredients such as cetrimonium chloride and behentrimonium chloride.
Unfortunately, these particular ingredients can cause high irritation levels on a baby's delicate scalp which is why they are not recommended for use with children.
Moreover, baby hairs are usually fine, thin, and delicate; thus, these cationic ingredients can cause heaviness or build-up.
So, how do you go about properly conditioning a baby's curly hair?
Natural oils are excellent hair moisturizing, detangling, and softening agents. They are mild, green, and sustainable. They are hydrophobic and thus form a delicate fine coating on the scalp hair.
Moreover, they moisturize the scalp surface and prevent water loss from the scalp surface. A blend of natural oil and butter is the ideal recipe for conditioning baby hair.
To experience the benefits of natural oil, here are a few options to consider:
Baby's Curly Hair Maintenance
Keep it simple
1) Wash your baby's curly hair with a gentle shampoo.
Here are a few recommendations:
Experience an invigorating and refreshing scalp with this tear-free shampoo. It is a gentle formula that cleanses 99% of the time, increasing sheen by 21.2%, while improving overall scalp moisture by 112.5%! After just one wash you will notice a 10% increase in Scalp Health and your child's hair will be left looking shiny, smooth, and moisturized – perfect for even dry scalps.
Ingredients: Aqua/Water/Eau, Aloe Barbadensis Leaf Juice, Disodium Cocoamphodipropionate, Polyquaternium-10, Vanilla Planifolia Fruit Extract, Citric Acid, Phenoxyethanol, Caprylyl Glycol, Sodium Benzoate, Fragrance/Parfum. *Certified Organic. Gluten-Free | Vegan | Cruelty-Free | Paraben-Free | Peg-Free | Phthalate-Free | Talc-Free | Packaging – Degradable | Packaging – Recyclable.
---
SheaMoisture Baby Wash & Shampoo
SheaMoisture knows that baby skin requires extra special care, so their range of bath and shampoo products is specifically designed to provide the gentlest treatment.
Formulated with soothing frankincense and myrrh, this baby wash and shampoo is a mild cleanser that also replenishes moisture.
Crafted with sensitivity in mind, this formula is free of parabens, phthalates, mineral oil, and sulfates that can irritate delicate skin.
Ingredients: WATER, DECYL GLUCOSIDE, SODIUM LAUROYL LACTYLATE, PHENOXYETHANOL, PROPANEDIOL, COCAMIDOPROPYL BETAINE, COCOS NUCIFERA (COCONUT) OIL, ARGANIA SPINOSA (ARGAN) KERNEL OIL, BUTYROSPERMUM PARKII (SHEA) BUTTER*, GUAR HYDROXYPROPYLTRIMONIUM CHLORIDE, TOCOPHEROL, GLYCINE SOJA (SOYBEAN) OIL, ALOE BARBADENSIS LEAF JUICE, GLYCERIN (VEGETABLE), CALENDULA OFFICINALIS (CALENDULA) FLOWER EXTRACT, VANILLA PLANIFOLIA (VANILLA) FRUIT EXTRACT, ROSA CENTIFOLIA FLOWER EXTRACT, ORMENIS MULTICAULIS (MOROCCAN CHAMOMILE) OIL, BOSWELLIA SERRATA (FRANKINCENSE) EXTRACT, COMMIPHORA MYRRHA (MYRRH) RESIN EXTRACT, LAVANDULA ANGUSTIFOLIA (LAVENDER) FLOWER EXTRACT, SODIUM CHLORIDE, SODIUM BENZOATE, CITRIC ACID, FRAGRANCE.
---
SheaMoisture 2-in-1 Shampoo and Conditioner for Kids
SheaMoisture's 2-in-1 sulfate-free shampoo and conditioner for kids is the ideal hair product to restore hydration and enhance shine.
This product delivers the perfect balance of nourishment to bring out curls' best health with the special blend containing ethically sourced Fair Trade Shea Butter, Coconut Oil, and Hibiscus Flower, to provide maximum moisture and hydration for dry curly hair.
This product is best for 3A to 4C hair types.
Ingredients: Water, Decyl Glucoside, Cocoamidopropyl Betaine, Sodium Lauroyl Lactylate, Glycerin (Vegetable), Cetearyl Alcohol, Fragrance (Essential Oil Blend), Caprylhydroxamic Acid, Behentrimonium Methosulfate, Butyrospermum Parkii (Shea) Butter*+, Althaea Officinalis Root Extract, Ulmus Fulva (Slippery Elm) Bark Extract, Hibiscus Rosa-Sinensis Flower Extract, Caprylyl Glycol, Glycol Distearate, Cocos Nucifera (Coconut) Oil, Sodium Phytate.
---
Johnson's Baby Curl-Defining, Frizz Control, Tear-Free Kids' Shampoo
Johnson's products have been carefully crafted and rigorously tested by healthcare professionals to ensure that they are gentle on your newborn's delicate skin.
Ingredients: Water*, Cocamidopropyl Betaine*, Decyl Glucoside, Glycerin*, Lauryl Glucoside*, Sodium Methyl Cocoyl Taurate*, PEG-80 Sorbitan Laurate, Sodium Cocoyl Isethionate*, Citric Acid*, PEG-150 Distearate, Glycol Distearate*, Sodium Benzoate, fragrance, Polyquaternium-10, Disodium EDTA, Hydroxypropyl Guar Hydroxypropyltrimonium Chloride, Butyrospermum Parkii (Shea) Butter*. *Naturally-derived ingredients.
---
SheaMoisture Oat Milk & Rice Water Baby Extra Comforting Wash & Shampoo
Soothe and nourish your little one's dry skin with this gentle hypoallergenic Wash and Shampoo. Infused with Oat Milk, Rice Water, and Fair Trade Shea Butter, it will leave their sensitive skin feeling pampered, comfortable and deeply conditioned.
Ingredients: WATER, SODIUM LAUROYL METHYL ISETHIONATE, COCAMIDOPROPYL BETAINE, GLYCERIN (VEGETABLE), PHENOXY_ETHANOL, BUTYROSPERMUM PARKII (SHEA) BUTTER*, PANTHENOL, AVENA SATIVA (OAT) KERNEL FLOUR, CHAMOMILLA RECUTITA (MATRICARIA) FLOWER EXTRACT, LAVANDULA ANGUSTIFOLIA (LAVENDER) OIL, GUAR HYDROXYPROPYLTRIMONIUM CHLORIDE, ORYZA SATIVA (RICE) EXTRACT, HELIANTHUS ANNUUS (SUNFLOWER) SEED OIL, SODIUM CHLORIDE, TRISODIUM ETHYLENEDIAMINE DISUCCINATE, SODIUM BENZOATE.
2) Condition with natural oils.
3) Keep it natural and green as much as possible.
Taking care of baby curls shouldn't be a difficult task! Baby hair is fragile and requires gentle yet effective routine maintenance to keep its natural look.
Styling and Caring for Your Baby's Curly Hair
Styling products are popular among young kids. However, they are not suitable for infant newborn babies.
Children who are older than five years of age can safely use styling products that feature natural ingredients such as beeswax and carnauba wax.
Hair gels are usually made up of all synthetic ingredients base and are suitable for kids above 8-9 years of age.
When It's Time for a Haircut
A countless number of stylish haircuts are available for curly-haired kids, and selecting a flattering cut is essential to achieving the desired results.
To find the perfect stylist for your little one's curly tresses, it is important to do your research and pick a salon with experts who are well-versed in cutting textured hair. After all, not every hairstylist is knowledgeable about this kind of mane maintenance!
If you're uncertain how to proceed, reach out to friends and family whose hair resembles your child's for personal advice. Alternatively, take a look at the social media profiles of stylists in your area to see their online portfolios.
Ingredients to Avoid for Kids' Scalp and Hair
It is essential to remember that the scalp hairs of infants and babies are substantially different from those of adults, so they must not be exposed to harsh surfactants or other irritating chemicals.
Be aware of the following ingredients that may have a negative impact on their little one's curls:
Sulfate Shampoo
Sodium lauryl sulfate and Sodium Laureth Sulfate are the two commonly used surfactants in shampoo formulations. They generate high volumes of foam and are effective in cleansing.
Sulfates, however, may cause skin irritation and weaken the proteins in hair fibers. Therefore, it is best to avoid sulfates when washing a baby's delicate scalp and curls.
Cationic Surfactants
Cationic surfactants are used in conditioners and deep conditioning masks. They have high irritation potential compared to other groups of surfactants. Therefore, should be avoided for babies.
Preservatives
It is advisable to keep infants and children away from potentially harsh chemical preservatives. These additives may help in preventing microbial growth, but they can also cause allergic reactions or irritation.
For the utmost care of your baby's delicate scalp and hair, it's best to choose natural, green, and mild preservatives; such as sodium benzoate or potassium sorbate.
Drying Alcohols
Some hair care products, especially styling mousses or gel may contain ethyl alcohol (ethanol or sometimes written as denat. alcohol).
Beware of the harsh drying effects that alcohol can have on skin and hair. It strips away moisture and lipids from the scalp, so it's important to not utilize this ingredient for baby hair curly care.
Synthetic Perfumes or Fragrances
Personal care items and baby goods are often contain synthetic perfumes – molecules that contribute to the distinct smell of a product.
However, due to their manufactured composition, Regulatory bodies around the world have established strict limits on how these scents can be utilized.
Babies' scalps are more sensitive than adults' scalps and should be protected from these synthetic molecules.
To ensure their safety, opt for natural alternatives which are plant-extracted essential oils that are mild and multifunctional e.g. peppermint oil, clove oil, rosemary oil, and eucalyptus oil.
Summary
The scalp and hair of a baby are much more delicate and sensitive than that of an adult, so it's essential to use gentle, skin-friendly products when cleansing or styling.
To keep their curly hair healthy and soft, opt for natural ingredients over synthetic ones; this way you can ensure the preservation of their natural texture without exposing them to potentially harsh formulas.
---
References
1. Visscher, M. O.; Adam, R.; Brink, S.; Odio, M., Newborn infant skin: physiology, development, and care. Clin. Dermatol. 2015, 33 (3), 271-280.
2. Stamatas, G.; Nikolovski, J.; Mack, M.; Kollias, N., Infant skin physiology and development during the first years of life: a review of recent findings based on in vivo studies. Inter. J. of Cosmet. Sci 2011, 33 (1), 17-24.
3. Nikolovski, J.; Stamatas, G. N.; Kollias, N.; Wiegand, B. C., Barrier function and water-holding and transport properties of infant stratum corneum are different from adult and continue to develop through the first year of life. J. Invest. Dermatol. 2008, 128 (7), 1728-1736.
4. Rahma, A.; Lane, M. E., Skin barrier function in infants: Update and outlook. Pharmaceutics 2022, 14 (2), 433.
5. Kelleher, M. M.; O'Carroll, M.; Gallagher, A.; Murray, D. M.; Dunn Galvin, A.; Irvine, A. D.; Hourihane, J. O. B., Newborn transepidermal water loss values: a reference dataset. Pediatric Dermatology 2013, 30 (6), 712-716.
6. Stamatas, G. N.; Walters, R.; Martin, K., Formulating for unique needs of baby skin. Personal Care 2011, 31-36.
7. Batchelor, H. K.; Marriott, J. F., Formulations for children: problems and solutions. British journal of clinical pharmacology 2015, 79 (3), 405-418.