Curly girls around the world have been searching for curly girl friendly conditioners. We all know that a curly girl's hair care routine is not easy. It requires time, patience, and a lot of curly-friendly products that are hard to find. In this blog post, we discuss the top 20 curly girl friendly conditioners that are on the market today. This way you can make an informed decision about which product is best for your curly locks!
Rinse-Out Conditioners
Rinse-out conditioners are great for curly girls because they provide moisture to curly hair. After cleansing curly hair, the conditioner will help to detangle curly locks. It is important to use rinse-out conditioners only after shampooing curly hair because they are designed for moisture and not cleaning curly hair.
First on the list of curly girl approved conditioners and one of my most favorite rinse-out conditioners is the
Bouncecurl Smooth Super Smooth Conditioner (use 'muse' at the check out to get a discount).
If you're looking for a protein-free conditioner, then this is it. Organic aloe is the first component of this excellent conditioner. That's correct, there isn't a drop of water in here! This is a light moisturizing conditioner that will lightly hydrate your hair. This conditioner is weightless and leaves the hair feeling light, yet moisturized. It is also color-safe, vegan, and cruelty-free!
For all hair types: Excellent for Kinky, Coily, Curly, and Wavy textures. It's an ultra-moisturizing conditioner with significant detangling ability. Softens and smoothes dry hair while leaving behind moisture. Made with 100% pure and natural ingredients that are safe for color-treated hair.
By boosting the absorption rate through hair layers, this product efficiently moisturizes. Penetrating the hair to increase moisture content and prevent split ends. Dry, frazzled, or kinky-coily hair is suitable for this conditioner.
Jessicurl Aloeba Daily Conditioner
It's lightweight for fine hair. Aloeba Daily Conditioner uses aloe, jojoba, coconut, and avocado oils to moisturize hair without being greasy or heavy.
SheaMoisture Strengthen and Restore Conditioner
This Shea Moisture Jamaican Black Castor Oil is a reparative rinse-out hair conditioner treatment that softens and detangles hair while controlling frizz. This hair cleanser conditioner is made with Jamaican Black Castor Oil and Shea Butter to provide intensive conditioning and nourishment. Shea Moisture products are both environmentally and humanely sustainable. It is formulated with no silicone, no sulfates, no parabens, no mineral oil or petrolatum and, no phthalates.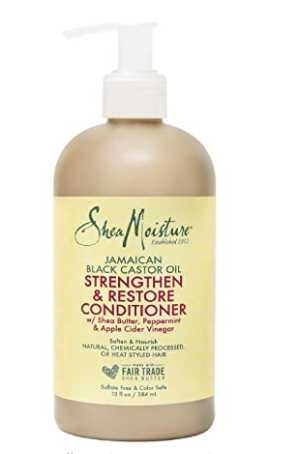 Leave-In Conditioners
Shea Moisture Jamaican Black Castor Oil Leave-In Conditioner
This is my all-time and go-to product since the beginning of my healthy hair journey. It's especially good for color-treated. It contains Jamaican black castor oil and certified organic shea butter to nourish, moisturize, and support elasticity for hair that resists breakage during detangling. It literally heals your curls!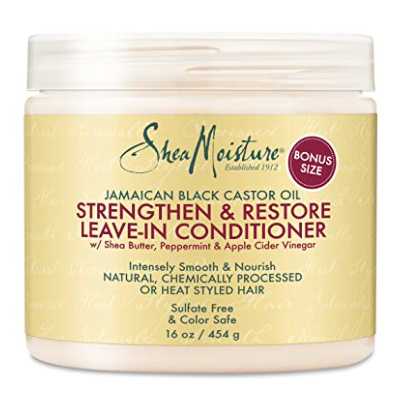 Bouncecurl Moisture Balance Leave-In Conditioner
This is super concentrated and filled with all kinds of goodness. It's designed for deep nourishment to generate strong, glossy, healthy, and soft hair. This leave-in can be used as a primer underneath any hair products to achieve extreme moisture balance and daily protection.
Curls Blueberry Bliss Leave-In Conditioner
Love, love this leave-in conditioner. With this ultra-soothing leave-in conditioner, your stressed curls will be repaired and restored to health. It is formulated with certified organic blueberry extract, coconut oil, to repair damaged hair.
Giovanni Direct Leave-In Treatment Conditioner
To all of you OG's out there, remember this leave-in conditioner? This was all the rave when I started my healthy hair journey and is still a great product. It is a weightless moisturizing conditioner that penetrates into each individual strand to provide exactly what is needed, every time. This leave-in conditioner uses a rich blend that protects hair as you go through the day. Your hair will not be dull, strip its color, or damage your hair. It's color-safe, paraben-free, and cruelty-free.
Soultanicals Mango Dip Dentaling Slip
This is a great detangling conditioner that helps to smooth the cuticle. It penetrates the hair while moisturizing and nourishing every strand. You'll get an explosion of mango and tangle-free bliss!
Deep Conditioners
Briogeo Don't Despair, Repair!
This is my favorite deep conditioner. It's a comprehensive hair repair treatment that may be used on dry, damaged, chemically treated, or lifeless hair. This deep conditioning mask works in minutes to restore essential hydration and natural vibrancy to your hair. Really good stuff!
Bouncecurl Ayurvedic Deep Conditioner
This is a protein-free deep conditioning treatment that will hydrate, soften, and improve your hair's elasticity without weighing your curls down. It is ultra-moisturizing and functions as an instant conditioner and deep conditioner. It's almost like having two products in one, so more bang for your buck!
This formula gives curls a deep-down hydrating fortifying treatment. The powerful penetrating conditioner is a wonderful blend of coconut, sugar cane, green tea, apple, and lemon extracts, shea butter, vitamin E, and proven hair fortifiers. It moisturizes deep within the hair shaft and smooths and aligns the cuticles.
Red Rawkyn is a red clay deep conditioning treatment with an intense moisturizing effect. The clay enables the mask to go deep into the hair follicle, which aids absorption. This clay mask will hydrate, tame frizz, and restore your dry hair with it's hydrating, frizz-controlling, and restorative ingredients.
Mielle Babassu Oil & Mint Deep Conditioner
I love this deep conditioner! This intensive conditioner is rich in fatty acids, which provide hair with a wonderful softness while natural oils and Cetearyl Alcohol help prevent flyaways and reduce frizz. Mielle Organics' deep conditioner is comprised of two complex amino acids derived from wheat, soy, and other natural resources that closely mimic the function of hair amino acids, helping to restore and moisturize damaged and dry hair.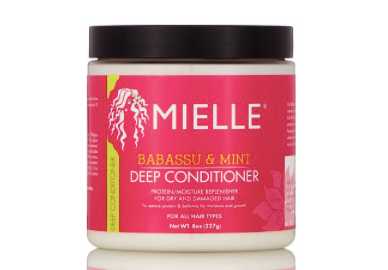 Drugstore / Amazon Curly Girl Friendly
SheaMoisture Organic Raw Shea Butter Restorative Conditioner
This product helps to detangle, moisturize, and restore lifeless damaged hair. This conditioner is best for those transitioning from chemically treated hair to natural curls.
Cantu Shea Butter for Natural Hair Leave-in Conditioning Cream
This product is super affordable. It helps mend breakage, repairs split ends, and reduces frizz. Shea butter helps to penetrate deeply and add manageability and shine to hair with every application.
Tresemme Botanique Nourish & Replenish Conditioner
This formula is made with botanical ingredients and nutrient. It is a professional-quality conditioner that boosts hair's moisture, leaving it nourished and silky. Enriched with coconut milk and aloe vera, this deep conditioner helps smooth and detangle hair.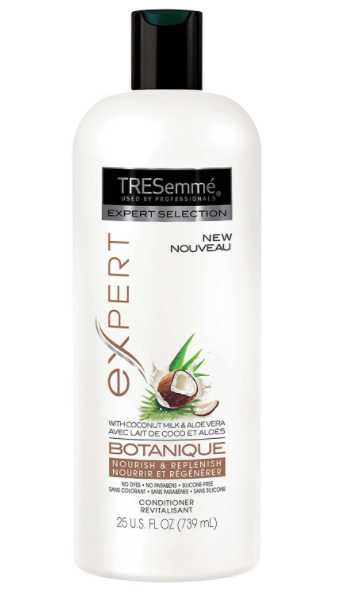 Not Your Mother's Naturals Tahitian Gardenia Flower Butter Curl Defining Conditioner
The Tahitian Gardenia Flower & Mango Butter Hair Balm is a rich mixture that moisturizes hair without weighing it down. It deeply hydrates, conditions, and helps to define curls.
Kinky Curly Knot Today Leave-In Detangler
I think just about every curly head is familiar with this product. This is a creamy herbal conditioner and detangler designed to smooth the cuticle and remove knots, snarls, and tangles. It is formulated with organic fruit extracts and herbs to naturally moisturize the hair.
---