Last Updated on April 10, 2023 by Verna Meachum
If you're wanting to know how to make your hair curlier, you've come to the right place. In this blog post, we will discuss the best tips and tricks to help you get your curls curlier!
We'll cover everything from using the right products to using the right methods. So whether you're trying to create ringlets or just add a bit of body to your locks, read on for helpful advice!
I remember when I was transitioning from damaged hair, my curls were lifeless and barely held a curl. I wanted my hair to get curlier, but didn't know what to do or how to do it.
Every time I would see someone with beautiful curly hair come through my Instagram feed, I would get inspired, but then feel defeated when I tried to do the same thing to my own hair and it would turn out looking like a hot mess.
After trying a variety of methods and products, I finally found what works best for my hair type and texture. And today, I'm going to share that with you!
I did some research and found out that transitioning from damaged hair to curly can be a challenge, but it's definitely worth it in the end.
Before we dive into the content, it's critical to understand that there's nothing you can do to change the natural curl pattern that you were born with due to your hair's genetic composition.
However, you can definitely enhance and accentuate your curls with the right products and methods.
Now that we have that out of the way, let's get into the best tips and tricks on how to make your hair curlier!
10 Ways to Make Your Hair Curlier
We all want to know how make our curly hair curlier. The short answer to this is to first get a haircut, then use the right products, and then style your hair in a way that will enhance your natural curl pattern.
The long answer is to follow the specific ways listed below.
We all know what damaged hair looks like. Often, the ends are straighter than the roots, the hair is dry and brittle, and it lacks shine.
The condition of your hair after damage is often shown as hair that has lost its springiness and elasticity, and this is evident when new hair that is growing out is curlier than the ends.
The first thing I did was cut off all of my damaged hair. This was honestly the best thing I could have done for my hair, because it allowed me to start over.
If your hair is damaged, you should consider cutting it off or at least trimming as much as you can bear. This will help reduce the amount of damage and make it easier to style and manage your curls.
You will also notice that your curl pattern is a bit more defined and springier.
Below is a photo of my hair before and after my first Deva cut.
Now that you've got the right products, it's time to learn how to use them!
While there are a multitude of products available on the market that claim to make curls curlier, the truth is that there are a variety of styling methods that can achieve this look.
Here are a few of my favorites:
2. Scrunching
Scrunching is the act of gently squeezing the hair up from the ends toward the roots in order to create curl definition, and to get rid of gel cast (crunch).
This method may be used in each stage of your routine, from conditioning to drying to styling.
This is the best oil I like to use to scrunch out the crunch.
Below is a photo of my hair before and after scrunching out the crunch.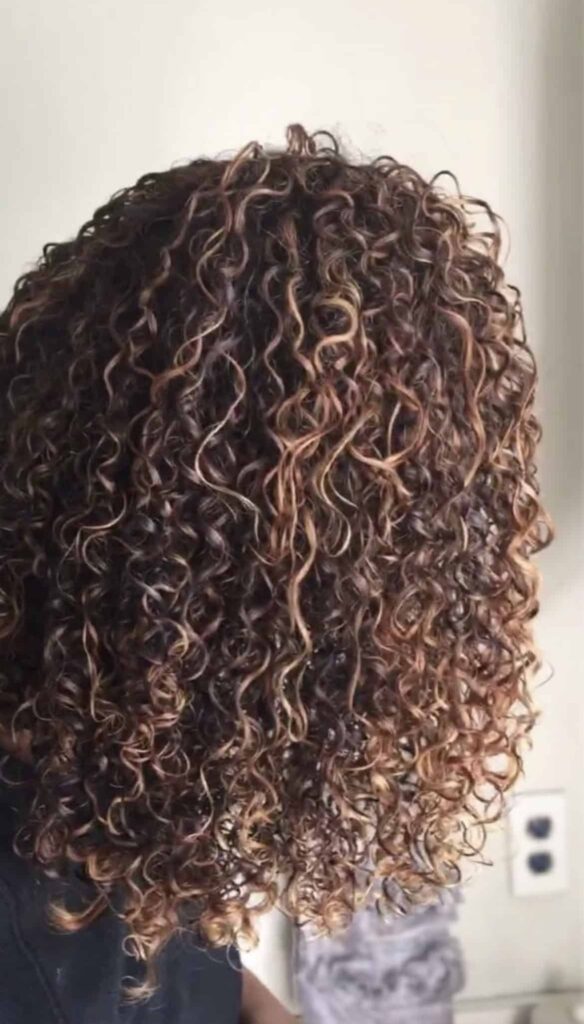 3. Diffusing
Scrunching the curls, then setting them with the diffuser can help reduce frizz and add definition to the curls.
To fight the frizz, try a stronger hold styling product like a gel to keep curl definition.
When the hair is partially dry, flip your head forward and cup your curls with a diffuser, scrunching the hair towards the roots.
This is a great way to add volume and body to your curls. You can use a diffuser attachment on your blowdryer, or scrunch your hair while it's wet and let it air dry.
Here's how I diffuse my hair.
4. Air dry or diffuse on a low setting
Another way to make hair curlier is to air dry your hair. This is a great option if you have a lot of time, or if you want to avoid using heat on your hair.
You can also use the blow dryer on the lowest setting to help speed up the drying process.
Finish with a light hairspray to hold the curls in place.
5. Plopping
Here is how to plop your hair by Penny Tovar.
Plopping is a curly hair method of that reduces the drying time while also providing more definition and less frizz.
Plopping your wet hair happens after you've applied your styler and before you dry or diffuse your hair.
There are a variety of methods that you can use to get your curls looking their best, so experiment until you find the ones that work best.
6. Define your curls with a Denman brush
Another way to make your curls curlier is to use a Denman brush. There are plenty of YouTube videos that show you how to do it.
A Denman brush has thick, spaced-out bristles to encourage curls, while also clumping the curls.
Start at the roots and gently brush downwards towards the ends of your hair. Be sure not to tug on your hair, as this can cause breakage.
If you don't have a Denman brush, you can also use your fingers to define and separate your curls.
7. Finger coiling
Finger coiling or curling your hair around your fingers can help to define the curl.
This is a great method for when your hair is wet.
To do this, starting at the roots, grab about about an inch of your hair, then begin twist the hair around your fingers to create a tight curl. Hold for a few seconds, then release.
When you release it, it should form a spiral ringlet. Repeat until you've curled all of your hair.
8. Treat your hair to a deep conditioner
As anyone with curly hair knows, finding the right deep conditioner can be a game-changer.
A good deep conditioner can make curls curlier, softer, and shinier. It can also help to repair damage caused by heat styling and dyed hair.
Treat your hair to an intensively hydrating conditioning treatment once or twice a month to quench its thirst and give it bounce and elasticity.
When shopping for a deep conditioner, look for one that is specifically designed for curly hair.
These products typically contain natural ingredients that help to hydrate and nourish curls.
In addition, make sure to read the label carefully to ensure that the product is free of harsh chemicals.
Once you find a deep conditioner that works for you, make sure to use it regularly to keep your hair looking its best.
The more hydrated your curls are, the more they will curl up.
Here are a few of my faves:
Briogeo Don't Despair, Repair!
Mielle Organics Babassu & Mint Deep Conditioner
9. Treat your hair to a protein treatment
When it comes to hair care, protein treatments are often overlooked. Yet, these treatments can make a big difference in the health and appearance of your hair.
Protein treatments work by replenishing the proteins that are essential for healthy hair growth. This helps to repair damage and make curls curlier.
In addition, protein treatments can help to prevent breakage and make your hair more manageable. If you're looking for a way to revitalize your hair, consider treating it to a protein treatment. Your hair will thank you for it!
Use a protein treatment approximately every 4-6 weeks (or as needed).
Here are a couple of my favorite protein treatments:
Aphogee 2 Minute Reconstructor
10. Give your hair a reboot
From time to time, our curls need a reboot. A clarifying shampoo is a great way to remove any built-up products, dirt, and oil from the hair shaft.
It can also help to get rid of any unwanted residue that may be causing your curls to be weighed down or frizzy.
Products to Make Your Hair Curlier
The products you use play a critical role in how your hair will turn out. If you're using the wrong products, it's going to be nearly impossible to get your curls to look their best.
When it comes to finding the right products, you'll want to consider your hair type and texture. Not all products are created equal, so it's important to find ones that are specifically designed for your hair.
For example, if you have dry curly hair, you'll want to use a moisturizing shampoo and conditioner, as well as a curl-enhancing product.
If you have fine or thin hair, you'll want to use a volumizing shampoo and conditioner, as well as a product that will add texture and hold.
There are a variety of products on the market that can help you make your curls curlier, so take your time and find the ones that work best for you.
If you need to figure out your curly hair type, we've got the perfect article for you. Also, at the bottom of this article, there are some product suggestions for each curly hair type to assist you in your search.
Curl-Enhancing Creams
A curl-enhancing cream is a great way to add hold and definition to your curls.
These creams can be easily applied to damp or dry hair. They often contain ingredients that help to add definition and lightly hold curls.
In addition, curl-enhancing creams typically contain oils or butters that help to hydrate and tame frizz.
To use, simply apply a small amount of cream to your palms and distribute it evenly through your damp or dry hair. Then, style and scrunch as desired.
Here are some of my favorites:
Bouncecurl Avocado & Rose Oil Clump and Define Cream
Bouncecurl Defining Butta This is specifically made for 4 hair type hair. I have 3c hair type, but it works well with my texture.
SheaMoisture Curl Enhancing Smoothie
Curl-Enhancing Mousses
There are also a few curl-enhancing mousses that I love. These will help to define the curl while also providing hold.
Apply the mousse to wet hair, then scrunch and style as desired. To achieve more definition and frizz-free curls, I like to apply mousse as the very last step in my styling routine.
Design Essentials Curl Enhancing Mousse, Almond and Avocado
OGX Locking + Coconut Curls Decadent Creamy Mousse
SheaMoisture Frizz-Free Mousse
Curly Hair Gels
If you have naturally curly hair, you know that sometimes it can be a challenge to get your curls to look just right.
Whether they're too frizzy, too flat, or just won't hold a curl, there are a number of ways to style your hair to make your curls look their best.
One way to make sure your curls are looking their best is to use a gel. Hair gels can help to make your curls curlier and can also help to keep them from getting frizzy throughout the day.
There are a variety of gels on the market, so you can find one that works best for your hair type.
If your curls are particularly resistant to styling, you may want to try a stronger gel. But if your hair is on the finer side, you may want to stick with a lighter-weight gel.
Here is a list of some great holding gels that I love:
Bumble and Bumble Anti-Humidity Gel Oil
Ecoslay Orange Marmalade Curl Definer Gel
Innersense Organic Beauty "I Create Hold"
Ouidad Advanced Climate Control Heat and Humidity Climate 
Conclusion
These are the methods that I've used to achieve curlier hair, some are quick-fix styling methods that can define your curls and others are adjustments to your regimen that will result in longer-term healthier, bouncier hair.
With a little patience and experimentation, you'll be able to find the method that works best for you and gets the results you're looking for.