Last Updated on April 9, 2023 by Verna Meachum
If you have 4A hair and have often felt left out and frustrated because every other texture seems to get all of the attention, then this comprehensive guide is for you.
In fact, my second oldest son has 4A hair, and I know firsthand how difficult it can be to manage. So, I know a little sumthin', sumthin' about this hair type.
Designed specifically with 4A hair in mind, this guide will cover everything from determining your hair type, to finding the best products and hairstyles for your unique hair texture.
Whether you're looking for tips on how to style 4A hair, or are looking for recommendations on the best products to keep your 4A tresses healthy and hydrated, you'll find all the advice you need right here.
What Is Type 4A Hair?
Type 4A hair is a kinky, coily texture characterized by tight curls and lots of volume. This hair type is typically very dry and prone to breakage, which makes it important to take extra care when styling and treating it.
To understand what we mean by 4A type hair, we have to refer to the most common hair typing system created by Andre Walker, Oprah's hairdresser. Please note that there are a number of different systems out there, but this is the one most commonly used by 4A hair enthusiasts.
His system is designed to segment hair types based on texture and curl type. There are four different curl types that the system recognizes:
Type 1 straight hair
Type 2 wavy hair
Type 3 curly hair
Type 4 kinky hair
The four primary curl types are further categorized into subcategories; A, B, and C. Classifying hair based on these groups provides a more accurate representation of texture.
Type 4A: Kinky-coily (defined coil). Has a well-defined "o" pattern.
Type 4B: Kinky-coily (z coil). Has a less-defined "Z"-shaped pattern.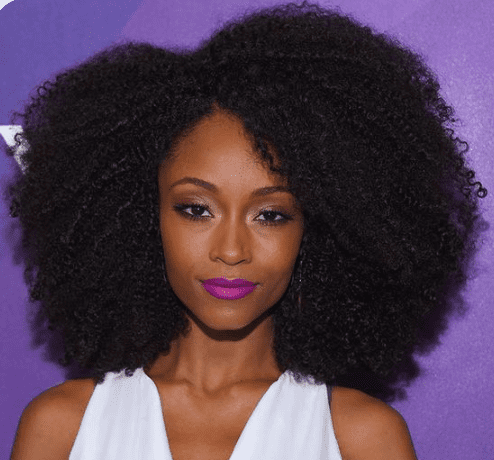 Type 4C: Kinky-coily (tight coil). Has almost no definition to the coil. Up close, this pattern has a very tight "o"-shaped pattern.
Of all the Type 4 hair categories, 4A curl pattern is the most defined and has more of an S-shape. This type of hair strand will generally shrink up to half its length when dry.
Why you should have a reference point for your curl type
Your curl pattern can reveal a lot about your hair and help you choose the right products and styles to maximize length retention.
By taking the time to learn about your hair, you will be able understand what it needs and doesn't.
Understanding your curl type is important because product recommendations vary depending on one's curl type, it is crucial to determine your hair texture before shopping.
Although there is no foolproof guide when it comes to wavy, curly, or kinky/coily hair, this discovery gets you one step closer to healthier and more manageable curls.
Keep these guidelines in mind only as a starting point. They're meant to help you find which products work best for your specific curly hair type. Trial-and-error is the best way to find out what works for your hair.
Type 4A Examples
If you have 4A hair, you may be wondering how to care for it properly. Luckily, there are plenty of resources and tips that can help you achieve healthy, defined curls.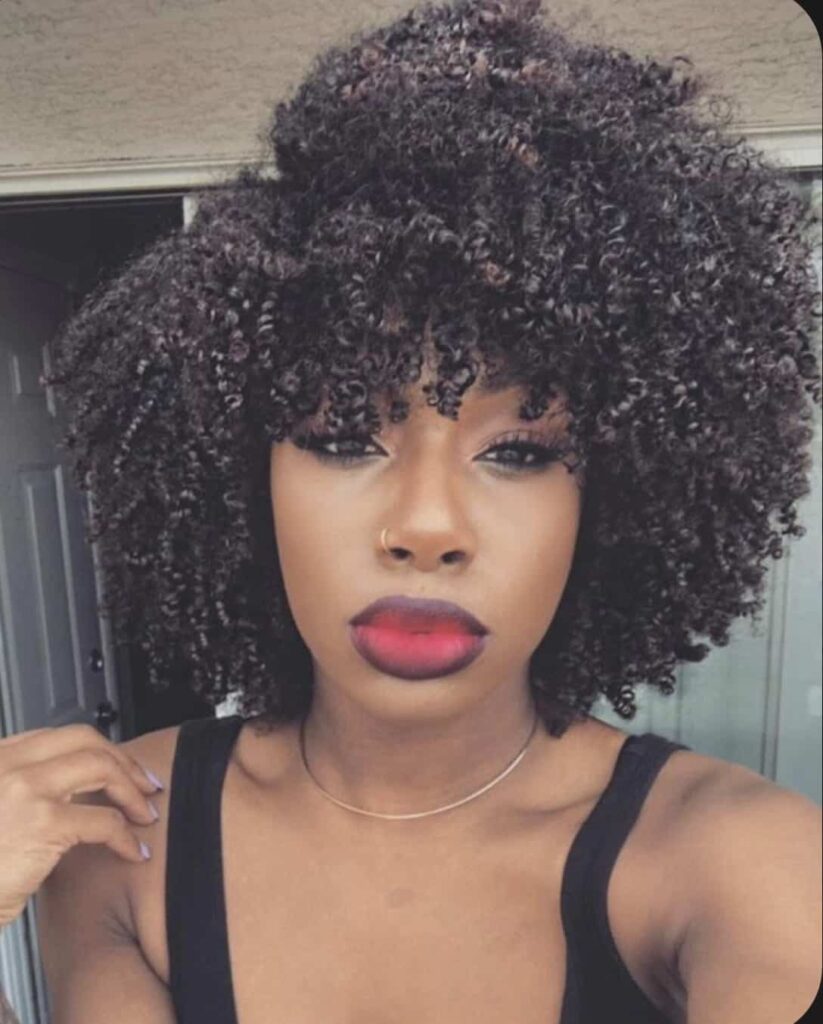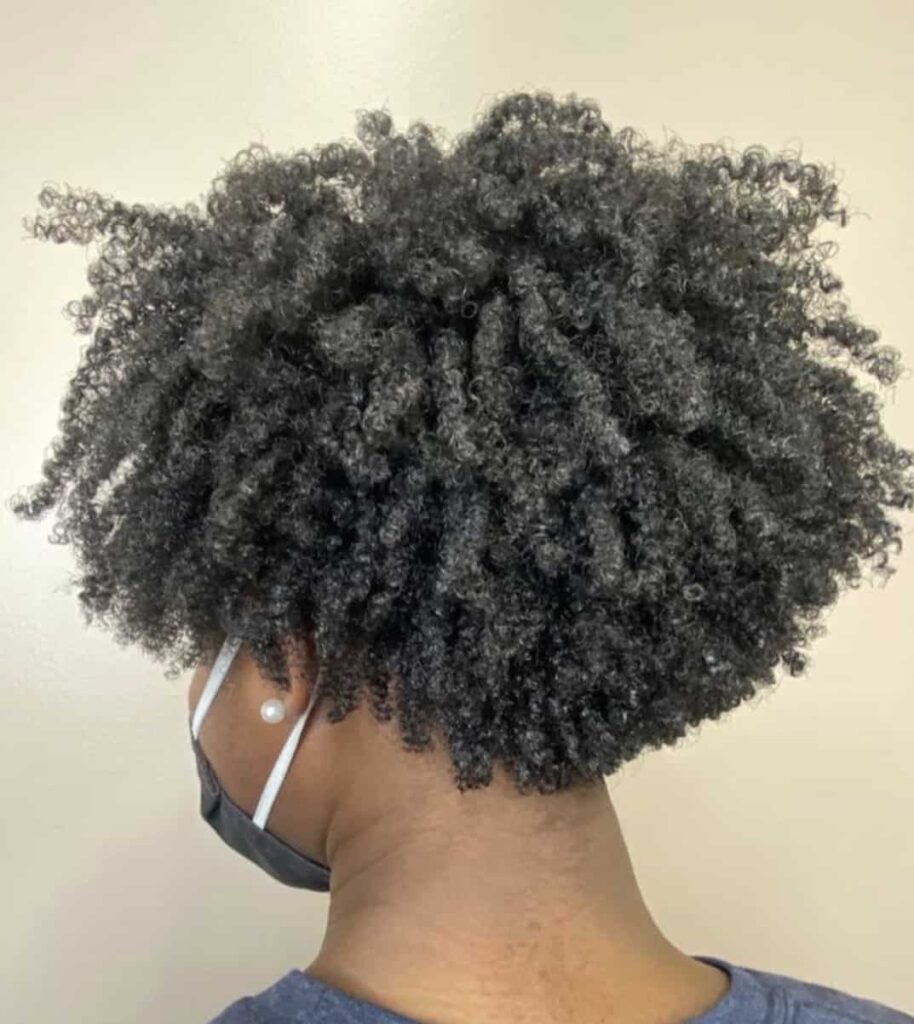 Differentiating Between 4A, 4B, and 4C
While 4A hair is similar to 4B or 4C hair in many ways, there are some key differences that can help you better understand your specific type of 4A hair.
Type 4A Hair: It is defined as being more soft, loose, and less frizzy than other 4B and 4C. When properly moisturized and styled, it can be extremely easy to manage. It is often less dense than 4B or 4C, and may have a slightly more "S"-shaped curl pattern.
Lastly, it tends to be easier to manage than 4B or 4C, though it still requires extra care and attention to keep it healthy and hydrated.
Type 4B Hair – With this hair, you'll have a mass of Z coil ( crimpy) curls, which is often seen with compressed and S-shape coils. Your curls will also be less defined than if you had Type 4A curls.
Type 4b hair is fluffy, like cotton. Even though curls aren't well defined, you can still work to bring out your curl pattern. This type of haircare routine requires a lot more effort because it's more prone to breakage and shrinkage (up to 70%).
Type 4C hair – This hair type has the tightest curl pattern, with each strand densely packed and coarse. This curl pattern is frequently mistaken for 4B hair.
4C hair is the most prone to breakage, and it shrinks the most, often up to 75-80%. The curl pattern is more of a freeing definition, with a tighter zig-zag pattern. However, it is also the most fragile of all curly hair types.
4C hair is more susceptible to dryness because it's so tightly coiled, and therefore requires copious amounts of moisture. When hair is not cared for, it can easily break or snap.
The less manipulation, the better, when it comes to 4C hair. This texture requires a lot of TLC and gentle treatment!
How To Care for 4A Hair
Now that you understand the essentials, let's get into detail about how to take care of 4A hair. Here are some things you should and shouldn't do to make sure your hair routine is effective.
Best practices to keep in mind when caring for 4A hair include:
Things You Should Do
✔︎ Use a gentle sulfate free shampoo that won't strip your hair of its natural oils.
✔︎ Avoiding heat styling tools whenever possible.
✔︎ Apply a deep conditioning treatment.
✔︎ Use leave in conditioners. Not only can these tools help give your 4a hair more silkiness and softness, but they also help protect against dryness and tangles while delivering much-needed hydration.
✔︎ Use natural hair butters and essential oils to help maintain moisture in your 4a hair type to prevent breakage or damage during styling.
✔︎ You can use hair oils, such as grape seed, almond, avocado, jojoba and argan oils to improve the health of your scalp by complimenting its natural oil. The oils contain important fatty acids that will help to thicken hair, reduce loss, and keep 4a curly kinky hair healthy.
✔︎ Water is an excellent source of moisture, and adding it into your routine can help to improve the health and appearance of your coils.
✔︎ Oil your ends to prevent them from splitting and breaking. 4a hair types tend to be drier at the ends, so this is especially important to keep your lubricated.
✔︎ Incorporate a pre poo oil treatment, which is a great way to preserve and protect your hair during the washing process as well as the detangling process.
✔︎ Don't forget about your scalp. A healthy scalp equals healthy hair! Not only is it important to take care of your hair, but it is essential to maintain a healthy scalp as well. Gently massage the shampoo into your scalp with circular movements to remove dirt and stimulate blood flow to the scalp.
✔︎ Knowing your hair's porosity is key to taking care of it properly. If you have curly hair, then you know the moisture issues that can come with it. Whether your hair has low or high porosity, it will dictate which products work better for it. The level of your porosity plays a role in determining which products will be the most beneficial for your hair type.
✔︎ You can avoid unnecessary frizz and breakage while you sleep! Guard your hair at night by using a scarf, bonnet, or satin pillowcase.
✔︎ If you want to avoid split ends, regular trims are key.
✔︎ Lastly, don't forget about eat a healthy diet. It seems like everyone recommends that you have a healthy diet when it comes to your hair, but there's a reason for that. Nutritious foods with protein, iron, folic acid, B vitamins, and dark leafy greens, antioxidants can all help to improve the health and appearance of 4a hair.
Things You Shouldn't Do
✖︎ Do your best to avoid rough handling and over-manipulation of your curls.
✖︎ Avoid tugging or harshly detangling your coils, and use a wide-toothed comb or a detangling brush to gently work through the tangles.
✖︎ Avoid hairstyles that add tension. Scalp tension is a major hair concern for 4 hair types. Not only can hair loss or alopecia result from tight styling, but irritation and an itchy scalp can also be caused by too much tension on the scalp.
✖︎ Protective styles, such as braids or locs, should not be kept in for more than two months maximum. Anything longer than that can put unnecessary stress on the hair follicles. When you damage your hair follicles, it causes permanent hair loss that cannot be regrown.
✖︎ If you wear a protective style, it is very important to take care of your hair by keeping it moisturized. Just because your hair is in a "protective style" doesn't mean you should neglect it!
What Challenges are Associated with 4A Hair?
Here are some of the challenges you may come across while caring for type 4A hair, which is unique in its own ways like all other hair types.
Tangles and single knot strands – 4A hair is prone to tangling and forming single knot strands, which can make styling and detangling challenging.
Dryness – 4A hair is naturally drier than other hair types, and can be prone to breakage if it isn't properly moisturized.
Moisture retention – Those with type 4 hair textures typically have the hardest time retaining moisture because natural oils produced by the scalp have a hard time travel down curly strands. This often results in dry, brittle ends.
Difficulty styling – 4A hair can be difficult to style due to its curliness and tendency to frizz.
Frizz – 4A hair is prone to frizz, especially in humid weather or if it isn't properly moisturized.
Shrinkage – Because of your tight curl pattern, your hair can shrink to up to half its total length.
Damage – Each bend and kink in a given hair strand is a weak point, which can easily snap off if you're not careful. 4A hair is more delicate than other types and tend to break more readily.
4A Hairstyles
Looking for 4a hairstyles that are chic and easy to manage? What better way to show than with a video!
Best Products for 4A Hair
If you're struggling with 4A hair, there are a number of products that can help. Here are some of the best options out
Clarifying Shampoo
TPH by Taraji Honey Fresh Shampoo
Cleansers
Tgin Moisture Rich Sulfate Free Shampoo
Righteous Roots Clarifying Shampoo
Camille Rose Naturals Sweet Ginger Cleansing Rinse
Design Essentials Natural Almond & Avocado Moisturizing & Detangling Sulfate-Free Shampoo
Co-washes
Eden BodyWorks Coconut Shea Cleansing Cowash
TPH BY TARAJI Hustle & Co Hydrating Co-Wash
Conditioners
Righteous Roots 2 n 1 Conditioner
Camille Rose Naturals Jansyns Moisture Max Conditioner
EDEN BodyWorks Peppermint Tea Tree Conditioner
Mielle Organics Mongongo Hydrating Conditioner
Oyin Handmade Honey Hemp Conditioner
PATTERN Beauty Lightweight Conditioner
PATTERN Beauty Intensive Conditioner
Carol's Daughter Coco Creme Curl Quenching Conditioner
Sheamoisture Conditioner for Curly Hair Red Palm Oil and Cocoa Butter with Flaxseed Oil
The Mane Choice Ancient Egyptian Anti-Breakage & Repair Antidote Conditioner
Leave-In Conditioners
Mielle Organics Pomegranate & Honey Leave-In Conditioner
Carol's Daughter Goddess Strength Leave In Conditioner with Castor Oil
Shea Moisture Raw Shea Butter Detangler
TPH BY TARAJI Mint Condition Tingling Moisturizing Scalp Leave-in Conditioner
Soultanicals Knot Sauce Coil Detangler
Aunt Jackie's Knot On My Watch Instant Detangling Therapy
Camille Rose Naturals Latte Define Leave-In Hair Conditioner
TGIN Miracle Repairx Protective Leave-in Conditioner
Mielle Moisturizing Avocado Hair Milk
Curl Creams
African Pride Moisture Miracle Shea Butter & Flaxseed Oil Curling Cream
Carol's Daughter, Hair Milk 4-in-1 Combing Creme
Cantu Leave-In Conditioning Repair Cream
Camille Rose Almond Jai Twisting Butter
I AM As Double Butter Rich Daily Moisturizer
Cantu Shea Butter Curl Activator
Mielle Organics Pomegranate & Honey Curl Smoothie
Sheamoisture Curl Stretch Pudding
It's a 10 Haircare Miracle Coily Curl Cream
Shea Moisture Coconut & Hibiscus Curl Enhancing Smoothie
Taliah Waajid Curls Waves Naturals Curly Curl Cream
Edge Control Gels
Mielle Organics Rosemary Mint Strengthening Edge Gel
Cantu Extra Hold Edge Stay Gel
SheaMoisture Styling Black Edge Control Gel
DIAMOND EGDES BLACK PANTHER STRONG Styling Gel
Styling Tools
PATTERN Beauty Edge Control Tool
Felicia Leatherwood Travel Detangler Brush
Jupiter Scalp Exfoliator Brush
Gels
Camille Rose Aloe Whipped Butter Gel
Mielle Organics Honey & Ginger Styling Gel
PATTERN Beauty Strong Hold Gel
Curls & Potions- Curling Potion Styling Gel
Curlsmith Curl Defining Styling Soufflé
Mielle Organics Hawaiian Ginger Moisturizing Styling Gel
The Mane Choice Ancient Egyptian Anti-Breakage & Repair 24 Karat Gold Twisting Hair Gel
Aunt Jackie's Flaxseed Recipes Don't Shrink Elongating Hair Curling Gel
Foams / Mousse
Lotta Body Wrap Me Foaming Mousse with Coconut and Shea Oil
African Pride Moisture Miracle Rose Water & Argan Oil Mousse
Design Essentials Curl Enhancing Mousse
Mielle Pomegranate & Honey Curl Defining Mousse
Cantu Wave Whip Curling Mousse with Shea Butter
Deep Conditioners
As I Am Hydration Elation Conditioner
Soultanicals Afrotastic Curl Elastic
Eden Bodyworks Jojoba Monoi Deep Conditioner
CURLS Blueberry Bliss Reparative Hair Mask
Curls Dynasty Pumpkin Mint Deep Treatment Masque
Shea Moisture Manuka Honey & Mafura Oil Intensive Hydration Hair Masque
Mielle Organics Rosemary Mint Strengthening Hair Masque
Tips for Using a Deep Conditioner
The best deep conditioners are the ones that directly cater to your hair needs! Before you purchase a deep conditioner, analyze your hair's needs.
Does your hair lack moisture? Is your hair damaged from heat or coloring treatments? Is it dry and brittle?
The frequency of deep conditioning depends on your hair's individual needs rather than adhering to some general rule, as everyone's hair is unique.
The weather can play a major role in your hair's health and condition, so it's important to consider the climate you live in when choosing to use a deep conditioner.
By using deep conditioners, we can give our hair back what it's lost and ensure that it stays strong and healthy.
Emollients and Humectants
Products that moisturize, soften, and smooth the skin and hair often contain emollients. Emollients work by creating a protective barrier on the surface of the skin or hair. This barrier helps to lock in moisture, preventing water loss and keeping your hair hydrated.
Common emollient ingredients include:
mineral oil
petrolatum
shea butter
avocado oil
olive oils
coconut oil
Humectants are chemical compounds in cosmetic ingredients that can absorb, bind, and hold water molecules. In other words, they are sealants that seal in moisture and protect your hair from water loss.
Common humectant ingredients include:
honey
glycerin
panthenol (pro-vitamin B5)
aloe vera
When choosing a deep conditioner, look for products that contain emollients and humectants like shea butter, coconut oil, glycerin, and aloe vera. These ingredients can help to nourish and hydrate hair, leaving it soft and shiny.
Protein – If you have color-treated hair, highly porous hair, or damaged hair from heat or other processing, you might need a deep conditioner with protein to strengthen your strands and give them new life.
Not everyone's hair needs protein on a regular basis, so it's important to learn how to read your hair's needs and choose a deep conditioner accordingly.
If your hair is feeling brittle and dry, you need a product that will hydrate and moisturize it.
FAQs
How often should 4A hair be washed?
There is no set rule for how often 4A hair should be washed, as this will depend on your individual needs and preferences. Some people with 4A hair may need to wash it more frequently, while others may be able to go longer between washes.
Ultimately, the best approach is to experiment with different washing schedules and see what works best for your hair. Always examine your scalp and hair to see if it's oily or dry, and adjust your washing routine accordingly.
Why is my 4A hair so stiff?
Most hair that becomes stiff has been weighed down by products, dried out, or hardened from overuse of styling products. It's possible you used too many products that contain protein, leading to a build-up of said molecules on your hair's surface.
Thoroughly cleanse your hair with a clarifying shampoo to remove excess product and restore shine.
How often should I moisturize my 4A hair?
4A hair types may need daily or every-other-day moisturizing, with oil treatments if the hair is particularly dry.
What happens if you don't wash your hair for 3 months?
If you don't wash your hair for several months, it may become very oily, brittle, matted, or tangled. Your scalp may also start to develop flaking and dandruff, and the natural oils produced by your hair may become rancid. Ultimately, the health of your hair will depend on how well you take care your scalp.