Last Updated on October 23, 2023 by Verna Meachum
Transitioning your straightened and damaged hair to natural curls comes with many challenges and hiccups in the journey. But it is possible to achieve those curls, and you can manage any challenge that comes your way with our help. Below is a list of 8 hair transition challenges with solutions.
It is Time-Consuming
The Change is Hard
Excessive Product Use
Expensive Process
It Gets Worse Before it Gets Better
You Lose Length
Excessive Shedding
Natural Texture Doesn't Return
1. It is Time-Consuming
Transitioning from straightened or damaged hair to natural curls is undoubtedly time-consuming. It requires you to allocate time to deep conditioning treatments, masks, oils, etc. It also requires specific hairstyles, time for haircuts, research, product testing, and dedicated routines.
How to manage it:
If you are focused on achieving your hair goals, the best way to follow through is to remain patient and consistent by carving out time to stick to a quality haircare routine.
That means you need to wake up earlier every day or spend a few extra minutes before bed giving your hair TLC.
Try to research as much as you want to find efficient but effective methods and tips to transition.
If you incorporate a few techniques into your existing routine, you will see significant changes and results with minimal time and effort.
2. The Change is Hard
One of the biggest challenges people face when transitioning hair is the physical change in appearance and routine.
Curly hair care, especially when nursing your hair back to health, requires much more effort and products than managing straightened hair.
If you are used to having straightened hair, suddenly looking at yourself in the mirror with curls can take time to adjust. You may feel weird or dislike how it looks.
How to manage it:
The best way to manage this challenge is by learning to accept your natural beauty and hair texture. You can remind yourself that maintaining natural curls is healthier for your hair and scalp.
Follow curlies on social media, try different curly hairstyles, and you will eventually adapt.
3. Excessive Product Use
Something curlies don't talk about enough is how much product curly hair requires. And when you are transitioning and nursing your hair, you will need a range of products, from new shampoos and conditioners to leave-ins and deep conditioning masks to oils, serums, and more.
The challenge is having and navigating the use and application of so many products and the possibility of product build-up, where to store everything, and what to travel with.
How to manage it:
Managing various products during transitioning can be hard, but find the most categorize them into daily, weekly, monthly, etc. When you travel, carry all-rounder products like leave-in conditioners. Additionally, if you obtain build-up, use clarifying or chelating shampoos.
4. Expensive Process
Not only is it expensive to purchase a range of products when you transition to sulfate-free products and deep conditioners and require replacements as they finish, but you also need regular trims and possibly professional protein treatments.
How to manage it:
Buy one to two products at a time and ease into the process. Try to trim your hair yourself or get a friend to help you. Buy some home-use protein products and go for salon professional ones every couple of months.
5. It Gets Worse Before it Gets Better
When transitioning from straightened hair to natural curls, you can face hair that looks and feels worse than when you started. This can be a huge challenge for many, especially those who lean on their hair to feel attractive.
This occurs because as your hair sheds the chemically treated strands and removes the product, it will repair the damage, but the damage will first be visible. That means you might have a lot of frizz, excessive dryness, hair fall, and unruly, undefined curls.
How to manage it:
Don't give up at this point. It may seem like the transitioning process is not working, but that is how your hair naturally progresses during a transition. Apply moisturizing and nourishing products and care for your scalp; your curly strands will slowly transform into a healthy place.
6. You Lose Length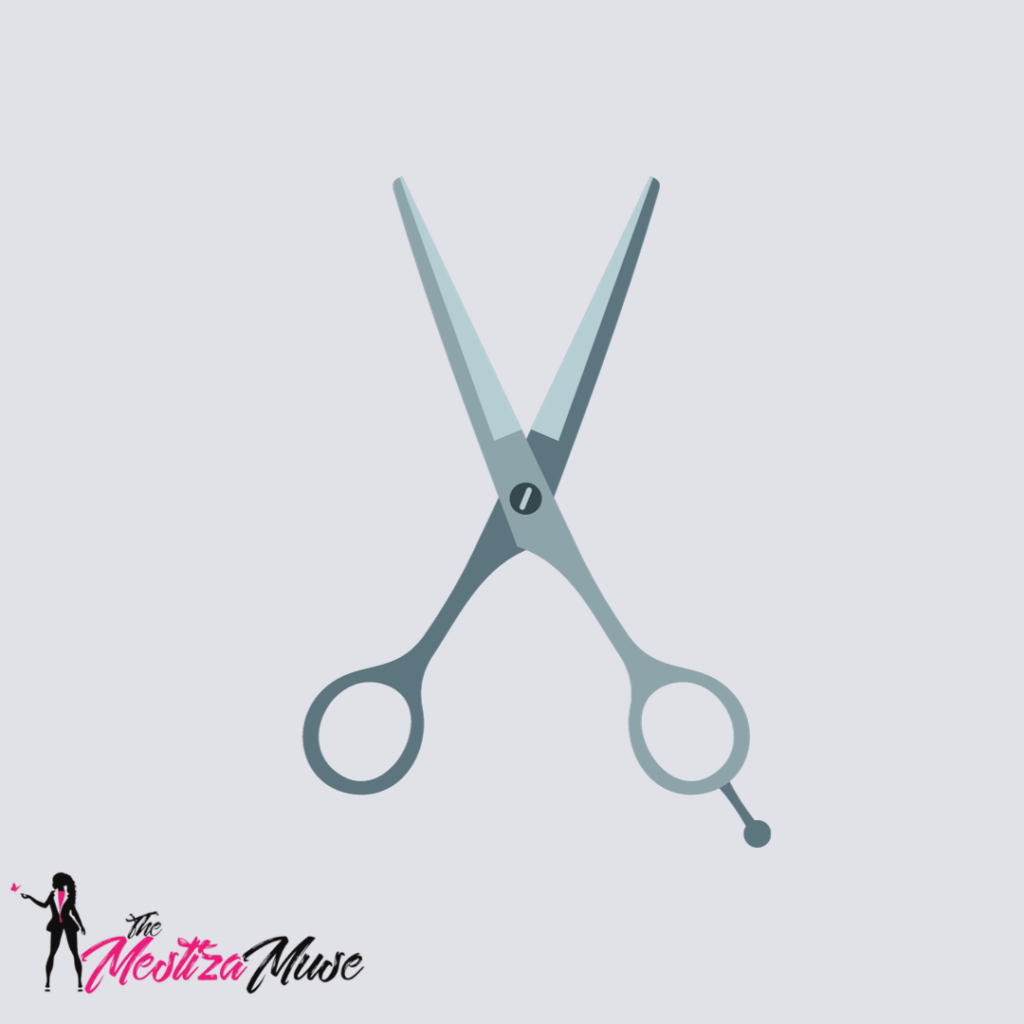 When transitioning your hair and embracing your curls, a challenge that can be heartbreaking to accept is that you will lose length.
Your ends are the driest, oldest, and most damaged since new hair grows from the scalp. That means the only way to eliminate damaged ends is by cutting them.
How to manage it:
You don't need to cut all your hair at once and be stuck with short hair. You can do that if you like, but trimming a couple of inches every six to eight weeks can work fine and be beneficial. That way, you can still enjoy your length while removing the dead, split, dry, straightener-damaged ends.
7. Excessive Shedding
Excessive shedding is another natural outcome of hair transitioning. I actually experienced this and was pretty scared that I would lose all my hair at first.
But your scalp must shed the old, damaged strands for new and healthy hair to grow. Hair loss is inevitable during transitioning.
How to manage it:
While you can't stop the hair fall, you can prevent it from becoming a long-term condition. Use protein treatments, masks, and oils to nourish and strengthen your hair.
Good quality, especially natural products, includes ingredients that feed the hair nutrients needed to be healthy.
Massage your scalp for a few minutes every two to three days; this stimulates blood flow to the roots, resulting in strengthened follicles and healthy, strong outgrowth.
That means your new hair growth will be healthier, and your existing strands will gain the food they need to repair themselves.
8. Natural Texture Doesn't Return
Sometimes, your hair gains long-term damage after using straighteners, relaxers, or chemical treatments.
This is especially evident in people who repeatedly use chemical treatments without following proper hair care.
These treatments can change the natural characteristics of your hair and deeply damage the follicles and cuticles.
It alters your curl pattern, texture, and hair growth cycle. And sometimes, you can't get your natural texture back.
How to manage it:
This challenge doesn't mean you should give up or avoid trying. You can get super close to your natural hair with time, dedication, and the right products.
And when you maintain your natural curls and focus on your overall health, your curls will reap the benefits – even if it takes a long time!
Conclusion
Curly hair challenges are common when you go through a transition from damaged or straightened hair to embracing and getting back your natural curls.
But it doesn't have to hold you back. With the above tips to manage those challenges, you can enjoy your natural curls sooner than you think!