Last Updated on November 2, 2023 by Verna Meachum
Caring for and styling children's curly hair is slightly trickier than dealing with adult curly hair. Kids are more sensitive to scalp stimulation from certain ingredients, and their hair is more delicate as they are still developing. Finding kid-friendly curly hair products and routines is crucial to ensuring healthy growth.
Kid-friendly curly hair products should contain mild ingredients that make up gentle formulas. Natural products are best, and anything with sulfates should be avoided. Silicones should only be used in tiny amounts. Moisture is essential. Gentle, consistent haircare routines are recommended.
It can get confusing figuring out proper routines and safe products to use on the sensitive heads of children. Having experience with curly hair kids myself, I have found some great, reliable options that work well with any healthy hair routine. I share all my insights with you in this post.
Hair Care Products for Kids
Children's hair is naturally more delicate than adults. And their scalps are sensitive and still developing. Due to this, they are more prone to damage and allergens.
Since most products, especially shampoos and conditioners, come into close contact with the scalp, it is important to invest in high-quality, kid-friendly haircare and styling products with gentle formulas and primarily natural ingredients. Harsh ingredients with chemicals and sulfates should be avoided.
Here are some recommendations:
Shampoos
CARA B Naturally Baby Shampoo and Body Wash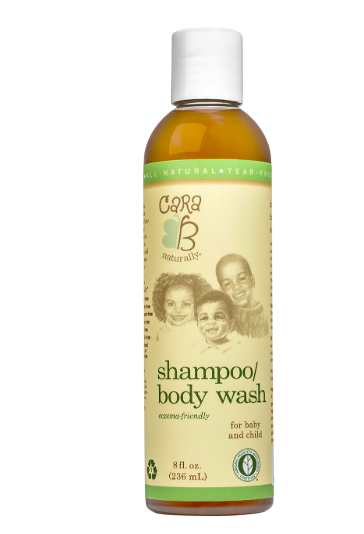 CARA B is a unique combination of essential vitamins, aloe extract, and soothing chamomile fragrance to provide your hair and skin with a luxurious lather. It cleanses thoroughly and leaves both feeling soft to the touch.
It is also incredibly gentle and can be used from infancy to adulthood. It is safe for everyone in the family.
Hello Bello Premium Shampoo & Body Wash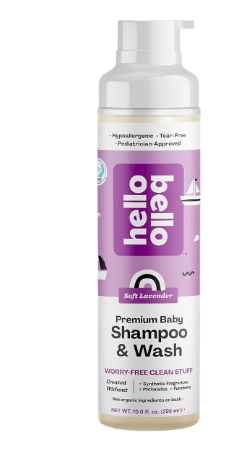 This gentle cleansing formula is created with Jojoba seed oil and a selection of botanical extracts with natural essential oils. Hello Bello Shampoo is the perfect solution for all types of hair types. It is fragrance-free and crafted without phthalates, parabens, or artificial scents.
Alaffia Babies and Kids Shampoo and Body Wash
Alaffia contains ethically traded unrefined shea butter, virgin coconut oil, calming lemon balm, protective neem leaf, and soothing lavender extracts. It leaves your child's hair and skin clean, soft, and moisturized.
The product is free of sulfates, parabens, phthalates, silicones, mineral oil, artificial color, or synthetic fragrance. A fun bonus is that it is cruelty-free too!
Leave-In-Conditioners & Detanglers
Cantu Care for Kids Conditioning Detangler
Cantu Care is fortified by shea butter, coconut oil, and honey and soothes the hair for effortless combing while reducing breakage from styling. This product contains silicones, so if you are not a fan, skip this one.
Note: Silicones are not all bad, but only very small amounts should be applied to a kid's hair if the product contains it. Continuous use of silicones can lead to product build-up, resulting in damage along the way.
EDEN BodyWorks Kids Coco Shea Berry Leave-In Detangler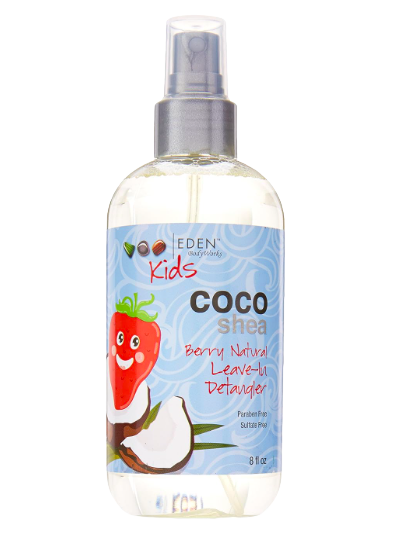 EDEN BodyWorks helps to refresh and revitalize your child's curls daily with this detangler. It effortlessly eliminates knots while enhancing elasticity. It also provides a lightweight layer of moisture-rich nutrients to the hair shaft. The coconut oil hydrates from within, leaving your kid's locks sleek and frizz-free.
Mixed Chicks Kids Leave-In Conditioner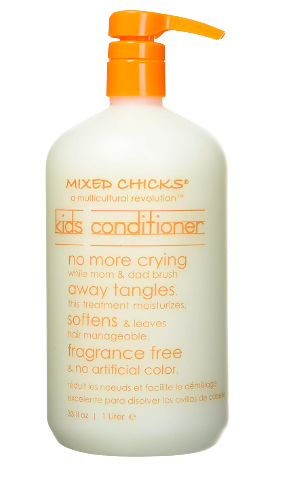 This leave-in styler is free of colorants and fragrances as well as parabens, making it kind to the delicate scalps of little ones. This fantastic product minimizes frizz while defining curls and providing a lasting soft hold.
This is another product containing silicone, so if that's something you try to avoid in your hair products, skip this one.
Styling Products
CurlyKids Custard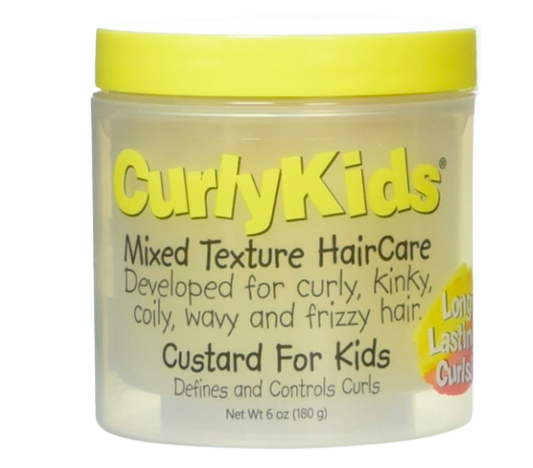 This product will help you achieve shiny curls while locking in moisture and minimizing frizz. It also helps to detangle your little one's hair. It works wonderfully for all hair types and works to define those sweet curls.
CurlyKids Custard has great hold for long-lasting results and easily washes out without leaving build-up or greasiness. It works great as a lightweight product for adults, too.
Shea Moisture Kids Curling Cream
This product is crafted with the finest certified organic Shea Buttercream. It is a moisturizing butter enriched even further with deeply hydrating Coconut Milk and Oil. The dynamic duo has long been recognized for its ability to replenish hair follicles and promote healthy growth.
The curling cream is excellent for your child's naturally curly hair and works best for type 3 and 4 hair types. It intensely moisturizes and defines your little one's curls without causing sensitive curls to become brittle.
Fairy Tales Curly Q Kids Styling Spray Gel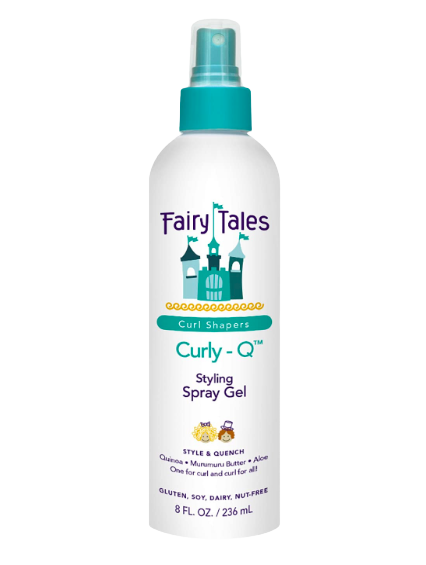 Kids Curly Q Spray Gel is the perfect product for multicultural hair care. That means it works for curly, wavy, coily, or any other type of hair texture your child has. It improves manageability, reduces frizz, and adds shine to define curls instantly. It can be used wet or dry on all curl types.
Curly Haircare Routine for Kids
In addition to finding quality products, you also want to implement and adapt a sustainable, gentle, and quality haircare routine for your child's curly hair. Each child's hair needs will differ based on their hair type, porosity, texture, and lifestyle. Always find what works and stick to that.
Here are the basic steps to a good haircare regime for curly hair kids:
Shampoo 1-2 times a week only unless their hair gets really grimy (as kids do). If needed, rinse the hair without shampoo if it gets dirty between shampoo days. Curly hair runs on the drier side, and overwashing can lead to dehydrated, lifeless, frizzy hair that has breakage and even hair loss.
Conditioning in the bath is not necessary, especially for babies and toddlers. It can also be challenging if your child doesn't like water over their head. If you find conditioning necessary, use very tiny amounts and avoid the scalp if your child's hair is long.
Invest in a microfiber hair towel for kids. This is gentler and safer for your child's skin and hair. Don't rub their hair dry to avoid tugging and deforming the curls. Instead, dab their hair gently or squish longer strands to remove excess water.
Use a leave-in-conditioner on wet or damp hair after a bath. Or wet the hair gently with a spray bottle on non-wash days. This helps moisturize and protect the hair, define those locks, and make detangling a little easier. Use a wide-tooth comb or Tangle Teezer for detangling.
Try to avoid mousses and gels on young children. These products can be too heavy and harsh on their delicate hair and skin. If you must, apply the tiniest amount and rub it between your hands first before running your fingers gently through your child's strands.
Check out our post on "How to Properly Care for Your Child's Hair."
Conclusion
There is no perfect product or routine for any curly-haired kid or adult. But since children require a little extra care and caution, you want to ensure you find the best options. Hope the above tips and recommendations are helpful!