If you're like most women, you probably change your hairstyle every few months in an effort to keep up with the latest trends or because you want to try something different.
Well, this is the year to try something new! There are several different curly hairstyles that are trending right now, and we're going to show you a few of them.
We all know that choosing the perfect hairstyle can be a daunting task. This year, forget about 'standard' and opt for something a little more unique – like one of the curly hairstyles featured below!
Not only are these styles on-trend, but they're also sure to turn heads wherever you go.
So why not give one of them a try? You may just fall in love with your new look.
Curly Hairstyles: The Perfect Braided Ponytail
Give yourself the gift of the power pony and show off your skills this holiday with a hairstyle that never fails.
Unlike a regular slick-back pony, this ponytail features a middle part that offers the glamorous edge and tightness you need to frame your face.
It's a great way to style curly hair for the new year.
Curly Hairstyles: Braided Half Up
Keep it spicy with a braided half up half down style that can work for any occasion.
With four braids, or even more, you can transform your look to something fun and edgy without having to use a bunch of different products.
Feel confident level up a classic style with a chic spin that will keep your hair out of your face.
Curly Hairstyles: Pigtails
They aren't just for kids anymore. These bold, fun pigtails will make a statement for your curls to be tucked away but still vibrant for everyone to see.
Whether you want to keep them high or low, pigtails are perfect for those who have thick hair and can't seem to make do with a low ponytail.
Curly Hairstyles: Bun
A curly bun will never go out of style. It'll never go out of style, no matter what the latest trends may be.
Slay the night away with a bun that not only looks like a sophisticated work of art, but serves your beautiful face on a silver platter.
There's something so classic and timeless about a curly bun. Plus, it's perfect for bad hair days when you don't want your hair to look too done-up or formal.
Whether you have long curly hair, or short curly hair, it works for everyone.
Curly Hairstyles: Half Up Hairdo
Keep the night easy going with a hairstyle that goes with the flow. An effortless half-up hairdo can be done any way you envision for the night without having to follow strict guidelines.
This could mean a half-up ponytail or an array of bobby pins guiding your hair into different sections.
However you choose to style your hair, there's nothing easier than a half up style to get strands out of your face and focus on what's in front of you.
Curly Hairstyles: Top Knot Bun
A top knot is a perfect style for any event, if you're wearing some whimsical outfit or sweatpants.
Just like any high-powered updo, there's a necessary step of full detangling before going straight into the top knot.
Keep your hair in formation and move around the room with ease knowing your serving glamour from head to toe.
Curly Hairstyles: Deep Side Part
No matter what length or texture your hair is, a deep part can work for a beautifully dramatic look that'll turn heads.
Pick your go-to side and section your hair for a waterfall effect that pairs with any outfit.
It's the fan-favorite hairstyle that changes your entire appearance without much effort needed.
Curly Hairstyles: Elegant Updo
Obtain a hairstyle that works for any showdown with an updo that shapes your face and is exciting to accomplish.
Whether you want to try a braided crown, a messy bun, or create something new, your hair will become a sculpture that everyone will admire.
While you may need to map it out at first, when you put your mind to it, your hair will turn out gorgeous every single time.
Give it a try, this may be your favorite one yet.
Curly Hairstyles: Accessories
Add an accessory of your choice for a thrilling embellishment that will transform all lengths and textures for any party.
Choose from a headband, pins, or scarf for some flair in your hair. As a textured, fun accent, adding an accessory makes haircare seamlessly with just one quick add-on.
Mix and match with your outfit or make it your bold styling statement for the day.
Curly Hairstyles: Grecian Goddess Updo
While this classic hairdo began centuries ago, we've since adopted this style into modern times, and on curly hair, it mimics a waterfall of coils.
This elegant and show-stopping technique is very romantic for an event and is surprisingly simple to remake.
Curly Hairstyles: Partially Pulled Back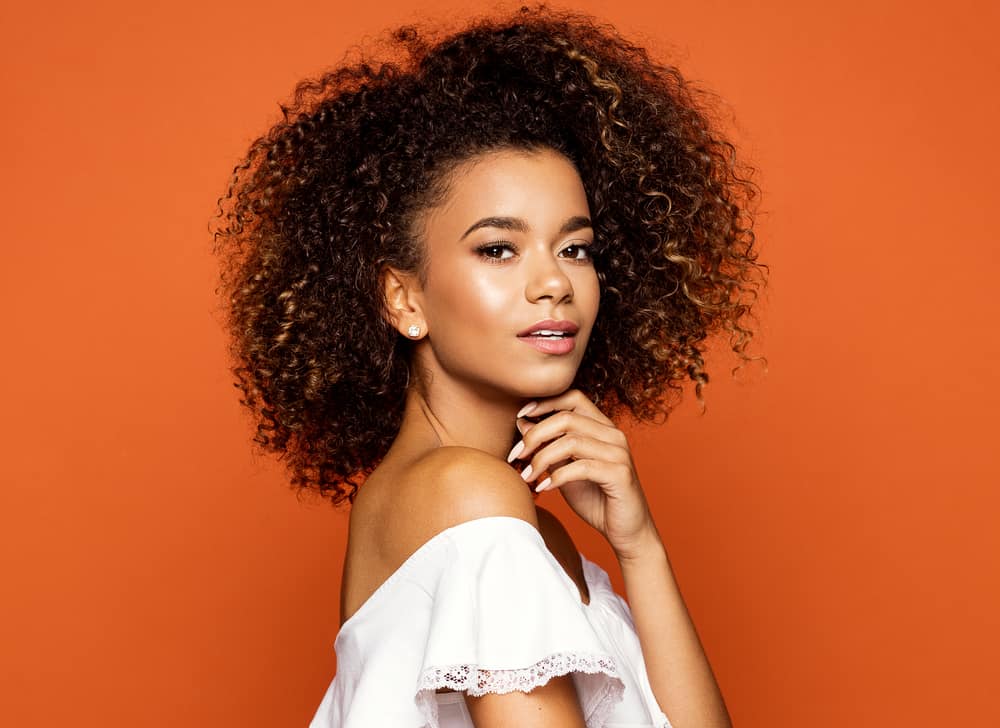 Whether you have natural curls, a weave, wig, or silk press, a simple partially pulled back style is a signature look that frames the face and transforms any look.
Depending on the type of texture, you may want to pin back the remaining strands or pull out sections to fall in front of your face.
Curly Hairstyles: Low Ponytail
Take on the perfect ponytail by shaping it all the down to the nape of your neck.
Whether you want to add in more pieces, or use only your natural hair, the low ponytail is a signature look that will never go out of style.
Curly Hairstyles: Space Buns
Make it fun and flirty with a hairstyle that gets the party started.
For those who have curls, waves, or weave, space buns are the perfect way to achieve a dynamic do without a hassle.
They can go low or high depending on how you want them, and you can even leave some hair out if you want more of a half up, half down effect.
Curly Hairstyles: Curly Bangs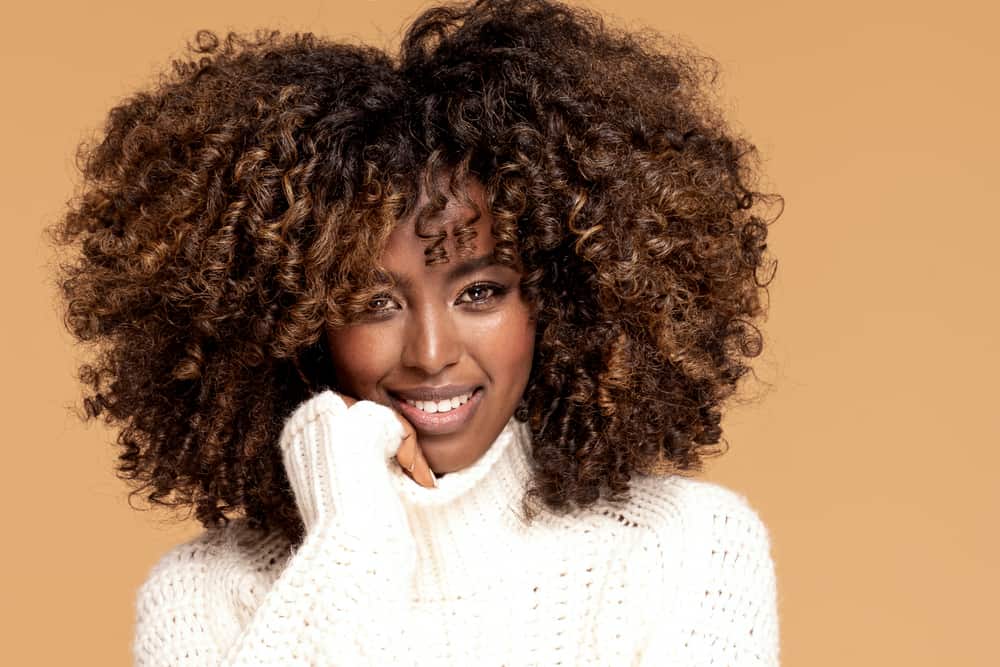 These all over ringlets are the ultimate way to add some mystery while still making a statement. It's a version of the wash and go, but with a special focus on bangs.
No matter how you style them, keep the mystery alive.
Curly Hairstyles: Curly Pixie Cut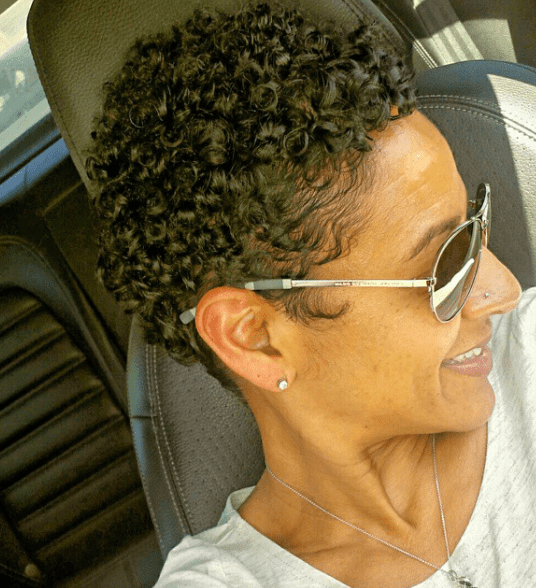 Be the boldest one in the room with a curly pixie cut that will even make Jada Pinkett jealous.
If you're wanting to hop on the chop trend, be sure to consult a professional and keep up with trims. If you're someone who has short curly hair, why not go shorter?
Curly Hairstyles: Waterfall High Bun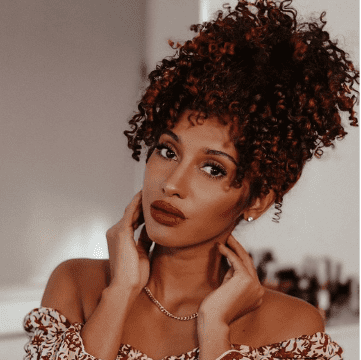 Make your hair pop this season with a trendy hairstyle that'll express your bubbling personality from across the room.
This waterfall high bun has no instruction but to just go with the flow. It's a fun style that can work for any occasion and gives you that seamless look.
Curly Hairstyles: Wet Look
Enter the room like you just walked across water with a curly wet look that turns heads.
While being a little more heavy-handed with products, this style requires a lot more water and way more hold, but it's a sexy transformation that works for any time of the day.
Curly Hairstyles: Zig Zag Part
Make room in your list of hairstyles for a look that requires more curve.
A zig zag part is the perfect way to add dynamic to any hair trend without changing too much.
Using your best comb, design a part with short zig zags or long and style as normal.
This is perfect for those who have long curly hair, or short curly hair.
Curly Hairstyles: Middle Wash and Go
A wash and go will probably never go out of style, but you can certainly perfect your routine with each coming year.
Whether you use a different method or discover new products, it's the perfect way to train your curls and give yourself the volume you want.
Consider this the ultimate hairstyle that creates a foundation for all others to flourish.