Last Updated on September 1, 2023 by Verna Meachum
Unlock the secret to stunning, luscious curls with the power of ceramides in hair products! Think of ceramides as the trusty sidekicks to your hair's superhero journey – they're the tiny but mighty defenders of moisture, strength, and overall hair happiness.
Ceramides in hair products are lipid molecules naturally found in the hair's structure, often included in formulations to enhance the hair's moisture retention, strengthen its integrity, and promote overall health and resilience.
Imagine your hair as a medieval castle, with ceramides as the formidable stone walls, keeping all the good stuff in and the bad stuff out.
These microscopic warriors work tirelessly to repair, fortify, and shield each strand, ensuring your curly locks are as resilient and fabulous as a celebrity dodging paparazzi.
We've enlisted our hair scientist expert to break down the fascinating world of ceramides so you can revolutionize your hair care routine– because when it comes to curls, ceramides are the knights in shining armor your tresses deserve!
We'll also we explore how we lose the naturally present ceramides from hair fiber and strategies for their restoration.
Furthermore, we will address the hair types that stands to gain from utilizing hair care products enriched with ceramides, along with insights on discerning ceramide ingredients as listed on product packaging.
Unveiling Ceramides in Hair Products
Ceramides are specialized lipids that hold integral importance for both human skin and hair fibers. With distinct chemical properties, they play a crucial role in shaping skin morphology and hair structure. 1,2,3
Imagine them as nature's adhesive, binding the two neighboring layers of the surface together. These molecules are composed of a lengthy hydrophobic fatty chain linked to a sphingoid base through an amide bond.
This unique structure results in ceramides embodying a dual nature, possessing both hydrophilic and hydrophobic groups within the same molecule.
This distinctive composition enables them to adhere to both fatty substances and water-soluble components present within the skin and hair matrix.
Unveiling Ceramides: From Skin to Hair
Originally, the focus of ceramides was exclusively directed towards the skin; nevertheless, in more recent times, the isolation and identification of ceramides have extended to human hair as well.4
Scientific investigations have unveiled their presence beneath the cuticle layer, snugly situated within the cell membrane complex.
Despite lipids being the backstage crew, constituting just 2-6% of the total hair mass, ceramides step into the spotlight as the 10-15% stars of these lipids. 5,6 Think of them as the supporting actors who steal the show.
Since their identification and isolation, dedicated hair scientists have embarked on an adventure of exploration, deciphering the treasure trove of benefits ceramides hold for hair health. It's like they stumbled upon a new chapter in the book of follicle secrets.
Ceramides: Essential Active Ingredients for Hair and Scalp Care
Ceramides, a class of lipid molecules, assume a critical role in upholding the integrity of the skin's barrier function.
These molecules contribute to the formation of the lipid layer that securely binds the upper epidermal layer to the underlying skin strata.
In a parallel manner, ceramides hold significant implications for scalp health. By curbing Trans Epidermal Water Loss (TEWL), ceramides serve as a bulwark against the escape of vital moisture from the scalp.
The absence of ceramides within the scalp's epidermal structure can render the surface dry and coarse, rendering it susceptible to an array of scalp disorders.
Likewise, while lipids are acknowledged components of the hair structure, with sebum forming a protective coat that both lubricates the hair shaft and delivers essential conditioning, ceramides introduce a fascinating twist.
Instead of residing at the surface, ceramides are nestled deep within the hair's architecture, earning them the moniker of "Internal Lipids," ensconced within the lower layers of cuticles.
The presence of ceramides boasts far-reaching impacts on the characteristics of hair fibers7, bestowing them with enhanced tensile strength, an alluring gloss, protection against the sun's harmful UV radiation, and a heightened capacity for hydration.
Ceramide Depletion and Restoration: Understanding the Process
The intricate balance of ceramides within the hair and skin is pivotal for their health and vitality.
As we delve into the process of ceramide depletion and restoration, we uncover the delicate interplay between external stressors and internal mechanisms that govern these lipid molecules' presence.
Understanding this process provides essential insights into maintaining optimal hair wellness.
Loss of Ceramides
Ceramides, despite their essential role, are susceptible to oxidative stress, UV-induced damage, and aggressive chemical treatments, culminating in a reduction of their presence within the hair structure.
Routine activities like shampooing, grooming, and exposure to elevated temperatures further contribute to the breakdown of ceramides, consequently compromising the strength and integrity of hair fibers.
Remarkably, even though ceramides constitute a minute proportion of the hair fiber's overall mass, a direct relationship exists between the levels of ceramides and the mechanical robustness of hair.
Additionally, the profile of ceramide distribution reveals a decline from the hair shaft's root to its tip, mirroring the pattern of hair damage where the tips exhibit greater wear and tear compared to the root ends.8
Restoring Ceramides
But fear not, for there exists a strategy to restore ceramide levels to their optimal state. While extracting natural ceramides proves challenging for personal care formulations, the realm of synthetic ceramides offers a solution.
Tailored in laboratories, these synthetic counterparts find their place in everyday hair care regimens, seamlessly integrating into products like shampoos, conditioners, and deep conditioning masks.
Their incorporation not only amplifies the hair's moisture retention and mechanical strength but also elevates the overall sensory experience of hair care.
Furthermore, a cohort of analogous ceramide-like molecules, often referred to as pseudo-ceramides, stands available today, offering yet another avenue to enhance hair quality.
Enhancing Hydration and Barrier Function: The Positive Impacts on Hair and Scalp
Enhancing hydration and reinforcing the skin's barrier function significantly benefit both hair and scalp. This tag team effort wards off dryness, irritation, and scalp issues while promoting healthy hair growth and overall vitality.
Enhancing Hydration and Barrier Function
Ceramides exhibit an exceptional ability to retain water molecules, making their topical application a potent strategy for rehydrating parched skin, scalp, and hair surfaces.
Empirical evidence underscores their significant role in elevating the water content of the stratum corneum, thus positioning ceramides as pivotal active agents in combatting scalp dryness, itchiness, and the occurrence of inflammatory red patches.
By addressing these concerns at their source, ceramides facilitate the cultivation of a healthier environment for hair fibers to thrive.9
Enhancing Hair Fiber Strength
Ceramides assume the role of an adhesive agent, meticulously uniting the two neighboring layers comprising the hair's cellular matrix.
The diminishment of ceramides within this structure can precipitate a weakening of this bond, subsequently compromising the mechanical resilience of hair fibers.
Empirical validation of this phenomenon has been attained through meticulous measurements of the friction coefficient in chemically treated hair fibers, both in the presence and absence of ceramides.
Notably, the application of ceramides yielded a substantial reduction in fiber friction, facilitating smoother combing, brushing, and styling processes.10
Enhancing Cuticle Alignment and Combing Efficiency
In the realm of hair management, lipids are renowned for their ability to lubricate and promote hair manageability.
Among these, ceramides, forming part of the internal lipids, assume the vital task of maintaining the alignment, cohesion, and flattening of cuticles.
Cuticles serve as the outermost layer of the hair shaft and stand as the primary interface with cosmetic formulations, abrasive chemical treatments, and incoming UV radiation. Consequently, preserving the integrity of the cuticular layer emerges as a paramount concern.
Ceramides emerge as key protagonists in this narrative, contributing significantly to the maintenance of smooth, resilient, and tightly interconnected cuticles. This orchestration effectively diminishes the friction between fibers and reduces the force required for combing wet and dry hair.
Laboratory assessments have elucidated that the greatest advantages of ceramide application are reaped by damaged and chemically treated hair fibers, attributable to the heightened absorption and penetration of ceramide molecules.
Further substantiating these findings, microscopic examination of hair fibers underscores the notable adsorption of ceramides and the resultant enhancement in surface smoothness.
Revitalizing Chemically Treated Hair Fibers
Chemical treatments such as oxidative hair bleaching, hair straightening, and permanent coloring impart substantial damage to the hair fiber.
The aftermath often entails hair that's not just weak, but also dry and brittle, marked by a noticeable reduction in mechanical resilience.
Analysis of these compromised hair fibers reveals a diminished presence of ceramides, further underscoring the extent of damage.
However, a promising solution emerges in the form of ceramide application.
What Types of Hair Benefit the Most with Ceramides?
Ceramides extend their benefits across the spectrum of hair types and ethnic backgrounds, making them universally suitable. However, distinct considerations emerge for specific hair types.
Curly and African-American hair fibers, characterized by heightened porosity, coarser texture, and diminished lipid profiles, tend to exhibit marginally lower ceramide levels. This observation is substantiated by the aforementioned attributes.
In these cases, ceramides play a pivotal role by augmenting the lipid content, thereby enhancing both the physical and chemical characteristics of the hair fiber.
Moreover, hair fibers subject to aging, intense UV exposure, and rigorous chemical treatments typically showcase reduced ceramide levels within their structure.
The application of ceramides to such compromised hair fibers yields a multifaceted restoration – reinstating the hair's natural texture, mitigating surface friction, and elevating the sensorial qualities.11
Products That Work the Best with Ceramides
The versatility of ceramides shines through as they seamlessly blend into an array of hair care products, encompassing shampoos, conditioners, hair masks, and leave-in treatments.
Rigorous scientific investigation centered around shampoos enriched with ceramides has yielded compelling evidence of notable hair quality enhancement through successive wash cycles.
This observation underscores the efficacy of ceramides, even when incorporated at low concentrations within rinse-off formulations.
Crucially, the duration of contact with hair bears a direct correlation to the depth of penetration and resultant outcomes. This principle holds particularly true for conditioners and leave-in products fortified with ceramides.
These formats afford extended interaction periods, facilitating enhanced adsorption and penetration through the hair cuticle layer. This attribute makes them particularly adept at addressing the concerns of damaged and chemically treated hair fibers.
For consumers aiming to extract maximum benefits from ceramides, a prudent approach involves experimenting with both rinse-off and leave-in applications.
This two-pronged strategy offers a comprehensive approach to harnessing the potential of ceramides for optimized hair health.
How To Identify Ceramides on Product Labels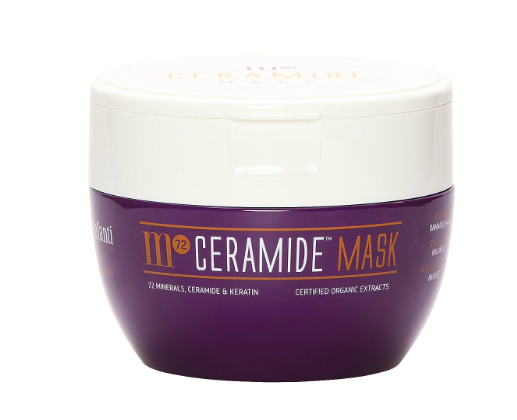 The inclusion of ceramides in product formulations is denoted through the term "Ceramide," a recognition acknowledged by the Personal Care Products Council, formerly referred to as CTFA, as well as the International Nomenclature for Cosmetic Ingredients (INCI).
Ceramides encompass a range of variants, each designated by a distinct number, such as:
Sphingosine: This is a naturally occurring ceramide precursor that contributes to the health of the hair cuticle and overall hair integrity.
Phytosphingosine: Similar to sphingosine, phytosphingosine is another ceramide precursor found in various plant-based oils, such as rosehip oil, hemp seed oil, evening primrose oil, kukui oil, sunflower oil, soybean oil, wheat germ oil, rice bran oil, jojoba oil, safflower oil, and grapeseed oil. These help support hair hydration and strength.
Ceramide 6 II: This ceramide subtype helps maintain the skin's barrier function and contributes to hair health by enhancing moisture retention and protecting against external aggressors.
Ceramide AP (Ceramide 3): Ceramide AP aids in restoring the lipid barrier, which is crucial for retaining moisture and preventing hair dryness and breakage.
Ceramide EOP (Ceramide 1): Ceramide EOP is vital for maintaining the integrity of the hair cuticle and overall hair structure, contributing to smoothness and manageability.
Ceramide NG: Derived from safflower oil, ceramide NG helps to improve hair's moisture retention and overall strength.
Ceramide-2 also known as Ceramide NS (N-stearoyl sphingosine): In hair products, Ceramide-2 aids in enhancing the hair's structural integrity, promoting smoothness, and preventing moisture loss. Its role in hair care revolves around supporting healthy hair cuticles, which in turn contributes to reduced frizz and improved manageability.
Ceramide-5 or Ceramide AS (N-acetyl-sphingosine): In hair products, Ceramide-5 plays a similar role by enhancing the hair's moisture retention capacity and supporting its overall strength. By fortifying the hair's natural lipid layer, Ceramide-5 aids in shielding the hair from environmental stressors and improving its resilience, resulting in smoother and more lustrous hair.
2-oleamido 1-3 octadecanediol: This ceramide analog, commonly known as OLEAMIDE-3, has demonstrated significant potential for enhancing hair health. It mimics the action of natural ceramides by helping to fortify the hair cuticle and maintain the integrity of the hair shaft. By aiding in cuticle alignment and minimizing friction between hair fibers, OLEAMIDE-3 contributes to improved hair smoothness, shine, and overall manageability. It's often incorporated into hair products to enhance the tactile and visual qualities of the hair, making it a valuable ingredient in promoting healthy-looking hair.
Please note that formulations and ingredient availability can vary across different products and brands. Always refer to the product's ingredient list to confirm the presence of specific ceramides.
Additionally, synthetic pseudo-ceramides can be identified by their specific letter designations, as exemplified by "Ceramide NG," "Ceramide NP," and "Ceramide AP."
These distinct ceramide variants exhibit variations in their chemical structures and inherent properties. Consumers are empowered to discern and recognize these ceramides effortlessly by perusing the product label affixed to the packaging.
Products with Ceramides
In this curated selection, we present a range of products infused with ceramides. We understand the value of your time, so we've highlighted the ceramides in each product, making it effortless for you to delve into the world of ceramide-enriched hair essentials.
Concluding Remarks
Ceramides, natural lipid molecules inherent in human skin and hair fibers, play a pivotal role in maintaining structural integrity.
Within the hair's architecture, ceramides function as guardians, compacting cuticles while enhancing surface smoothness. Their involvement extends to influencing hair fiber tensile properties, underscoring their significance in hair mechanics.
The absence of ceramides precipitates a decline in hair integrity, leading to weakened fibers. The versatility of ceramides allows for their incorporation into various hair product formulations, yielding substantial restorative effects on natural texture, shine, and overall fiber quality.
Incorporating ceramides infuses strength into hair fibers, markedly reducing friction and thus facilitating easier combing and styling.
The inclusion of ceramides therefore not only safeguards the health of hair but also elevates its aesthetic and tactile attributes.
---
References