Last Updated on April 18, 2023 by Verna Meachum
All curlies know the importance of using conditioners for their hair. I mean it was the first must-have product when you first began your journey, right?
Well, for those of us with high-porosity hair, it's important to use the best ingredients to help condition and moisturize our hair. We're talking about ingredients like emollients, cationic hair-softening ingredients, emollients, so on and so forth.
If you have no idea what these are, don't worry because we've got you covered!
Today we're breaking down rinse-out conditioners for high porosity hair — what they are, the ingredients that make an effective rinse-off conditioner for high-porosity hair, why you need them, and which ones we love.
And when you're done here today, you'll be armed with the knowledge needed to revitalize those curls. Let's get going!
Introduction
High porosity hair is often compromised, fragile, and damaged, appearing dry, brittle, and frizzy.
When brushing or combing the strands with too much force or using harsh chemical treatments on the hair shaft, valuable protein may be stripped away from it.1-4
Under a microscope, it can be seen that the cuticles of the hair are stripped away and its inner cortex becomes exposed.5
Consequently, hair texture drastically changes – becoming both highly porous and rough to the touch. As a result, styling is not only difficult but also leads to undesired outcomes.
If your hair is highly porous, it needs an immediate solution. Conditioners are crafted to address this issue of high porosity.
Rinse-out conditioners are formulated to detangle your hair instantly, providing emollience, and ease of manageability.
Having been on the journey to healthy hair for quite a while, I am familiar with what works for high-porosity hair. It takes grit, knowledge, time, lots of trial and error, and consistency to finally reach the desired result.
From my experience, using ingredients that are tailored to your needs can help you restore your curls back to their natural state. If I can do it, you can too!
Witness my hair transformation – from damaged to restored in the photo below.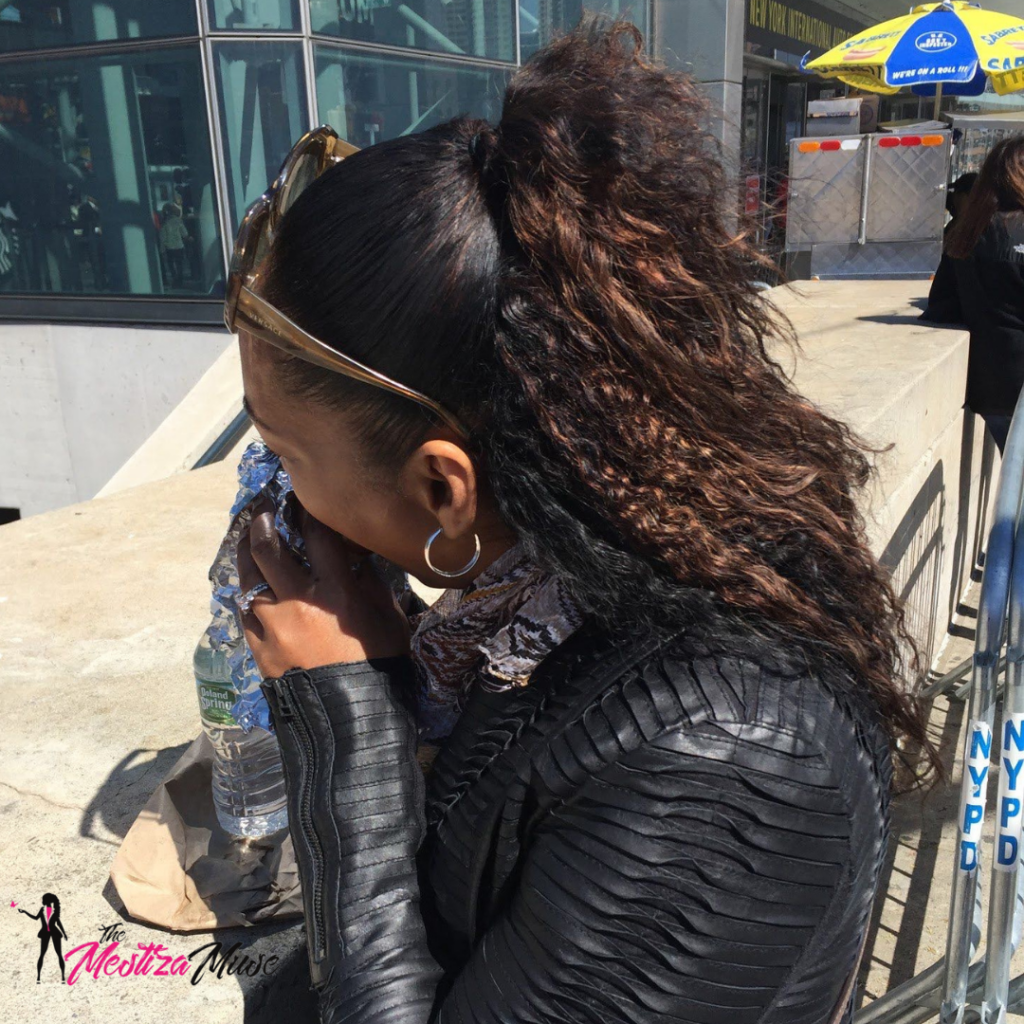 Rinse-Out Conditioner: What Is It?
Conditioner is a crucial part of any healthy hair care regimen as it replenishes the moisture that shampooing depletes.
The key benefits of using a rinse-off conditioner are:
● Detangles the hair fibers.
● Targets the knots and tangles.
● Aligns cuticles to smooth the hair surface.
● Impart water molecules to dry fibers.
● Enhances sensorial feel during washing and drying.
● Prevent hair breakage.
Formulator chemists recognize that rinse-off conditioners must be specially formulated to provide instant results due to the short amount of time they remain applied to hair.
Therefore, the formula is expertly crafted and tuned with precision to ensure a rapid transformation after just one application.
What's the Purpose of Applying Conditioner Right after Shampooing?
When wet, hair exhibits different physical and morphological features. During a wash or rinse-off cycle, it absorbs water which causes it to swell in size.
As the cuticle openings dilate and open up the pores, they pave the way for active ingredients to penetrate deeply into each pore.
To ensure optimal results, a rinse-off conditioner is strongly recommended at this point, which will travel deep into your hair's cortex.
The active ingredients of the conditioner can deliver even more intense nourishment that has lasting effects on your hair.
Furthermore, during the washing and rinse-off stage, the pH of hair moves from an acidic level to a neutral pH level (from 5.50 to 7.0, or even 7.50) due to the excess water during rinse-off.
Applying a pH-balanced conditioner of between 4.50 and 5.50 can decrease the hair's acidity, returning it to its original acidic level and "closing" (more like lying flat) the cuticles for a smooth finish with aligned fibers.
Therefore, it is essential to follow up with a rinse-off conditioner immediately after washing.
What's the Difference Between a Rinse-Off Conditioner from a Leave-In Conditioner?
Rinse-off conditioners and leave-in conditioners are formulated differently based on their purposes. While both serve the same overall goal of conditioning hair, each type has unique ingredients for optimal results.
Because rinse-off conditioners have less time to deliver the necessary conditioning ingredients, their formula is more concentrated in comparison. After a few moments, these conditioning ingredients are rinsed away.
This guide assists the formulator chemist in creating a concentration gradient of active conditioning ingredients that will work quickly. These actives must easily bind to the hair fiber and deposit or penetrate instantly so that hair receives an immediate result.
In contrast, leave-in conditioners are designed to remain on hair for an extended period. You can even wear them all day long.
This way, conditioning ingredients have more opportunity to deposit on hair strands, penetrate deeply, and bind with the hair fiber providing long-lasting effects.
Also, a leave-in conditioner may have certain ingredients added for specific tasks, such as solar protection against UV radiation, protection against thermal treatment (blow drying and flat ironing), etc.
As a result, these two conditioners are quite distinct and have various roles.
Key Ingredients to Look For
Cationic Hair Softening Ingredients, Detanglers
Cationic hair conditioning ingredients are the backbone of any conditioning formulation. These chemical ingredients are positively charged molecules having a quaternary nitrogen center in their molecular structure.
They also have a long hydrophobic fatty chain attached to this nitrogen center. The length of this fatty carbon chain varies and is responsible for the lubrication detangling and conditioning. The longer the hydrophobic fatty carbon chain, the higher and stronger the conditioning benefit.6
So, how do they work? How do they bind to hair fibers?
Hair protein sites are anionic carrying a negative charge density all along the hair shaft. When hair is damaged, it has a higher porosity and carries a negatively charged site due to the oxidation of cystine to cystic acid.
Cationic conditioning ingredients bind these negatively charged sites on the hair shaft via electrostatic interaction.
Opposites attract! Hair proteins are negatively charged, while positively-charged molecules bind with them.
Rinse-off conditioners often contain a combination of such cationic ingredients that detangles the damaged hair fibers, make hair soft with an improved sensorial feel, and make it easier to comb and manage.
Some of our preferred top rated cationic are:
● Behentrimonium Chloride
● Behentrimonium Methosulfate
● Stearamidopropyl dimethylamine
● Behenamidopropyl Dimethylamine
● Distearyldimonium Chloride
Moisturizing, Hydrating Ingredients
High-porosity hair fibers are extremely dry and therefore, the rinse-off conditioner should contain moisturizing and hydrating ingredients to enhance their water content.
Humectants e.g. glycerin and propylene glycol are most commonly used in a conditioner formulation.
Both are efficient in delivering water molecules to dry and damaged high-porosity hair fibers. Nevertheless, it can leave your hair feeling a little sticky or tacky.
Propanediol is a sister molecule to glycerin with high moisturizing benefits. It is a natural hydrating ingredient that does not make hair sticky or have a tacky problem.
Betaine is a naturally sourced molecule with a high water-holding capacity. It is extracted from beetroot juice.
This is an amazing moisturizing ingredient that targets both hair fiber as well as the scalp enhancing their moisture level and solving the issue of dryness.
A combination of betaine and propanediol is our favorite moisturizing blend for high-porosity hair fibers.
The blend offers superior moisturizing benefits without any adverse effects on the hair and scalp.
Viscosity-Boosting Agents
Fatty alcohols are the commonly used viscosity-boosting or bodifying ingredients.
They are:
● Cetyl Alcohol
● Stearyl Alcohol
● Cetearyl Alcohol – a blend of Cetyl & Stearyl alcohols
● Behenyl Alcohol
These agents enhance the viscosity of the conditioner and stabilize the product. Their fatty nature also provides much-needed emollience to high-porosity hair fibers.
Emollients
Emollient ingredients are natural oils or butter having high molecular weight fatty molecules without any greasy feel and texture.
They are an integral part of any rinse-off conditioner for high-porosity hair fibers. Ideally, a blend of multiple emollients is added in a single formulation.
Emollients lubricate the hair surface, prevent the loss of water, and reduce fiber-to-fiber friction.  Natural oils and butter are preferred over petroleum-derived or synthetic silicone emollients.
Our top choice for a rinse-off conditioner for high-porosity hair fibers are:
● Coconut Oil
● Sunflower Oil
● Olive Oil
● Avocado Oil
● Baobab oil
● Argan Oil
● Shea Butter
● Mango Seed Oil
Proteins
Proteins and amino acids are multifunctional ingredients that can enhance the moisture content of fibers, supplement any protein loss in hair, and improve how they adhere to the surface.
On top of that, these ingredients can also make a massive difference when it comes to high-porosity hair – making what's traditionally rough more smooth.
This protein-binding process creates a smoother surface and boosts hair shine, as the light is uniformly reflected.
Their performance greatly depends upon the nature of the protein ingredient, their molecular structure, and their molecular weight.
High molecular weight proteins bind to the hair surface while smaller molecules penetrate the damaged hair fiber and improve their mechanical strength.7
Some key protein ingredients for high-porosity hair fibers are:
● Wheat Amino Acids
● Hydrolyzed Keratin
Additives (Fragrance & Preservatives)
Most formulations contain synthetic fragrances and preservatives.
Preservatives help extend the shelf life of a product while fragrances add to their appeal and application.
Both these ingredients should be used in minimal amounts and the fragrance impact should remain mild and pleasant.
We suggest choosing natural, green, and sustainable essential oils over synthetic fragrances.
Likewise, skin-friendly and natural preservatives are our favorite candidates for product preservation.
Sodium benzoate, potassium sorbate, and hexylene glycol are the top choice for this job. 
---
@curlspecialist gave me a genius tip for lasting moisture: apply a deep conditioner post-shampoo, instead of the usual rinse-out type. This will help allow your hair to reap the nutrient benefits of the deep conditioner first, and then seal it in with the rinse-out conditioner.
---
Rinse Out Conditioners for High Porosity Hair: Our Top 8!
Experience the lightweight hydration of this amazing, creamy conditioner! Anchored by organic aloe as its first ingredient and further enriched with an oil and extract blend, it will lightly moisturize your hair without leaving it feeling heavy.
Though this conditioner contains no protein, it doesn't mean that high-porosity hair won't benefit from it as its infusion of oils and extracts can be a real game-changer.
This is one of my go-to conditioners for high-porosity hair!
Ingredients: *Organic Aloe Barbadensis Leaf Juice, Behentrimonium Methosulfate, **Cetearyl Alcohol, **Hybrid Safflower Oil, **Glycerin, Stearamidopropyl Dimethylamine, **Propanediol, Panthenol (Pro-vitamin B5), Polyquternium-10, *Nigella Sativa (Virgin Black Cumin) Oil, Tocopheryl Acetate (Vitamin E), **Citrus Nobilis (Mandarin Orange) Peel Oil, **Vanillin, Lactic Acid, Caprylhydroxamic Acid, **Anthemis Nobilis (Chamomile) Flower Extract, **Althaea Officinalis (Marshmallow) Root Extract, **Geranium Maculatum Oil, **Camellia Sinensis (Green Tea) Leaf Extract, **Rosmarinus Officinalis (Rosemary) Leaf Extract, **Brassica Oleracea Italica (Broccoli) Seed Oil, **Urtica Dioica (Nettle) Extract, **Salvia Officinalis (Sage) Extract, **Pogostemon Cablin Oil, **Equisetum Arvense (Horsetail) Extract, **Caryocar Brasiliense (Pequi) Oil, **Citrus Aurantium Bergamia (Bergamot) Fruit Oil, Anthemis Nobilis Flower Oil, **Citrus Paradisi (Grapefruit) Seed Oil, **Lavandula Angustifolia (Lavender) Oil, **Citrus Aurantium Dulcis (Orange) Seed Oil, **Cocos Nucifera (Coconut) Oil, **Boswellia Carterii Oil, Caprylyl Glycol. *Certified Organic **Plant Derived 100% Oil Scent (no synthetic fragrance).
---
Treat your hair with this nurturing conditioner, and you'll soon notice the benefits. It delivers an infusion of deep moisture to make your hair more manageable and smooth while protecting against split ends.
Not only that, but it also helps to calm unruly strands and significantly boosts shine – perfect for dry or damaged hair! Plus, it's color-safe and vegan-friendly too!
Ingredients: Aqua (Purified Water), Cetyl Alcohol, Stearyl Alcohol, *Citrus Grandis (Grapefruit) Fruit Extract, *Citrus Aurantium Dulcis (Valencia Orange) Fruit Extract, *Mangifera Indica (Mango) Fruit Extract, *Rosmarinus Officinalis (Rosemary) Leaf Extract, *Chamomilla Recutita (Matricaria) Flower Extract, *Glycine Soja (Soybean) Seed Extract, *Macrocystis Pyrifera (Sea Kelp) Extract, *Cymbopogon Schoenanthus (Lemongrass) Extract, Hydrolyzed Soy Protein, *Aloe Barbadensis (Aloe Vera) Leaf Juice, *Helianthus Annuus (Sunflower) Seed Oil, Tocopheryl Acetate (Vitamin E), Phenoxyethanol, *Simmondsia Chinensis (Jojoba) Seed Oil, Cetrimonium Bromide, Natural Fragrance, Ethylhexylglycerin. *USDA Certified Organic.
---
If you love the SheaMoisture JBCO leave-in conditioner, then you'll probably love the rinse-out version too!
If you color, straighten, or perm your hair regularly, then this heavenly-scented conditioner is the ideal product for you. This rinse-out conditioner has been specially formulated with Jamaican Black Castor Oil and certified organic Shea Butter—key ingredients that nourish and reinforce damaged, brittle strands to reduce breakage and shedding for healthier-looking hair.
Ingredients: Water (Aqua), Butyrospermum Parkii (Shea) Butter*, Cocos Nucifera (Coconut) Oil, Stearyl Alcohol, Cetyl Alcohol, Behentrimonium Chloride, Hydroxyethylcellulose, Panthenol, Glycerin (Vegetable), Simmondsia Chinensis (Jojoba) Seed Oil*, Macadamia Ternifolia Seed Oil, Ricinus Communis (Castor) Seed Oil , Fragrance (Essential Oil Blend), Hydrolyzed Keratin, Mauritia Flexuosa Fruit Oil, Tocopherol, Aloe Barbadensis Leaf Juice, Hydrolyzed Vegetable Protein PG-Propyl Silanetriol, Hydrolyzed Rice Protein, Apple Cider Vinegar, Butylene Glycol, Acetyl Tetrapeptide-3, Niacin, Dextran, Trifolium Pratense (Clover) Flower Extract, Caprylhydroxamic Acid, Caprylyl Glycol, Mentha Piperita (Peppermint) Leaf Extract, Yeast Extract, Caramel.*Certified Organic Ingredients.
---
I have to admit, I bought this large-sized rinse-our conditioner based on my results with the
Design Essentials Natural Almond & Avocado Wash Day Deep Moisture Masque as well as the customer reviews.
I love that mask so much that I had to try this conditioner! It was a great decision. This lightweight rinse-out conditioner infuses moisture and quickly absorbs into your hair, leaving it feeling weightless, silky, and smooth.
Ingredients: Aqua/Water/Eau, Cetyl Alcohol, Behentrimonium Chloride, Amodimethicone, Glycol Stearate, Glycol Distearate, Cetrimonium Chloride, Trideceth-12, Phenoxyethanol, Benzoic Acid, Ethylhexylglycerin, Glycereth-2 Cocoate, Hydrolyzed Wheat Protein, Fragrance (Parfum), Tocopheryl Acetate, Sodium PCA, Prunus Amygdalus Dulcis (Sweet Almond) Oil, Sesamum Indicum (Sesame) Seed Oil, Benzyl Alcohol, Benzyl Benzoate, Linalool, Limonene.
---
Indulge yourself with this luxurious Nourishing Conditioner, formulated with sustainability-sourced Shea Butter, Amazonian Nut Oil, and Babassu Oil. This combination will help repair the damage done to your hair while strengthening and smoothing it for more beautiful hair.
Lastly, this creamy concoction moisturizes your hair deeply while detangling it for soft, healthy curls and coils that are fragranced delicately.
Ingredients: Aqua / Water / Eau, Cetearyl Alcohol, Stearamidopropyl Dimethylamine, Isopropyl Myristate, Cetyl Esters, Helianthus Annuus Seed Oil / Sunflower Seed Oil, Butyrospermum Parkii Butter / Shea Butter, Parfum / Fragrance, Tartaric Acid, Benzyl Alcohol, Caprylyl Glycol, Salicylic Acid, Orbignya Oleifera Seed Oil, Bertholletia Excelsa Seed Oil, Limonene, Linalool, Citric Acid Fil T70012407/1/.
---
This Argan Oil Conditioner with Moisture Rich Shea Butter is the perfect solution for dull, dry hair. Not only will it help give shine and moisture to lifeless hair, but it also assists in smoothing split ends while defining curls.
It's color-safe and silicone-free so you won't have to worry about build-up or damage – just softness, healthiness, and luminosity! Furthermore, its ingredients of Argan oil, Avocado oil, Shea butter & Vitamin E offer nourishment and lubrication that doesn't weigh your hair down.
Ingredients: Aloe Barbadensis Leaf Juice*, Purified Water (Aqua), Vegetable Glycerin, Helianthus Annuus (Sunflower) Seed Oil*, Cetyl Alcohol, Stearyl Alcohol, Behentrimonium Chloride, Caprylic/Capric Triglycerides, Cyamopsis Tetragonoloba (Guar) Gum, Glyceryl Stearate, Argania Spinosa (Argan) Kernel Oil*, Fruit Stem Cells (Malus Domestica, Solar Vitis) and BioActive Berry Complex*, Theobroma Cacao (Cocoa) Seed Butter*, Butyrospermum Parkii (Shea) Butter*, Amino Acid Complex (Arginine, Threonine, Serine), Persea Gratissima (Avocado) Oil*, Hydrolyzed Rice Protein, Panthenol, Sodium PCA, Simmondsia Chinensis (Jojoba) Seed Oil*, Aspalathus Linearis (Rooibos) Extract*, Camellia Sinensis (White Tea) Leaf Extract*, Lactic Acid, Sodium Benzoate, Ethylhexylglycerin, Vanilla Isolates, Citrus Aurantium Dulcis (Orange) Peel Oil* *Certified Organic Ingredients Fair Trade Ingredients.
---
It's been awhile since I've used a conditioner, but what I remember is that it totally won me over.
It is designed to nourish and moisturize wavy or curly hair, giving it a boost of volume, elasticity, and shine.
It's packed with essential proteins and Vitamin B to provide extra hydration while the natural active ingredients leave you feeling confident that your hair looks its best.
It's remarkable what I discovered in this conditioner–the Noto almond extract sourced from Mr. Assenza's farm in Noto, Siracusa, Italy. This Slow-Food Presidia product has a wealth of beneficial proteins and vitamins that give life to curly hair by fortifying elasticity and volume!
Heads up- this product contains silicones, so if you follow the Curly Girl Method, then it may not be for you.
Ingredients: AQUA / WATER / EAU, CETEARYL ALCOHOL, GLYCERIN, BEHENTRIMONIUM CHLORIDE, CETYL ALCOHOL, CETRIMONIUM CHLORIDE, DIMETHICONE, ORYZA SATIVA CERA / ORYZA SATIVA (RICE) BRAN WAX, BEHENTRIMONIUM METHOSULFATE, ISOPROPYL ALCOHOL, BENZYL ALCOHOL, DICAPRYLYL ETHER, PANTHENOL, PARFUM / FRAGRANCE, LAURYL ALCOHOL, AMODIMETHICONE, DISODIUM EDTA, SODIUM BENZOATE, POLYQUATERNIUM-10, PRUNUS AMYGDALUS DULCIS SEED EXTRACT / PRUNUS AMYGDALUS DULCIS (SWEET ALMOND) SEED EXTRACT, TOCOPHEROL, CITRIC ACID, DISILOXANE, TRIDECETH-12, LIMONENE.
---
I finally ordered this conditioner, and I'm so glad I did! It's a wonderful, moisturizing treat for high-porosity strands.
Infused ingredients like Avocado Oil, Shea Butter, and Safflower Oil to nourish and soften, it helps with detangling, frizz control, and shine. Additionally, the slip is exactly what they say – easy detangling!
I will say that the only con was the pump. The conditioner is super thick which makes it extremely hard to pump out. You might want to consider transferring it into a jar or bottle with a wide opening if that's an issue for you.
Ingredients: Aqua (Water, Eau), Cetearyl Alcohol, Stearic Acid, Persea Gratissima (Avocado) Oil, Butyrospermum Parkii (Shea) Butter, Cetyl Alcohol, PEG-8 Beeswax, Glycerin, Ethylhexyl Palmitate, Behentrimonium Methosulfate, Jojoba Esters, Carthamus Tinctorius (Safflower) Seed Oil, Helianthus Annuus (Sunflower) Seed Wax, Glycine Soja (Soybean) Oil, Acacia Decurrens Flower Wax, Polyquaternium-10, Polyquaternium-37, Propylene Glycol Dicaprylate/Dicaprate, Ethylhexylglycerin, Parfum (Fragrance), Tocopherol, Polyglycerin-3, PPG-1 Trideceth-6, Phenoxyethanol, Sodium Chloride, Sodium Acetate, Isopropyl Alcohol, Benzyl Benzoate.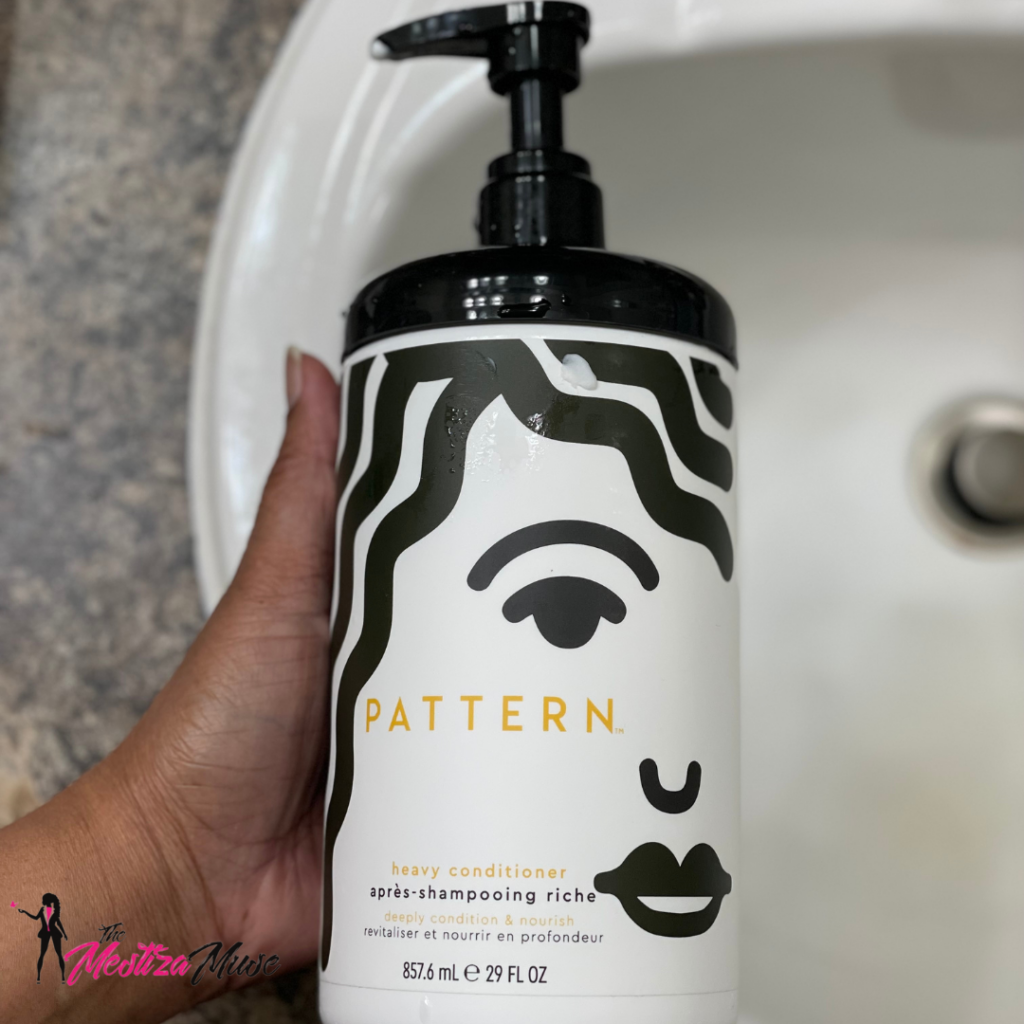 Summary
High-porosity hairs are extremely damaged, dry, porous, and frizzy. They need an instant conditioning formulation to address the porosity problem.
Rinse-off conditioner is a must-have product and should be regularly applied following the washing.
This post-shampoo application on wet hair fibers provides quick hydration, conditioning, and detangling to facilitate their combing, grooming, and styling. 
---
References
1. Robbins, C.; Kamath, Y. In Hair breakage during combing. III. The effects of bleaching and conditioning on short and long segment breakage by wet and dry combing of tresses, 2nd International Conference on Applied Hair Science, Princeton, NJ, Sep 18-19; Soc Cosmetic Chemists: Princeton, NJ, 2006; pp 477-484.
2. Silva, A. L. S.; Nunes, A. S.; Gesztesi Natura, J. L., Protein loss quantification of abraded virgin and abraded bleached hair according to Bradford assay. Inter. J. of Cosmet. Sci 2005, 27 (2), 139-140.
3. Sinclair, R.; Flagler, M. J.; Jones, L.; Rufaut, N.; Davis, M. G., The proteomic profile of hair damage. British Journal of Dermatology 2012, 166, 27-32.
4. Clement, J. L.; Gilbert, B. C.; Rockenbauer, A.; Tordo, P., Radical damage to proteins studied by EPR spin-trapping techniques. J. Chem. Soc.-Perkin Trans. 2 2001, (9), 1463-1470.
5. Ruetsch, S. B.; Yang, B.; Kamath, Y. K., Cuticular damage to African; American hair during relaxer treatments; A microfluorometric and SEM Study. Inter. J. of Cosmet. Sci 2009, 31 (3), 244-245.
6. Schueller, R.; Romanowski, P., Conditioning Agents for Hair and Skin. Taylor & Francis: 1999.
7. Neudahl, G. A., Proteins for conditioning hair and skin. In Conditioning Agents for Hair and Skin, Schueller, R.; Romanowski, P., Eds. Taylor & Francis: 1999; pp. 139-166.