Curly hair is a diverse landscape of colors, textures, and lengths, and type 3B curls are a unique variant within this spectrum. The critical question is: are you optimizing your hair care routine to suit your specific curl type? Whether your hair leans toward dry or oily or falls somewhere on the wavy-to-curly scale, targeted care is essential for achieving optimal results.
3B hair is springy, soft, ringlet-shaped, and voluminous curls. Caring for 3B curly hair requires proper hydration, quality accessories like silk and silicone hair ties and bonnets, and lightweight products. Pineapple styling for sleep is also helpful.
It's completely normal to feel uncertain about how best to care for your hair, however, the moment you pinpoint the right routine, you'll find it easy to let go of less effective habits. A well-crafted, personalized hair care regimen is invaluable, elevating your natural texture to its fullest potential.
We will help you with tips, techniques, and products to give your hair all the love with this comprehensive guide on everything about 3B hair.
What is 3B Hair Type?
Type 3B curls are a blend of springy ringlets and voluminous waves, each with a curl circumference roughly the size of a Sharpie marker. This curl type leaves no room for ambiguity; its distinct, well-defined spirals make it unmistakably curly.
How To Identify 3B Hair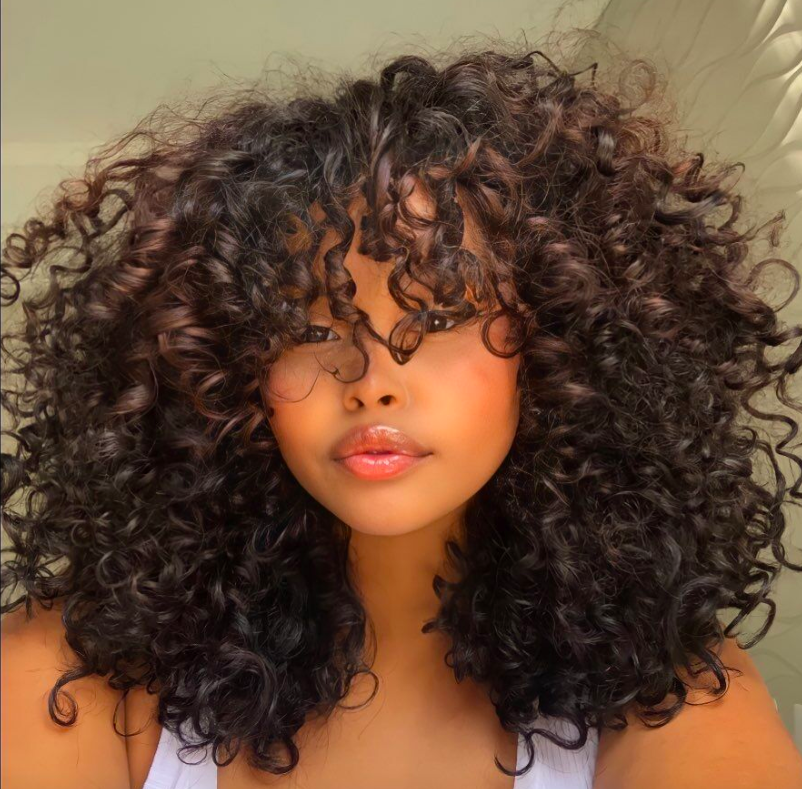 Your curly hair could be 3B, and the best way to identify it is by looking at the characteristics of this hair type. The best method to do this is by washing your hair and leaving it to dry naturally. From post-wash, till it dries completely, you can look for certain aspects to discover your hair type.
These are the characteristics to identify 3B hair:
Medium to tight spiral curls.
Defined ringlets.
Exhibits 3A and 3C hair types.
Strands are thin and thick.
Coarse texture with frizz.
It can be dry.
Curls are the circumference of a Sharpie marker.
The Origin of Type 3 Hair
Learning the origin of hair types helps to better understand different hair. Did you know that celebrity stylist Andre Walker created the hair typing system that categorizes hair into four types?
These hair types are 1,2,3,4, which are straight, wavy, curly, and coily. Each hair type has three subcategories; A, B, and C, defined by textures, porosity, curl diameter, etc. In the same way, type 3 hair has 3A, 3B, and 3C.
While the hair typing system offers a useful starting point, it's not an exact science. Consider it a launchpad for your tailored hair care journey, which you can fine-tune as you gain deeper insights into your hair's unique needs and responses.
The Differences Between 3A, 3B, and 3C Hair Types
To get the best and most suited products for your hair and ensure that you follow a hair care routine that is best for your hair, start by figuring out what your hair type is. If you have curly hair, find out what kind of curls your hair categorizes under.
When you start caring for your hair based on the subtype, your hair becomes most receptive to your routine and products. That way, you have healthier roots and strands, defined, bouncy curls, and easier styling.
Below are the three subtypes of type 3 hair explained:
Type 3A Hair
Type 3A hair features loose curls that are notably more stretched out compared to other type 3 curl patterns. These curls exhibit a big, bouncy appearance and possess considerable body, while still maintaining a defined, springy curls. The versatile nature of this hair type allows for a wide array of styling options.
The texture of 3A hair has a fine to medium texture with a lot of body and movement. It is also easily prone to damage, tangling, dryness, and frizzing.
Type 3B Hair
Type 3B hair is a combination of 3A and 3C hair. It has medium to tight spiral curls that are well-defined. The diameter of each 3B ringlet is about 1.5 inches, the size of a finger. The primary difference between 3A and 3B hair is that 3B has slightly tighter curls with more volume than 3A.
This hair type is bouncy, voluminous, and has a lot of body. 3B is highly prone to breakage and frizz. The hair can also be coarse and dry due to the tighter curls. This hair also experiences substantial shrinkage as it dries.
Type 3C Hair
Type 3C hair is the third curl pattern. It is the curliest, tightest, and most well-defined type 3 curls. The diameter of the curls is usually the size of a pencil and is considered coily in some descriptions.
It's worth noting that type 3C curls can sometimes display tight corkscrews towards the ends of the hair strands. This hair type also has a lot of volume and is dense.
3C hair can be styled in many ways but requires a little extra care compared to other type 3s. It is also typically dry and has a rough texture making it highly prone to breakage. Type 3B hair has significant shrinkage and is always much shorter dry than it is wet.
Type 3B Hair Challenges
No hair type comes without challenges. But for type 3B curls, there are unique challenges. Let's look at some challenges that people with 3B hair tend to experience:
Hydration
Curly hair tends to be less hydrated than straight and wavy types naturally. This is because the natural oils don't pass down properly through the strands. Unlike straighter types with fewer or no bumps, the spirals in 3B hair make that difficult. These thirsty strands are prone to more damage.
Frizz
Frizz is another life companion of curly hair. Frizz happens from a lack of moisture. 3B hair is coarse and experiences significant breakage. This leads to little broken, dry, dehydrated strands standing in all directions, looking for moisture. Frizz can, however, be managed with proper hair care.
Coarseness
Type 3B hair has coarse hair fibers. It is primarily a natural result of genetics from textured hair. But tight-curled hair is also naturally rough. Dryness and frizz add to coarseness, making it challenging to manage and style.
How To Care For 3B Hair
The best and most effective way to care for 3B hair is to use products designed for curly hair types that help moisturize, control frizz, and reduce damage. They also assist with promoting healthy growth and making your hair easier to style.
Try to avoid heat-styling tools on 3B hair. Heat damages curls and leads to dryness. It can also change the natural hair fibers over time. Always opt for air-drying or diffusing the hair, but if you really have to use heat, don't forget to apply a heat-protection product.
We have several recommendations to help you properly care for your 3B hair. These tips and methods are not one-size-fits-all. Remember, everyone's hair is different and reacts differently to products and styling methods, even from the same subtypes. Experimenting helps!
Tips And Techniques To Maintain Healthy 3B Hair
Understand your subtype hair porosity, which can range from high porosity to medium porosity and low porosity. While porosity serves merely as a guideline, it offers valuable insights into how your hair may interact with products and retain moisture.
On wash day, use a conditioner each time you shampoo your hair (preferably sulfate-free shampoo). Conditioner helps to moisturize, detangle, and hydrate your strands.
Incorporate a clarifying shampoo: To combat product buildup, consider integrating a clarifying shampoo into your routine periodically. This helps to cleanse the scalp and strands, keeping your 3B curls bouncy and healthy.
Use a deep conditioner as occasionally. Deep conditioners help to restore moisture and improve your overall hair health.
Apply leave-in conditioner and or curl cream. They help protect your hair from damaging elements and provide extra moisture throughout the day.
Be gentle and patient with your hair. When brushing or combing, especially during the detangling process on wet curls, avoid pulling or being rough. Consider using a wide-tooth comb for a more gentle approach to detangling and minimizing breakage.
Invest in products containing natural oils and butter. They are best for lubricating and holding moisture in your hair.
Avoid heat-styling tools. If you need to use them, apply a heat protectant and be extra gentle.
Limiting sun exposure is a good thing, as it can be damaging to your hair. Wearing hats and scarves can offer an added layer of protection against sun damage.
Tips And Techniques To Maintain Healthy 3B Hair
Be extra careful with chemical treatments: Curly hair is often more susceptible to damage from chemical treatments like coloring, straightening, or perming. If you're considering any chemical process, consult with a professional who understands your curl type to minimize potential damage and maintain the health of your curls.
A common mistake is assuming that all products and tools suited for 3B hair care will work universally. The effectiveness of these options always depends on the individual hair texture and condition. It's advisable to explore various options and discover what specifically aligns with your hair's unique needs.
If you try something that doesn't suit you, try another option until you find your best solution. That is the only way to get the best results and hair care routine personalized to your hair.
Some of the best products to consider:
Mousse/Oils
How To Style 3B Hair
You can style 3B hair in several ways to achieve your desired look. Some standard methods include:
Wash and go: Simply wash or wet your hair, add some curling cream, gel, or mousse, and you're set to go.
Braid out: Braids are a fantastic way to change your look or remove your hair from your face when needed.
Twist out: Twist your wet hair into sections and loosen them once your hair is dry to create waves.
Rod set: Rod sets, robe ties, and other curling accessories that you can keep on your hair overnight or while you are home help to define and maintain your curls effortlessly.
Use one of the protective styles that include various options like braids, buns, ponytails, locs, twists, etc.
The best way to find what works for you and your hair is to use different methods and techniques. You might hate some, but you may discover fun styles that suit your preferences.
Styling Techniques
3B hair can be high maintenance and challenging to style, but it is worth the effort once you figure it out. With the right products and styling methods, you can achieve any look you desire. Don't be afraid to experiment and have fun with different hairstyles.
Some styling techniques include:
Squish to Condish: This method includes applying conditioner to your hair to help detangle and moisturize your curls.
The Curly Girl Method: This is a method of cleansing, conditioning, and using the squish-to-condish technique on your hair without the use of sulfates, silicones, mineral oils, or other harsh chemicals.
The LOC Method: This is a method of layering products in your hair to help lock in moisture.
Finger Coiling: This method includes using your fingers to coil your hair to create defined curls.
Tips And Advice For 3B Hair Care
Trim your hair regularly to remove dead, split, and dry ends.
Drink plenty of water and eat healthily to keep your hair looking its best from the inside out.
Avoid using products that contain harsh chemicals from bleach and hair dyes, as they can damage your hair.
Hair care and styling products free from sulfates, parabens, and silicones are best.
A wide-toothed comb is best for detangling your hair instead of a brush. You can also use your fingers.
Oil your hair or use a nourishing mask once a week to feed your hair and roots and help with hydration.
Be patient when working with your hair.
Takeaway
Type 3B curly hair is a beautiful, unique, and versatile hair type that can be worn in various styles. The best way to find what works for your 3B hair is by trial and error. A little patience and effort go a long way. Always embrace your natural curls; they are your best accessory!