Last Updated on April 7, 2023 by Verna Meachum
Hair webbing occurs when the hair doesn't have enough moisture for the hair's cuticle to lay flat, thus causing individual strands to begin attaching (hairs stick together) and web around each other, much like a spider web.
Have you ever struggled with your hair sticking together like a spider web? With so many different remedies out there, it's hard to know what works!
We have created this blog post to help our readers navigate through the problem of hair webbing and provide solutions for maintaining your beautiful curly hair.
If you've ever wondered why your hair clumps together, let us help you get rid of it today with these simple steps!
The Test
The ultimate test of properly hydrated hair is to take two inches of your hair (dry, not wet) and pull it apart with your fingers.
If when separating, your have hair sticking together or hair stuck together like glue, you have what's called "Hair Webbing" (Try this in different sections of your hair).
See photo below.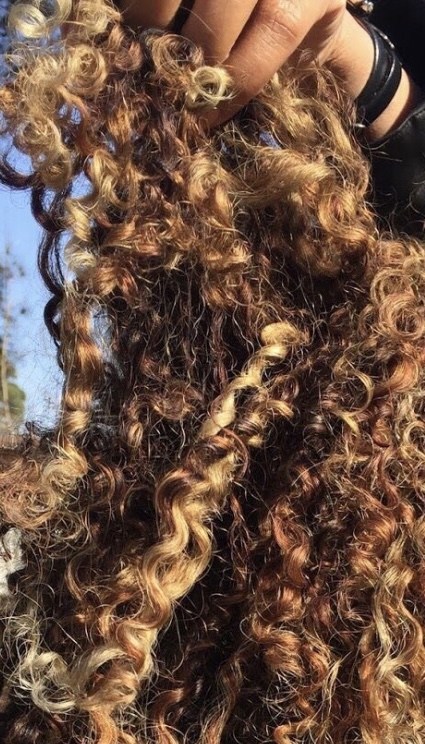 Proper Hydration
Hair webbing is an issue that can be caused by many factors. One reason may be that your hair is not properly hydrated. If not corrected, your hair may begin to form more tangles, single knots, then snap and break.
Hair webbing is something that happens to me from time-to-time if I rush through my wash n' go's or deep conditioning sessions, and don't take care of it after getting color.
Solutions
Hydration From Within
When it comes to the health of your hair, don't ignore this essential part of its well-being — moisture! In order to keep vibrant and hydrated hair you must remember one thing: water.
Drinking plenty throughout each day is a necessity for staying revitalized; without it we become depleted in more ways than one.
Dehydration has dire consequences for your health, but did you know it can affect the very strands on top of your head? That's right – without enough water in their systems, hair follicles may suffer. So if healthy locks is what you're after, hydrate!
This means that the hair follicles will stop producing new hair, and chronic dehydration will cause the follicles to slow down or stop producing enough hair strands that you naturally shed in a day.
Proper Cleansing
Many people neglect their hair, which can lead to dryness and breakage.
If you have dry hair, it may lack the moisture needed to stay healthy. To fix this problem there are three key things that need constant attention:
How often do you clean your scalp?
What products are you using?
How often are you moisturizing?
It's well known that dry hair lacks moisture. Most people's first inclination is to add more product to their hair in an attempt to make it look and feel healthier, but this is not the solution.
The more product you add, the more build-up will form, which will only make your hair drier in the long run.
The best way to add moisture back into dry hair is to cleanse your scalp and hair with a clarifying shampoo.
This will remove any build-up that has accumulated and will allow your products to penetrate the hair shaft more effectively.
If moisture is still an issue with using sulfate-free cleansers, then try alternating it with a cleansing conditioner (aka co-wash).
Another option is to try a pre-poo oil/conditioning treatment.
Slow Down
Relax and take some time to wash, condition, and deep-condition your hair properly so that you get the best results from these treatments. Don't rush through it!
To get the most out of your conditioner/deep conditioner, focus on working each strand individually to ensure they all receive an even and thorough treatment.
How often someone washes their hair comes down to personal preference.
The experts agree: Only a small group needs to shampoo daily, like those with very fine hair, someone who exercises a lot (and sweats), or someone living in very humid place.

Carolyn Goh, MD, assistant clinical professor of medicine at the David Geffen School of Medicine at UCLA.
Deep Condition
If your hair is severely dry, deep conditioning is important to restore your hair's moisture levels. A deep conditioner will penetrate your hair shafts to provide intense moisture.
Look for a deep conditioner that contains natural oils, such as argan oil or coconut oil, or shea butter. These ingredients provide the most benefit for dry and damaged hair.
Have you ever tried a pre-poo treatment? It's essentially a treatment that nourishes your hair before shampooing. It's usually left on the hair for a few minutes before you shampoo. Not only does it provide intense moisture, but you'll also notice healthier and softer hair.
Pre-pooing is a great way to prep your hair for shampooing, making it easier and less of an ordeal.
Optional: Use mild heat when deep conditioning to "open" up the hair's cuticle.
Protective Styles
If you wear your hair in protective styles like a bun too long, it can lead to an increase in webbing. Rather than keeping your hair in a bun for extended periods, be sure to switch it up!
Webbing is an all-too common consequence of wearing protective styles too often. I personally make a point to mix things up to limit any possible damage caused by webbing – and trust me when I say that the end result can truly be worth it.
Protective styles are great for your hair, but they should not be worn all the time. Give your hair a break every once in a while and let it air out.
Conclusion
Webbing can be a nuisance, but with the right care, it can be manageable. By cleansing and moisturizing your hair regularly, you'll be able to achieve the best results.
Slow down, deep condition, and use protective styles sparingly so that your hair can stay healthy and hydrated.
Now that you know the basics of how to properly care for dry hair, it's time to put them into practice. Follow these tips and you'll be on your way to healthy, moisturized hair in no time!