Spring is finally here, and it's time to start thinking about new and easy protective styles to wear this spring and summer!
Protective styling is a great way to keep your hair healthy and styled while you're on the go. There are so many different styles that you can try, but we've put together a list of our 15 easy protective styles.
Protective Styles
Different seasons call for different reasons to change it up when it comes to your hair and how you take of it for overall health and growth.
While taking care of your strands can mean different strategies for every hair type, it's imperative that as the warmer months get near, you have an array of styles that will help you take care of your tresses in the best possible way for optimal strength to get you through the heat.
The warmer times of the year are when your hair follicles hit their peak growth phase throughout the year.
With extended periods of sun and higher temperatures, your follicles are like plants that soak up the sun, which boosts the supply of nutrients needed for keratin production.
This keratin is the protein essential for growth and gives your locks the chance to grow much more than in the winter months.
But although the warmer months give our hair the energy it needs, excessive exposure can dry out the hair shaft, causing new problems.
Be sure to continue a healthy hair journey for spring by preserving your growth with these easy protective styles.
Cornrows
Cornrows are a bold and eye-catching way to embrace a protective style. Depending on what you're going for, braiding in bigger plaits saves lots of time, as more hair is used in each row.
If you want something that will last a lot longer, you may want to go with smaller braids. This type of cornrow braid is also easier to maintain, care for and style.
Add accessories like ribbons and delicate chains to make the most of this look and give it a unique twist.
Fulani Braids
Fulani Braids are a type of bundling protective hair style that are perfect for the warmer months. The style originated from the Fulani culture in West Africa and can kept in the hair for up to 8 weeks.
The look is unique and modern, often characterized with cornrow braided down the center of the head, along with one or a few cornrows braided in the opposite direction toward your face.
The hair is finished off with a braid wrapped around the hairline.
Locs
Faux locs are considered a great protective style because your natural hair can be protected from heat, environmental damage, and breakage from excessive combing and brushing.
Especially if you're someone who can't stop touching their hair, this is perfect style to keep you from fussing with your strands.
Best of all, they don't really need to be washed during the time they are worn. But keep in mind the weight of the hair, for some people, the tension from the roots can become too much to bear.
Bantu Knots
Known as one of the more simpler protective styles, Bantu Knots are created with your hair and/or the assistance of extensions to create knots all over your hair.
Sometimes your hair is easily twisted into a knot and secured with hair bands or bobby pins. Other times your hair can be put into single braids and then twisted up.
How many knots you end up with is totally up to you, but if it's more than two knots, that technically qualifies as a bantu knot hairstyle.
Goddess Locs
While it may look like Goddess locs are the same compared to other loc styles, the main difference is that Goddess locs usually have curls in the loc and on the tips, creating more texture and volume.
As a protective style, this look is perfect for the beach or vacation. If you're already a curly, you can even keep some hairs out to incorporate some extra baby hair.
With open and wavy ends, the tension is a little less than with tighter locs that tend to be heavier.
Flat Twists
Flat Twists are a one of the easiest and versatile protective styles. If you know how to do a cornrow, or even a two-strand twist, you can certainly create a flat twist.
You can even mix it up by creating a design in different directions of your hair. This protective style works on both natural and relaxed textures and lasts for up to a week or even two if you preserve the style at night.
Long Braided Ponytail
Especially for the warmer months, a Long Braided Pony is a great protective style ponytail that can last you up to two weeks.
For someone who doesn't want to commit to a full head of braids, just a simple pony with a braid can be an excellent solution. Just be careful with the style that the ponytail isn't pulled too tight and causing tension on your scalp.
Protect your roots and edges with a scarf, so you don't ruin the style in your sleep. Pin the ponytail part up, too, so it does not get tangled and ruined in your sleep.
Halo Braids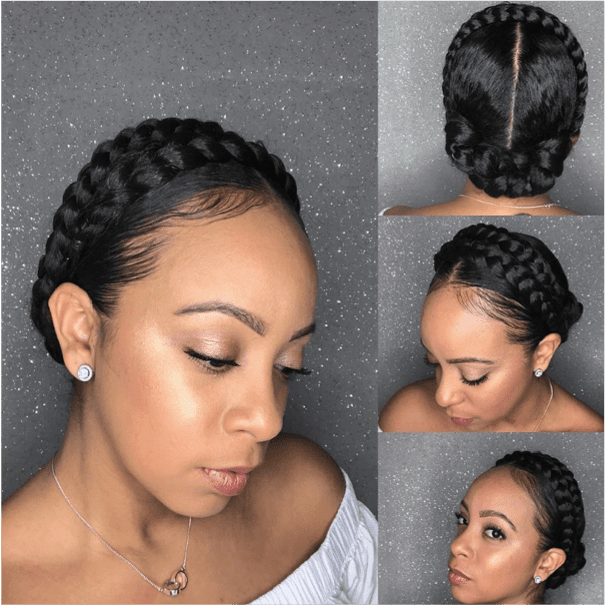 For an elegant protective style to go to weddings and special occasions, a Halo Braid is the perfect choice.
As a type of rounded look that is created when you weave two long braids around your head, you can then pin them in place after to create a pretty halo effect.
It's very simple and can last up to several weeks depending on how you secure the braids and edges. If you're someone who hates your hair in your face, this is the perfect, inexpensive style.
Two-Strand Twists
A Two-Strand Twists is an amazing protective helps minimize knots and tangles while still holding moisture and natural oils.
If you're looking for something that doesn't put any strain on the hair, you can create looser twists to minimize discomfort compared to some braiding techniques and put less stress on the hair.
This style can also work well by incorporating charms for hold.
Pigtail Twists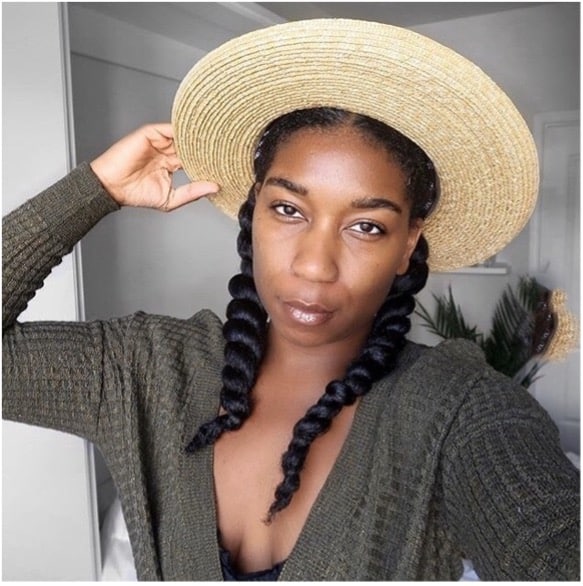 Wash, detangle, twist and go! The Pigtail Twists are great when you're short on time and want something extra simple that you can't mess up.
While also being functional, it's a great way to lock in moisture if you need to do a deep condition as well. If you want to continue this look for a few days, be sure to sleep with a silk scarf so the twists stay locked in and neat.
Top with a hat or a scarf and you're on your way.
Hair Wrap
While it's common to actually style your strands, Hair Wraps are another affordable and efficient protective style. Think of them as a shield to keep your hair hydrated and soft while also being an extra style statement.
Mix and match with your outfits to create a head to toe look that you can put together in minutes. Be sure to choose scarves with a silk fabric rather than cotton so you can avoid unwanted frizz.
Space Buns
Space Buns for natural hair is a great way to keep the hair away from the face while also creating an edgy look. As long as you're not excessively pulling at your edges, this style can be worn in different places whether it's lower at the nape or on the very top of your head.
Plan ahead on how you want to secure the buns safely either with bobby pins or a soft tie. Stay away from the damaging rubber bands.
Low Bun
Probably a fan favorite protective style is a simple updo of a Low Bun. As long as you're securing with a protective tie and it's not too tight, this look is a go to for many naturalists.
Keep those ends tucked up and away while showing off your admiral facial features. Be sure you're not using a damaging gel to keep your hair slicked back as well.
The best way to sleep with this protective style is with a headscarf to ensure all the hairs are laid down.
Crochet Braids
A double protective style is certainly Crochet Braids. With a cornrowed base, the crochet technique hooks together to create a sturdy protective style that can last for months depending on how well you maintain them.
With a wide range of thickness and textures, you can choose from several different styles that you'll fall in love with.
Whether you choose micro-braids, individuals, twists or curls, this style can do it all.
Top Knot
Whether you're feeling lazy on a hot summer day, or just don't want to fuss with your hair, a Top Knot is a protective style that can satisfy your needs.
As one of the more easier protective styles to achieve, it can be done in so many ways. If you want to leave your baby hairs out, style with some glitter or add charms, you can create a fun look.
For added protection, you can even create one braid to place on top of your head, giving you a detangling advantage for later.