Last Updated on October 16, 2023 by Verna Meachum
While the buzz around oils for hair has surged in popularity recently, their use has been rooted in centuries-old traditions for nourishment, protection, and enhancement; indeed, every hair type can benefit from a touch of oil—it's simply a matter of selecting the right one tailored to your unique needs and desires.
At their core, oils for hair are a blend of fatty acids and other vital components that can deeply benefit the hair shaft and scalp. They serve a myriad of roles – from sealing in moisture and preventing breakage to providing nourishment and promoting shine.
But not all oils are created equal. Depending on their chemical composition, different oils resonate better with specific hair types, ensuring optimal health and lustrous beauty. Understanding these nuances can help individuals harness the best of nature to maintain and elevate their hair's vitality.
I've enlisted the expertise of my friend, a hair scientist and cosmetic formulator with a PhD in Chemistry, to break this topic down for us and recommend the best hair oils for each hair type. He's the authority on this matter! Let's get into it.
Oils for Hair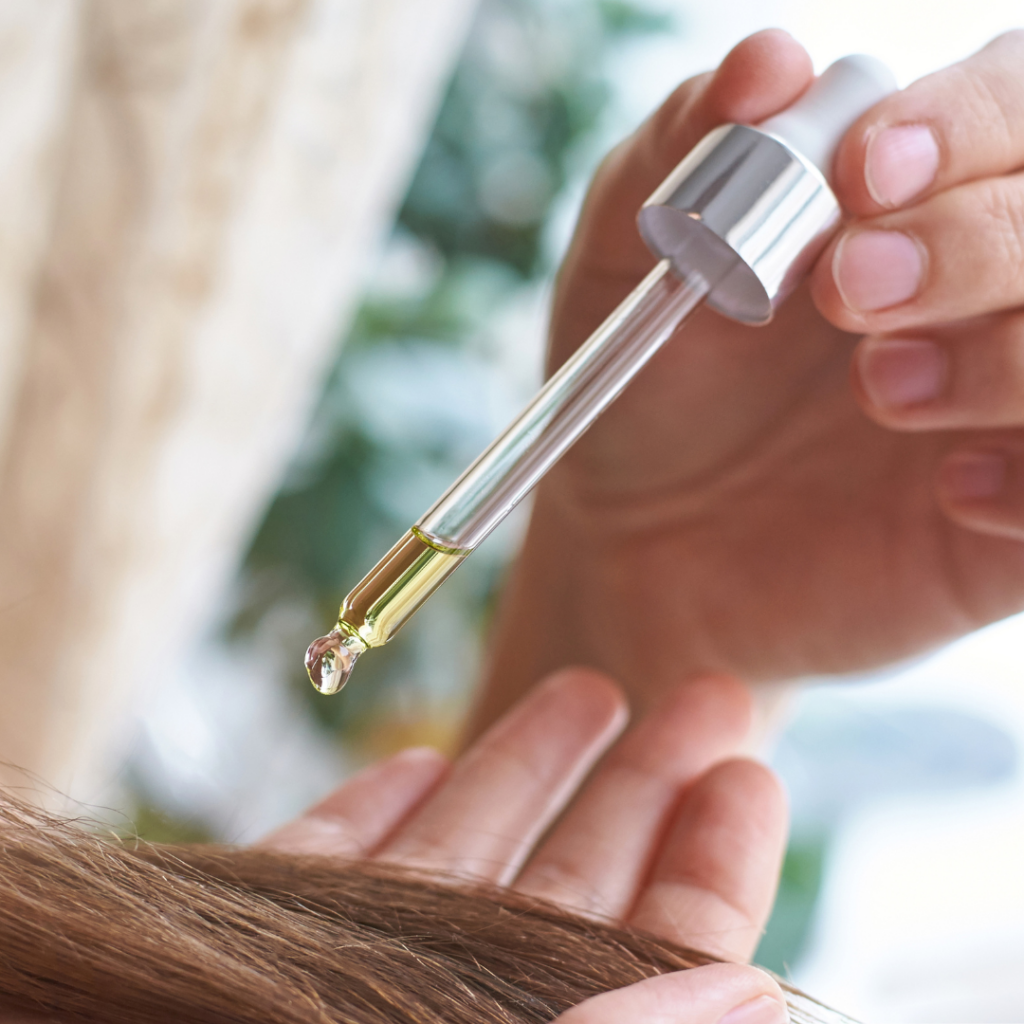 Natural and essential oils have long been celebrated for their hair-softening and lubricating qualities, making them a staple in many hair care products.
However, it's important to note that while essential oils often require carrier oils for safe application, hair oils can typically be used directly without the need for dilution.1
Historically, hair oils stand out as among the earliest conditioning agents employed by humans to enhance hair texture and manageability. 1
Beyond mere aesthetics, these oils are champions in tackling scalp dryness and related issues.2 In our modern era, the repertoire of natural oils has expanded, and they can be found in their purest forms or as key ingredients in various hair products.
Every oil boasts a distinct set of physical and chemical characteristics, dictated by its unique molecular composition.
The Role of Oils: Benefits for Hair and Scalp
Now, let's delve into the enriching and restorative properties of natural oils, showcasing their optimal application to boost the health, texture, and resilience of both the hair and scalp.
The Concern: Dry Hair and Scalp
Hair dryness or brittle hair is a prevalent issue among consumers, resulting from the loss of water molecules from the hair shaft.
In parallel, when the scalp loses water, it can become dry, itchy, and even develop cracks under severe conditions. There are two ways to address this dryness problem.
Tackling Dryness: A Two-Way Strategy
Addressing dryness involves a two-way approach:
Rehydration: Adding water molecules back into the hair and scalp.
Prevent Evaporation: Preventing the evaporation of the reintroduced water to maintain moisture levels.
Both strategies must work in tandem to effectively improve the hair's condition.
Oils for hair play a crucial role in the moisture retention aspect. They form a water-resistant layer on the surface of hair and scalp to prevent any further loss of water molecules.
This barrier prevents the moisture level from dropping below a critical threshold, making oil application a pivotal step for hair and scalp care.3,4
The Role of Oils for Hair Protection
Oils play a pivotal role in safeguarding the health and integrity of our hair. Oils for hair serve multiple purposes, such as:
Scalp Benefits of Natural Oils
Natural oils offer a myriad of benefits to rejuvenate and lubricate the scalp. Beyond preventing trans-epidermal water loss, they provide the following:
Chemistry of Hair Oils
Natural oils primarily consist of triglyceride esters formed from long-chain fatty acids and glycerine. Their molecular structure features a hydrophilic glycerol group connected to three fatty acid carbon chains through an ester bond (as illustrated below).
The Role of Fatty Acid Chains
The nature and type of the fatty acid chain in the oil not only differentiate one oil from another but also dictate its physical and chemical properties. These chains can be:
Saturated: Oils rich in saturated fatty acid chains possess a higher molecular weight and melting point, making them solid. Common examples include butter, like shea butter.
Mono-unsaturated & Poly-unsaturated: These oils contain one or multiple olefinic double bonds in their structures. Characterized by lower melting points, they typically remain liquid at room temperature.
---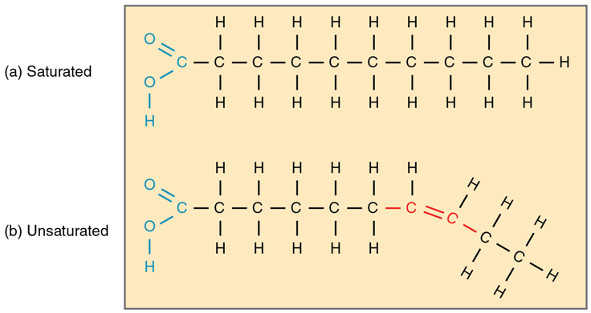 Oils rich in saturated fatty acids moisturize hair fibers and reduce moisture loss, whereas those with unsaturated fatty acids provide enhanced protection against UV damage and oxidation.
Furthermore, oils containing short-chain fatty acids are favored for moisturizing and repairing hair fibers, while oils with long-chain fatty acids strengthen the hair by reducing mechanical damage.
Chemical Composition of Different Oils
Oils vary in their fatty acid compositions, as outlined in the table below. Fatty acid triglycerides account for approximately 95% of an oil's total composition.
The other 5% comprises various chemical compounds collectively referred to as "unsaponifiable materials," which include tocopherols, cholesterol, and other bioactive molecules.
Tocopherols, in particular, possess antioxidant properties. They neutralize the highly reactive free radicals produced by UV radiation, which can harm hair proteins, scalp cells, and hasten the aging process.7
Chemical Composition of Popular Oil (%)
| Composition | Coconut | Olive | Argan | Avocado | Grapeseed | Sunflower |
| --- | --- | --- | --- | --- | --- | --- |
| Total Saturated Fatty Acid | 79.0 | 17.0 | 15.0 | 22.0 | 11.0 | 7.00 |
| Lauric acid (C12) | 48.0 | – | – | – | – | – |
| Myristic acid (C14) | 19.0 | – | 1.00 | – | – | – |
| Palmitic acid (C16) | 9.0 | 14.0 | 14.0 | 20.0 | 7.00 | 5.00 |
| Stearic acid | 3.00 | 3.00 | – | 2.00 | 4.00 | 2.00 |
| Total unsaturated fatty acid | 10.0 | 82.0 | 80.0 | – | 88.0 | 92.0 |
| Oleic acid (C18:1) | 8.00 | 69.0 | 46.0 | 58.0 | 20.0 | 77.0 |
| Linoleic acid (C18:2) | 2.00 | 12.0 | 34.0 | 12.0 | 68.0 | 15.0 |
Data acquired from Natural Fats and Oils. In Sustainable Solutions for Modern Economies, The Royal Society of Chemistry.
8
---
Chemical Composition of Popular Butter (%)
| Composition | Cocoa | Shea | Mango | Babassu |
| --- | --- | --- | --- | --- |
| Total Saturated Fatty Acid | 61.0 | 45.0 | 49.0 | 85.0 |
| Lauric acid (C12) | – | – | – | 50.0 |
| Myristic acid (C14) | – | – | – | 20.0 |
| Palmitic acid (C16) | 28.0 | 5.00 | 7.00 | 11.0 |
| Stearic acid (C18) | 33.0 | 40.0 | 42.0 | 4.00 |
| Total Unsaturated Fatty Acid | 38.0 | 54.0 | 48.0 | 10.0 |
| Oleic acid (C18:1) | 35.0 | 48.0 | 45.0 | 10.0 |
| Linoleic acid (C18:2) | 3.00 | 6.00 | 3.00 | – |
---
Oil Penetration vs. Surface Coating: The Role of Fatty Acid Composition
The above fatty acid composition also determines their ability to penetrate hair fibers. Hair fibers have small pores that allow conditioning actives to delve deep into the hair cortex.
The potential for this penetration hinges on the compatibility between the pore size and the molecular size of the active molecule in the oil.
Larger carbon chains mean bigger molecules, making penetration more challenging.
Consequently, oils or butter predominantly made up of long-chain fatty acids might not penetrate deeply and may simply coat the hair shaft's surface. Butters typically fall into this category.
In contrast, oils with shorter carbon chains can penetrate the hair more effectively, offering superior conditioning.9
For instance, scientific research has shown that coconut oil, which primarily consists of lauric acid (12 carbon chain units), penetrates hair better than shea butter, which contains higher amounts of stearic acid (an 18-carbon saturated unit).9
List of Oils and Butters with Their Main Benefits
| Oil | Key Benefits to the Hair & Scalp |
| --- | --- |
| Apricot Kernel Oil | Softness, Anti-frizz, Moisture and UV Protection, Sensory, Porosity |
| Argan Oil | Anti-frizz, Moisture, Porosity, UV protection, Damage Repair, Deep Conditioning |
| Avocado Oil | Thermal Protection, UV Protection, Moisture, Scalp Treatment (soothing) |
| Baobab Oil | UV and Thermal Protection, Moisture, Damage Repair, Porosity, Hair Fiber Shine |
| Castor Oil | Moisture, Curl Definition, Healing to the Scalp, Activates Follicle Activity, Normalizes Hair Cycle |
| Cocoa Butter | Moisture, Deep Conditioning, Scalp Dryness, Scalp (white flakes) and Exfoliation of Dead Cells, Hair Shine |
| Coconut Oil | Moisture, Mechanical Damage, Hair Breakage, Protein Loss, Cuticle Damage |
| Grapessed Oil | UV Protection, Scalp Conditioning, Oxidative Stress, Thermal Protection, Moisture, Porosity |
| Mango Seed Butter | Moisture, Sensorial, Softness, Anti-frizz, Soothes the Scalp, Hair Shine |
| Meadow Foam Seed Oil | Softness, Detangling, Porosity, Sensorial, Shine |
| Olive Oil | Deep Conditioning, Mechanical Damage Repair, UV and Thermal Protection, Anti-frizz, Rich in Vitamin E, Oxidative stress, Healing to the Scalp |
| Sesame Seed Oil | Deep Conditioning, Antioxidants, UV protection, Scalp Stimulator, Cellular Turnover |
| Shea Butter | Hair Shine, Deep Conditioning, Sensorial, Anti-frizz, Moisture |
| Sunflower Oil | UV & Thermal Protection, Antioxidant, Anti-frizz and Damage Repair |
How to Choose Oil for Your Hair Type
Choosing the perfect oil or butter for your hair is a blend of art and science, with personal preferences playing a key role.
For best results, the outcome largely hinges on individual hair characteristics, such as hair shaft diameter, porosity, and natural sebum production.
These factors can greatly influence the results. Sometimes, making the wrong choice can lead to hair that appears greasy, dull, and lacking luster.
However, a less-than-ideal outcome doesn't imply that all oils or butter aren't suitable for you, nor should you abandon using them altogether.
It's possible that the type of oil was inappropriate, the timing of application was off, or the method used was not recommended.
It's essential to remember that moderation is key. The focus should be on finding the right oil or butter tailored to your hair's needs.
By carefully assessing your hair type and the chemical composition of potential oils or butter, we can more accurately guide you to the best match.
Given the diverse hair types among consumers, let's delve into the nuances of selecting the perfect oil. But first, let's lay down some fundamental guidelines.
Guidelines for Choosing the Right Hair Oil Based on Hair Type
Recommendations for Asian Straight Hair
Asian hair is typically straight and fine in texture. Due to its lightness, it can easily become limp if weighed down.
For such hair characteristics, we suggest using a little bit of lightweight oils, such as argan or sunflower oil, once or twice weekly as a treatment.
If the hair has been chemically treated, bleached, or colored, a blend of shea butter and argan oil can provide an enhanced protective coating and boost shine.
Recommendations for Slightly Wavy to Curly Hair
Hair with a slight waves or curls has a unique curvature that, according to scientific findings, can make them vulnerable at certain points along the shaft.
With the current trend leaning towards a natural appearance and bouncy curls, it's essential to avoid weighing the hair down with excessive oils. A gentle massage using a few drops of sunflower, olive, or jojoba oil should suffice.
Direct application of butter might result in a heavy, greasy feel. Instead, consider using butter in an emulsified form, such as in conditioners or masks.
This approach leverages emulsion technology to reduce the butter's droplet size, ensuring easy application and optimal results.
Be sure out my blog on oils for curly hair titled, "How to Use Oil for Curly Hair: A Comprehensive Guide."
Recommendations for African American Natural Coily Hair
African American hair (Natural hair) is characterized by its distinct coily pattern, often resembling tight coils with a small diameter. These curls can be incredibly dry, fragile, and challenging to comb and style, necessitating specialized care.
Understanding the unique requirements of this hair type, many consumers lean towards concentrated formulations that deeply moisturize and condition.
Oils are particularly beneficial for these hair fibers, which explains their popularity among African-American individuals.
Butter, especially those high in saturated fatty acids, can be directly applied to provide much-needed nourishment.
Shea butter stands out as a top choice due to its semi-solid consistency and lubricating properties, adding a glossy finish and making combing more manageable.
Additionally, argan oil, with its high oleic acid content, is another excellent pick for this hair type.
Recommendations for Chemically-Treated Hair
Hair that has undergone chemical treatments, such as bleach, often becomes more porous, delicate, and challenging to manage because of the roughened cuticle layer on the hair shaft.
Such hair calls for strategies that emphasize hydration retention and protection. Oils with a lightweight consistency and minimal tackiness are best suited for this purpose.
Sunflower and grape seed oils are especially recommended for their thin textures, making them ideal for chemically treated tresses.
Summary
Natural oils serve as outstanding conditioners for both hair and scalp. Valued for their natural origin and sustainability, they are in high demand among consumers.
Not only do they shield hair from UV and heat damage, but they also tackle frizz effectively. For those with dry, brittle, or damaged hair, or a compromised scalp, these oils are often the first choice.
The efficacy of these oils hinges on their chemical makeup. It's crucial for consumers to assess the specific needs and characteristics of their hair before choosing an oil.
This article provides you with the fundamental guidelines to aid in selecting the right oil for diverse hair types. We hope this guide empowers you to make informed choices for your hair's unique needs.
Before using any new oil or product, it's advisable to conduct a patch test on a small area of skin to ensure there are no allergic reactions or side effects.
---
References