Last Updated on September 19, 2023 by Verna Meachum
Embracing your natural curls is a journey of self-love and expression, and finding the right products can make all the difference. As a curly haired aficionado with a passion for all things curls, I've seen and tried it all. In this JessiCurl Confident Coils Styling Solution Review, I'm trying this product for the first time and sharing all the details about its performance and results.
The Jessicurl Confident Coils Styling Solution is a curl-enhancing lotion with a soft and creamy texture. It is an ideal product for fine to medium textured curly hair aiming to boost their curl retention without any crunchiness.
With the help my my hair scientist friend, we're thrilled to guide you through an examination of its meticulously crafted formulation.
We'll explore the featured key ingredients and uncover the magic behind how they synergize to offer impeccable curl definition. And the best part? They achieve this brilliance without leaving any unwanted build-up.
The Essential Role of Curl-Enhancing Lotions
Curly hair, with its unique texture and structure, often requires specialized care to truly shine. A curl-enhancing styling lotion, like the JessiCurl Confident Coils Styling Solution, plays a pivotal role in this regimen.
With its smooth and creamy consistency, it's tailor-made for those with fine to medium textured curls. Such lotions not only enhance curl retention but also ensure that the hair remains free from the dreaded crunch often associated with styling products.
The ease of application, ensuring coverage of every strand, is crucial for achieving that perfect curl definition. In essence, a curl-enhancing lotion is not just a styling product; it's an essential tool for anyone seeking a naturally bouncy and vibrant curly look.
Key Benefits
Gentle, soft curl definition
Enhances a bouncy natural curl pattern
Gives beautifully aligned curls
Minimizes frizz
Adds moisture to dry curls and helps maintain their required water level
Ideal for fine and medium textured curly hair
NO heaviness, No Limp-down effect
Ingredient Listing: Aqua (Water), PVP/VA Copolymer, Polyimide-1, C 12-15 Alkyl Benzoate, Simmondsia Chinensis (Jojoba) Seed Oil, Cetearyl Alcohol, Aloe Barbadensis (Aloe Vera) Leaf Juice Powder, Magnesium Sulfate, Guar Hydroxypropyltrimonium Chloride, Dehydroxanthan Gum, Diazolidinyl Urea, Iodopropynyl Butylcarbamate.
Featured Ingredients
PVP/VA Copolymer
Polyvinylpyrrolidone/Vinyl acetate (PVP/VA) copolymer is a medium-hold, film-forming polymer that enhances curl definition.
Its protective film on the hair is resistant to humidity, ensuring that extreme humidity conditions don't affect its performance.
This quality makes the JessiCurl Confident Coils Styling Solution especially effective, even in damp outdoor settings.
Plus, the film is water-soluble, allowing for easy removal during shampooing and preventing any significant build-up.
Polyimide-1
Polyimide-1 is a film-forming polymer known for its ability to boost volume and provide a lasting hold on hair, enhancing curl body and maintaining curl shape even in high humidity.
The protective layer it forms on the hair is soft to the touch, eliminating any hard or crunchy texture.
Additionally, it enhances hair shine by aligning the cuticle layer, which in turn improves light reflection, giving hair a glossy appearance.
Simmondsia Chinensis (Jojoba) Seed Oil
Jojoba Seed Oil is a natural liquid wax known for its beneficial impact on skin and hair health. Rich in non-fatty acid lipids, it softens and lubricates the hair shaft, conditioning individual hair fibers and reducing friction between them.
In the JessiCurl Confident Coils Styling Solution, this oil imparts a soft texture to the curls, ensuring they remain moisturized and free from any dryness, crunchiness, or a noodle-like appearance.
Aloe Vera Leaf Juice Powder
Aloe Vera, one of the most widely used and researched cosmetic ingredients, offers exceptional moisturizing properties in its water-soluble leaf juice powder form.
Rich in polysaccharides, it effectively retains water molecules and releases them to the scalp or hair when needed, ensuring consistent water molecules to curly hair fibers.
Guar Hydroxypropyltrimonium Chloride
Derived from the guar bean, Guar Hydroxypropyltrimonium Chloride is a cationic hair conditioning polymer. Its cationic properties allow it to bind effectively to hair cuticles through electrostatic bonding.
This ingredient not only helps detangle dry and damaged hair and unravel curl knots/tangles but also enhances the absorption of other oil-based ingredients in a formulation.
In the JessiCurl Confident Coils Styling Solution, it works in harmony with essential oils and jojoba oil, amplifying their distribution on both the scalp and hair.
Essential Oils
Essential oils, known for their therapeutic benefits, are frequently incorporated into personal care products.
The JessiCurl formula includes Lavender Flower Oil, Sweet Orange Peel Oil, and Grapefruit Peel Oil.
These oils not only impart a refreshing and clean sensation but also provide a natural aromatic experience. Additionally, they offer soothing benefits for the scalp, promoting overall scalp health.
How to Use It
Begin by shaking the bottle well.
Start with a small amount of the product in your palms; it's always best to start with less.
Apply evenly to thoroughly wet hair. I like to apply products in small sections.
For enhanced curls, scrunch your hair. To lengthen, use your fingers to comb through. For more definition, use a detangling brush.
Allow to air-dry or use a diffuser.
Jessicurl Confident Coils Styling Solution Review: My Personal Experience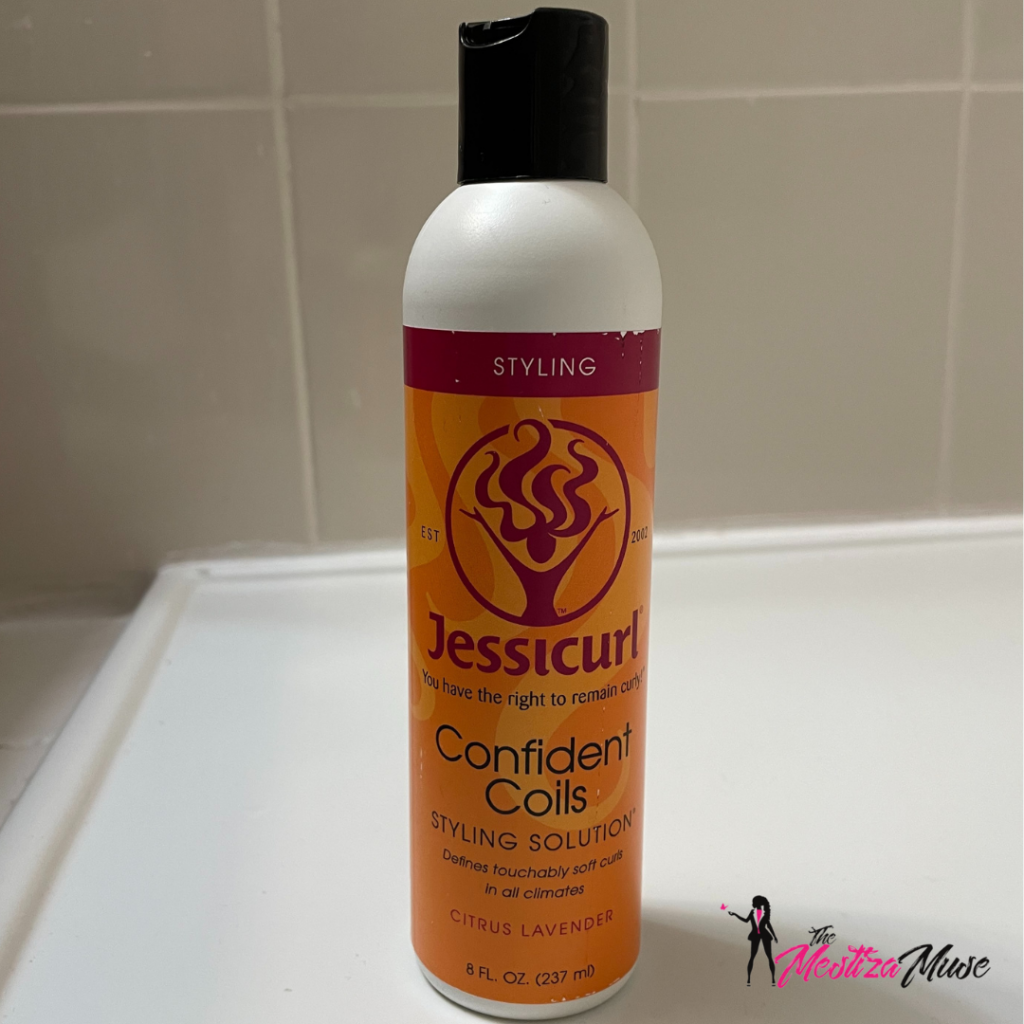 Having spent a month using the JessiCurl Confident Coils Styling Solution, following my experience with JessiCurl gentle lather shampoo and deep conditioning treatment, I'm eager to share my insights.
To start, I'm impressed by the scent options: Citrus Lavender, Island Fantasy, and an unscented variant. I chose Citrus Lavender, which offered a delightfully mild fragrance.
The product has a lotion-like feel. As I applied it, I sensed it was absorbing into my hair rather than merely coating it, indicating its lightweight nature.
To be transparent, while it made my hair soft and defined my curls, they appeared slightly thin than the juicy clumps I prefer.
I believe it might be more suited for wavy hair or looser curl types. If you want a lightweight styling product that won't weigh down your hair, this is definitely the one for you!
Overall, while the product boasts commendable ingredients, it might not be a staple for my personal curly hair routine.