Last Updated on April 6, 2023 by Verna Meachum
If you're on the hunt for protein free leave in conditioners because you know that you have hair that is protein sensitive, or just don't want them in your products altogether, you've come to the right place.
We've rounded up 12 of the best-selling products on the market, based on customer reviews and ratings. We'll also discuss some reasons why some curlies opt for protein free conditioners, plus more!
Whether you're looking for something light and refreshing, or something creamy and moisturizing, we've got you covered!
Protein for Hair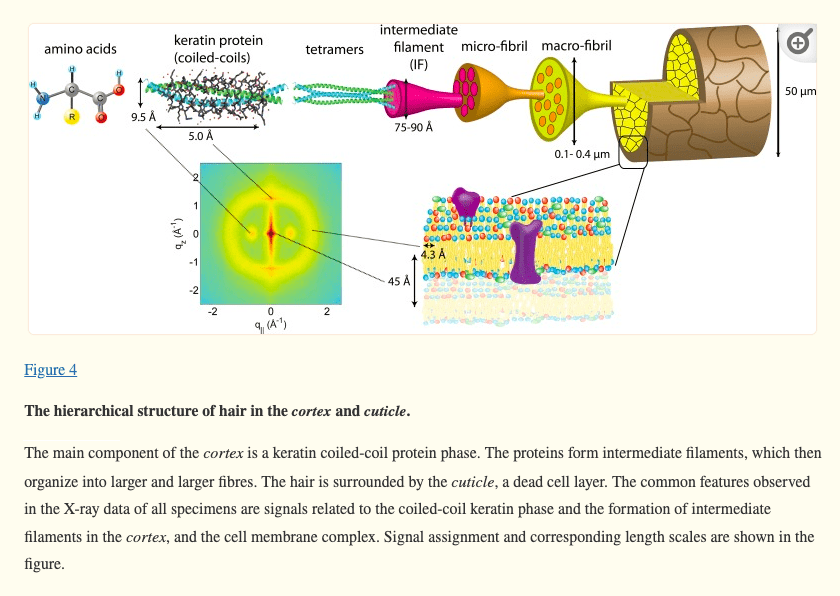 Protein is an important component of healthy hair as it helps strengthen and repair the strands. Nature and manipulation wreak havoc on hair strands, leaving holes and gaps along the hair shaft that protein helps fill in (temporarily), leading to a stronger and healthier looking mane.
Protein treatments, when used properly (and as needed) can be beneficial for improving the elasticity, repair and restore damage and mechanical strength. However, too much protein can cause hair to become brittle and break off.
Since our hair is composed of approximately 90% keratin protein and a small amount of lipid (1% – 9%), why would we want to avoid protein-based products?
Reasons for Choosing Protein Free Leave in Conditioners
Protein is an important component of healthy, strong hair. However, for some people with protein-sensitive hair – which is especially common among textured and curly hair, adding the wrong type of protein can actually have a negative effect.
Excessive protein can also wreak havoc on your hair if you're not careful. If you don't take the time to read the ingredients of haircare products, there's a chance that it could lead to protein overload – and that's why understanding what is in these products before using them is so important.
Consider this example: You've just shampooed with a protein free shampoo (product #1) and conditioned with something more heavy on proteins (product #2) – followed by an even heavier protein deep conditioning treatment (product #3); your hair could have up to five (or more) different kinds of protein.
As these applications are repeated over time, build-up will start to occur until eventually your mane becomes dry and rigid like straw from being so saturated in them.
To achieve balance of the protein accumulation, using a protein-free leave-in conditioner or protein free deep conditioner would be a great solution.
Maintaining a balanced regimen of protein and moisture is vital for healthy hair. If this balance isn't maintained, it can wreak havoc on curls, waves, and coils alike!
Another reason why people opt for protein free leave in conditioners is because they are less likely to weigh down the hair and cause it to look greasy or stringy. Protein-free leave in conditioners still provide moisture and slip to the hair without being overly heavy.
Behold the results of my daughter's hair following her individualized hair care plan with Kinky Curly Knot Today Leave-in Conditioner and other protein-free products. Being that she has low porosity hair, I have discovered the best way to keep her curls flourishing is by using products without protein.
Best-Selling Protein Free Leave in Conditioners
So without further ado, let's take a look at some of the best protein free leave in conditioners (in no particular order) out there that are still incredibly effective at conditioning and moisturizing the hair.
This is a lightweight, glycerin-free leave-in conditioner designed to add shine and softness to curls and coils. This product is ideal for those looking to detangle their hair while providing nourishing moisture.
Curl Junkie BeautiCurls Leave-in Hair Conditioner uses only the most curl friendly natural ingredients, such as Mango Seed Butter as its key ingredient.
Mango Seed Butter provides superior conditioning, helping restore elasticity, manageability and hydration that curls often lack.
It has an incredible ability to lock in moisture which helps soften and protect the hair from external aggressors.
In addition, this natural butter also contains antioxidant properties which help reduce frizz and dryness, making it perfect for all climates – especially dry ones.
Additionally, this lightweight formula will not weigh your hair down or cause any build up on your scalp or strands so you can enjoy healthy looking locks without having to worry about greasiness or residue.
To use: Simply apply a small amount to damp hair after washing or showering. Then style as usual.
This product is suitable for all hair types including wavy, curly and coily textures that need a boost of hydration and nourishment.
Ingredients: Water, Cetyl Alcohol, Behentrimonium Methosulfate, Stearyl Alcohol, Mangifera Indica (Mango) Seed Butter, Butyrospermum Parkii (Shea Butter) Fruit, Garcinia Indica (Kokum) Seed Butter, Butylene Glycol, Rosa Canina Fruit (Rosehip Seed) Oil, Vitis Vinifera (Grape) Seed Oil, Allantoin, Melissa Officinalis (Melissa) Leaf Extract, Urtica Dioica (Nettle) Leaf Extract, Piperita (Peppermint) Leaf Extract, Equisetum Arvense (Horsetail) Leaf Extract, Yucca Leaf Extract, Stearamidopropyl Dimethylamine, Tocopheryl Acetate, Lecithin, Tetrasodium EDTA, Fragrance, Phenoxyethanol, Caprylyl Glycol.
Which Hair Types These Products Are Good For?
It is important to understand the different types and hair porosity. Generally speaking, each hair type falls into one of four categories – straight, wavy, curly, and kinky.
Straight hair is typically soft with a thinner strand diameter while wavy hair may have a slight curl to it and can range from fine to medium to coarse in texture.
Curly haired individuals can also range from fine to coarse texture while coily kinky hair features an extremely coiled pattern that has the most shrinkage and can be fine and coarse in texture as well, depending on the individual's genetic makeup.
Knowing your unique hair type and porosity can help you determine which type of products will best meet your needs.
How to Use Protein Free Leave In Conditioner for Best Results
When it comes to using a product for best results, research and preparation is key. Before using any item or material, take the time to thoroughly read any instructions or guidelines that come with it.
This can also include researching online tips from reviewers related to the product that you are using in order to take full advantage of any potential benefits.
Additionally, think about factors like environmental conditions and how those can play into your use of the product.
Finally, understand the safety precautions when applicable and do everything you can to follow them accordingly for successful usage. Taking these steps will help ensure that you get the most out of whatever product you are utilizing.
Pros and Cons of Each Product
Weighing the pros and cons of each product can be a difficult task, but it is an essential step in making an informed decision. There are various benefits and drawbacks to consider, such as cost, convenience, quality and environmental impact.
Evaluating all of these factors side-by-side will help you determine which product best suits your needs. It's important to remember that there is usually no single right answer – what works for one person may not work for another.
Ultimately, the choice should be based on careful consideration of how each product fits into your lifestyle and budget.
Which One Is The Best Overall?
If you're looking to decide which is the best overall option of something, it all comes down to a combination of factors. The main elements you should take into account include cost, performance, and durability.
Depending on whether you are trying to get the most bang for your buck or looking for a long-term solution, these factors can tip the scale in favor of one item over another.
Ultimately, taking the above elements into consideration will help you make an educated decision as to which one is the best overall option for your needs.