So, you've probably heard about the k18 hair treatment by now. It's all the rage in the hair world, with people raving about its amazing results.
What is it exactly? And is it worth the investment? That's what we're going to discuss in this K18 hair review.
Let's take a closer look and find out.
Post-Straightening Curls
The honest truth is that we all need a hair treatment that can help us to heal the damage of environmental stressors, hair dyes, bleach, and other chemicals, as well as manipulation from brushing or styling. Heat damage is also something that affects many of us.
If you have curly hair and have worked hard to maintain it, a silk press or blowout every now and then may appear to be a significant gamble, particularly with bleached blonde hair. And to be frank, it kind of is.
If you have curly hair and have noticed that sometimes your curls don't revert to their original state after the first wash, you're not alone. It happens to the best of us, even with products that we love and know work well for our hair.
If you damage your hair with high heat, it needs time to heal and recover. This process could take a few washes, as the bonds in your hair will need to reorganize themselves.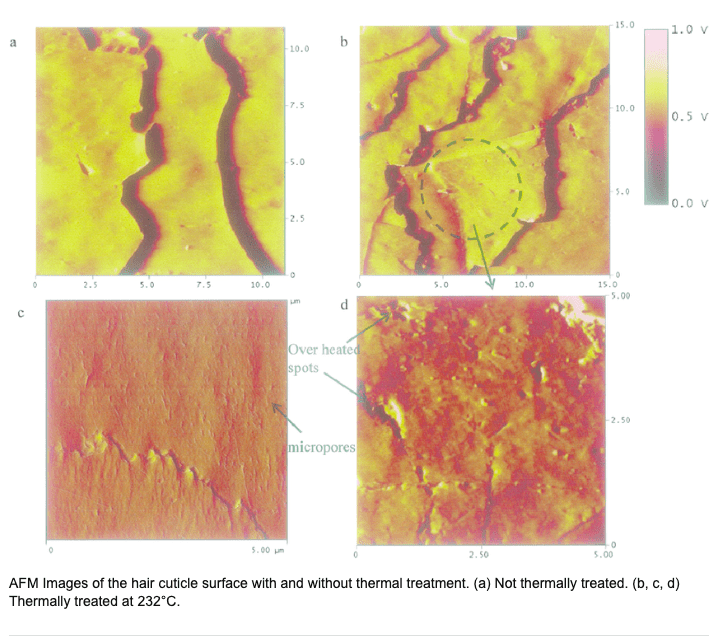 So, what causes your curls to not spring back after you straighten them?
High heat causes structural changes in your hair's protein bonds. Keratin is a protein that has an alpha helix, or natural curve and is found in both curly and straight hair.
When the keratin is exposed to temperatures above 140 degrees C, the structural modifications are profound and irreversible.
What Made Me Try It?
Back in June of 2022, I attended a wedding and wanted to straighten my hair for the first time in 6 years. I decided to get a Dominican blowout, which is when your hair is blow-dried straight and then flat-ironed without any heat protectant. All I remember seeing was the heat coming off of the blow dryer and thinking to myself "So stupid, why did I do this…why, why, why?" What was I thinking??? Instant regret. But wait, there's more!
A week later after the wedding, I wanted to keep my hair straight for another week, so I decided to get a silk press. If you're not familiar with a silk press, it's basically when your hair is blow-dried straight and then flat-ironed WITH a heat protectant.
The stylist used a flat iron that was way too hot and ended up burning my hair. I was devastated. The minute I washed my hair and saw that some of my curls remained straight, while others were dry, I knew I had to do something fast before the damage to my hair became irreparable.
That's when I started frantically searching for hair repair treatments and stumbled upon the K18 Leave in Repair Hair Mask Treatment.
What is K18?
K18 is a leave-in treatment mask that has been clinically shown to reverse damage in 4 minutes. The patented peptide technology in this product repairs damage from bleach, color, chemical services, and heat.
It will make your hair stronger, softer, smoother and add bounce. The thing that struck me the most was that it helps reconnect broken keratin chains in the hair! I hadn't seen or heard of anything like that before.
The treatment is often compared to the infamous product Olaplex Hair Perfector No. 3, which is similar in that it is a leave-in treatment, but doesn't do any repairing of the hair protein.
K18 Key Features
Pros
✓ Moisturizes hair like a leave-in conditioner
✓ Only 4 minutes to activate
✓ No rinsing required
✓ No conditioner needed
✓ Patented peptide technology sets it apart from standard hair masks
✓ Heals damage caused by bleach, color treatments, chemicals, and heat
✓ It restores suppleness, strength, and bounce to your hair
✓ Vegan, color-safe, cruelty-free
Cons
✖︎ Requires extra care when brushing your hair because it is applied to wet, unconditioned hair.
✖︎ $75 for a full bottle, it's a no-brainer that this product is a bit on the pricey side.
✖︎ A little bit of product comes out with one pump. (see image below)
How to Use
The K18 Leave-in-Repair Hair Mask Treatment is very easy to use. I would suggest using a clarifying shampoo to remove any products or build-up from your hair before using the treatment.
Important: Do not follow up with a conditioner as this product is meant to be used without it! This is due to the fact that the conditioner can coat the hair, preventing the peptide from fully penetrating it.
Not using a conditioner after a clarifying shampoo was a scary thought for me at first, but I promise you, just follow the instructions.
I was hesitant about not using a conditioner, and using the K18 treatment as a leave-in conditioner instead, but it made my hair feel significantly softer. I like how it is not heavy or does not change the weight of my hair.
Tip: To make your hair less tangly after shampooing, detangle it before washing, then part your hair in sections of two. Wash each section without a whole lot of moving your hair around, so it's not tangling.
After shampooing, simply apply the treatment to your damp hair. I like to leave it on for about a minute before using a wide-tooth comb to comb the product throughout my hair. This just allows the product to soften my hair a bit and makes it easier to comb through.
After the product is evenly distributed throughout your hair, scrunch it or squish it in.
Do not rinse it out.
After the full 4 minutes, simply apply your regular products and style as usual!
Levels of Heat Damage
Keep in mind that heat damage is irreversible. Your only option once your hair is damaged from heat is to cut off the dead ends and start over again.
There are three levels of damaged hair.
The first level is when your hair is slightly damaged. This is when you see split and thinner ends which include lifted cuticles, however, the cortex is not completely exposed. Your hair will feel dry and appear less shiny.
Level two hair has more serious damage. The cortex is more susceptible to damage because it is exposed and unprotected. In addition to split and thinner ends, you'll see hair that is frizzy, dull, and extremely dry.
The most severe damage is level three, which involves parts of the cuticles missing entirely. The cortex is exposed, therefore it becomes weaker, and hair is harsh and coarse. It tangles and knots easily, and hair breaks off as a result.
FAQs
Where to buy?
I purchased mine on Amazon and it's the same price as on their website.
How long does a bottle last?
Depending on density and hair length, one 0.5 oz. fluid bottle lasts one wash cycle.
Is K18 organic?
No, it is not organic, however, the brand claims that it's cruelty-free and free of silicone.
Why is there alcohol in the formula, won't that dry out your hair?
The alcohol in the product allows K18 to penetrate deeper into the hair. Also, they function to raise the cuticles so that the K18 peptide can penetrate to reach the broken polypeptide chains that are damaged or broken inside the innermost layers of the hair.
How often should this product be used?
When first using this product, it's recommended to use it for 4-6 washes in a row. Afterward, you can then use it every 2-4 washes, depending on your personal hair-washing habits.
Is it possible to get a silk press or blowout without damage?
Yes, you can have both healthy curls and a blowout without sacrificing your hair's integrity! It's all about the technique and finding a stylist who knows how to properly care for your hair.
The most important thing to remember is that you must use the proper heat protection when styling your hair. Taking a few more precautions will guarantee that your hair is in excellent condition before being exposed to high temperatures.
Can heat damage be reversed?
Once the protein bonds are broken and the hair cuticles are cracked, heat damage is irreversible. This exposes the inner cortex to all types of damage, making your hair weaker and less pliable.
When your hair lacks elasticity, it becomes more prone to breakage. If the strands are weak and fragile, they will snap off, resulting in flyaways.
The Final Verdict
As anyone who has ever had heat or chemical damage, it can really affect you. After using the K18 Leave-in-Repair Hair Mask Treatment.
Does it work? Yes and no. If you have minimal damage, it will work. But if your damage is severe, then no it will not work. It's better to cut off the damage.
I used the entire .5 oz bottle because of my long thick hair, which means that this product will not last long if you have hair like mine. In my opinion, the price is a little high for the amount of product you get.
It's not worth it to me, and just like any hair treatment, you have to keep using it to experience the benefits. While I did see a difference in the not-so-damaged areas of my hair, my ends were pretty much gone.
On the K18 website:
For chemically processed hair or damage from bleach + color:
| According to K18 | My Experience |
| --- | --- |
| You'll experience the most dramatic results | I did not experience the most dramatic results |
| Your hair should feel soft | Yes, this statement is true |
| Might have less breakage after coloring | Not sure, as I didn't use it after coloring my hair |
---
For heat-damaged hair:
| According to K18 | My Experience |
| --- | --- |
| Split ends may be less noticeable | Not sure about this as it's very hard to tell |
| Experience softer, smoother hair | Yes |
---
If you have questions that were not answered in this K18 review, please feel free to reach out and I'll be happy to answer them.