Last Updated on April 10, 2023 by Verna Meachum
When it comes to hair color, there are endless possibilities. If you're looking for a new look, why not try a different hair color?
Warmth is making a comeback this year, so whether you are a blonde, brunette, or red head, it is important to incorporate warm tones or curly hair highlights into your look.
Some of the latest trends include rich browns with seamless caramel highlights, subtle balayages, and natural copper reds or mahogany tones.
The best hair color for curly hair can vary depending on your skin tone and natural hair color.
If you're not sure what color to choose, we've got a few of the latest trends in curly hair color this year. So if you're looking to change up your look, these might be worth considering!
How to choose the best curly hair color: the latest trends
When it comes to hair color, there are so many choices available. How do you know which one is right for you?
Here are some tips on how to choose the best hair color for curly hair:
Consider your skin tone.
Choose a color that will enhance your curls.
The latest trends involve adding a mid-light (the color that ties the base color) into the highlighting technique, which will create a multi-dimensional and warmer look.
1. Auburn
Auburn hair started as a natural reddish-brown hue and can now be found on celebrities like Zendaya, who wore brown hair with shades ranging from deep red to strawberry blonde.
Chocolate brown hair with red undertones is becoming a more popular choice for people looking for a change.
Auburn hair can provide the perfect rich deep red color, with added radiance and richness. This curly hair color is perfect for this year!
Because of the natural pigment beneath, warmer shades require less care and are therefore more cost-effective.
This year, many people will turn to red shades for their curly hair. Red is a popular color and it isn't going anywhere anytime soon.
2. Chocolate Brown
Chocolate brown hair is one of this year's most popular colors for curly hair.
Chocolate brown is known for its rich, warm tone that flatters any skin tone.
Add chocolate brown as a touch of curly hair highlights or give it an all-over dye job; either way, you'll end up with a look that's bold and beautiful.
That said, keep in mind that you might need to visit your stylist more frequently to keep chocolate brown hair looking vibrant.
3. Rose Gold
Just because curly hair color has a high maintenance factor doesn't mean you can't have fun with it.
Light rose gold hair is an easy way to get attention this year, and it will also help your skin stand out more by bringing out whatever natural undertones you have.
A simple and subtle touch of something extra is all that's needed to create your own unique look.
Give it a try and thank me later.
4. Beige Blonde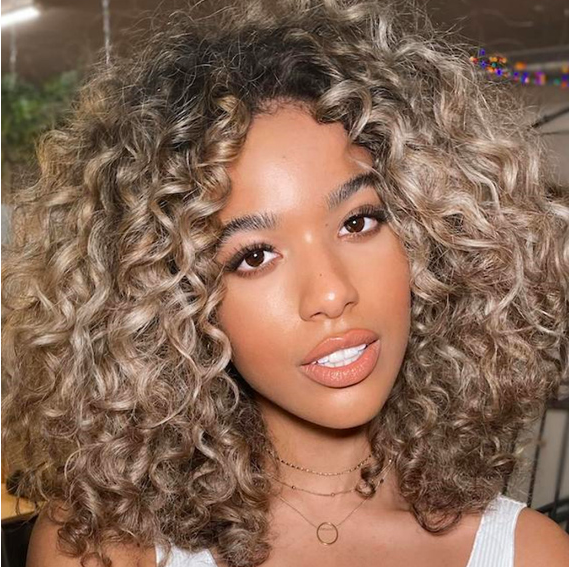 If you have naturally dark hair and are looking for a lighter hue, go with a beige blonde color.
This shade is a warm, golden tone that compliments any skin tone.
It's also great for those with naturally light hair who want to add some depth and dimension.
You can even try it on a balayage or ombre style for a more natural look.
Beige blonde is one of the most popular shades this year and it's easy to see why. Love this one!
5. Copper Red
This season, the hottest color for curly hair is red. This fiery shade will make your curls stand out from the crowd and will be sure to turn heads.
To maintain the intensity of the color, it is important to use a restorative mask regularly. This will help protect your hair and keep it looking vibrant.
If you have naturally dark brown, black hair, or even blonde hair and you're looking for a fun way to try out your new multidimensional curly hair color, copper-red is an exciting choice.
6. Silver Gray
The latest trends in hair color for curly hair include silver gray.
Over the past year, many women have chosen to let their grays grow in. This can be a big change for people, but it can be very empowering.
For a long time, the discussion has been about blondes and brunettes; who is better? While gray hair has been seen as an undesirable trait, it is now becoming more popular. This year, the hair world is shaking things up and making gray the star of the show!
To achieve this look, you will need to work closely with your stylist and expect it to be a bit involved.
Some tips to keep in mind are to schedule regular appointments and use a semi-permanent gloss to keep the gray from looking yellow.
This year, millions of women with all types of curly hairstyles will be sporting silvery tresses. These come in various shades and tones that look particularly gorgeous against any skin tone.
If you want to stay ahead of the trend that's sure to sweep through culture at large, embrace your natural curls with silver-gray curly hair dye.
7. Black Ombré
Black ombré can be quite classy and striking, although it may not flatter everyone. Who is it for then? If you have a natural dark hair color, you may try black fades into browns, reds or even blondes.
This isn't about strategically placed color streaks within ombré hair. Rather, black ombré hair is an entirely new style where one goes from black roots (or a very dark shade) to warmer tone tips.
Black ombré hair is edgy, cool and perfect for any curly who wants something different than what everyone else is wearing.
8. Lavender
Lavender hair is a popular choice for those who want to express themselves and have fun. Most people agree that it's mysterious, classy, and sophisticated!
It is a light shade of purple that can be adapted to suit various hair textures and types.
Lavender hair can be paired with different colors, making it a versatile style that is perfect for any occasion.
Whether you're looking to make a bold statement or simply want to change up your look, lavender hair is definitely worth considering. It's perfect for anyone who wants to experiment with their style and have some fun.
9. Burgundy
Burgundy is a great color option for anyone looking to make a statement with their hair. Whether you want a bright and vivid look or something more subdued, burgundy can be versatile and low-maintenance.
If you're looking for a change, try out some bright burgundy tones or go for a trendy balayage look with burgundy and brown hues. Whatever your preference, burgundy is sure to make your locks stand out!
It's one of a few curly hair colors that come close to black (but still kind of look like fire). It can seem intimidating at first—especially if you aren't used to extreme hair colors—but it looks great on nearly everyone!
If you want an idea of what's possible with burgundy hair, check out some celebrities who have done it before: Pharrell Williams, Madelaine Petsch, Kylie Jenner and even Ruby Rose.
10. Bronde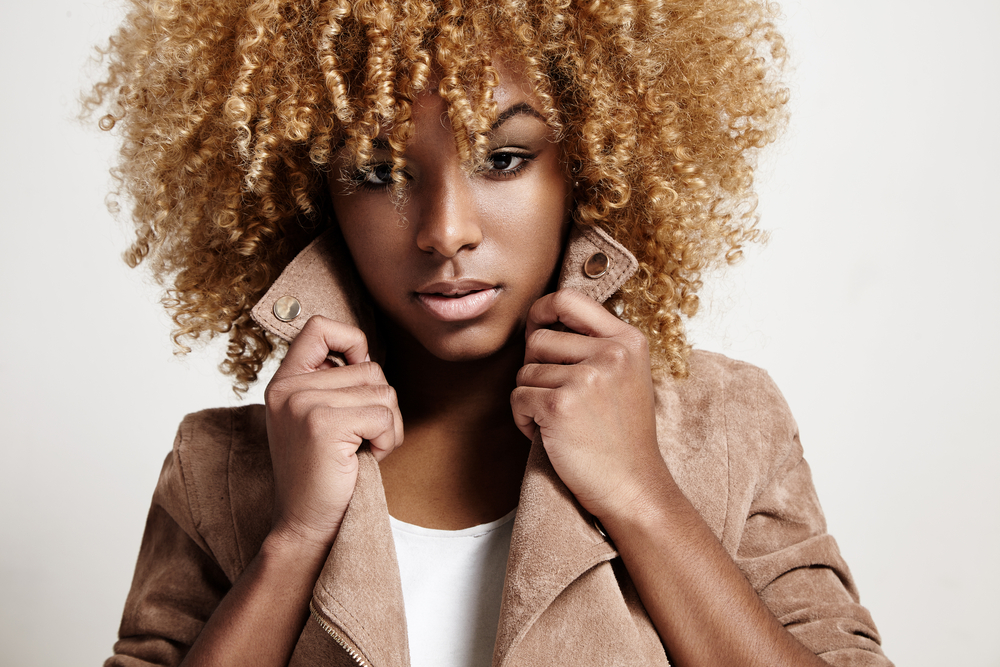 Celebrities with very different skin tones have been rocking a similar shade of hair lately—think Emma Stone, Jourdan Dunn, and Olivia Munn.
It's called bronde, or brown-blonde; think of it as a grown-up version of your high school roots.
If you already have light brown hair but want to go even lighter, consider baby lights or spring for balayage instead.
Anyone can pull off this curly hair dye.
11. Color Blocking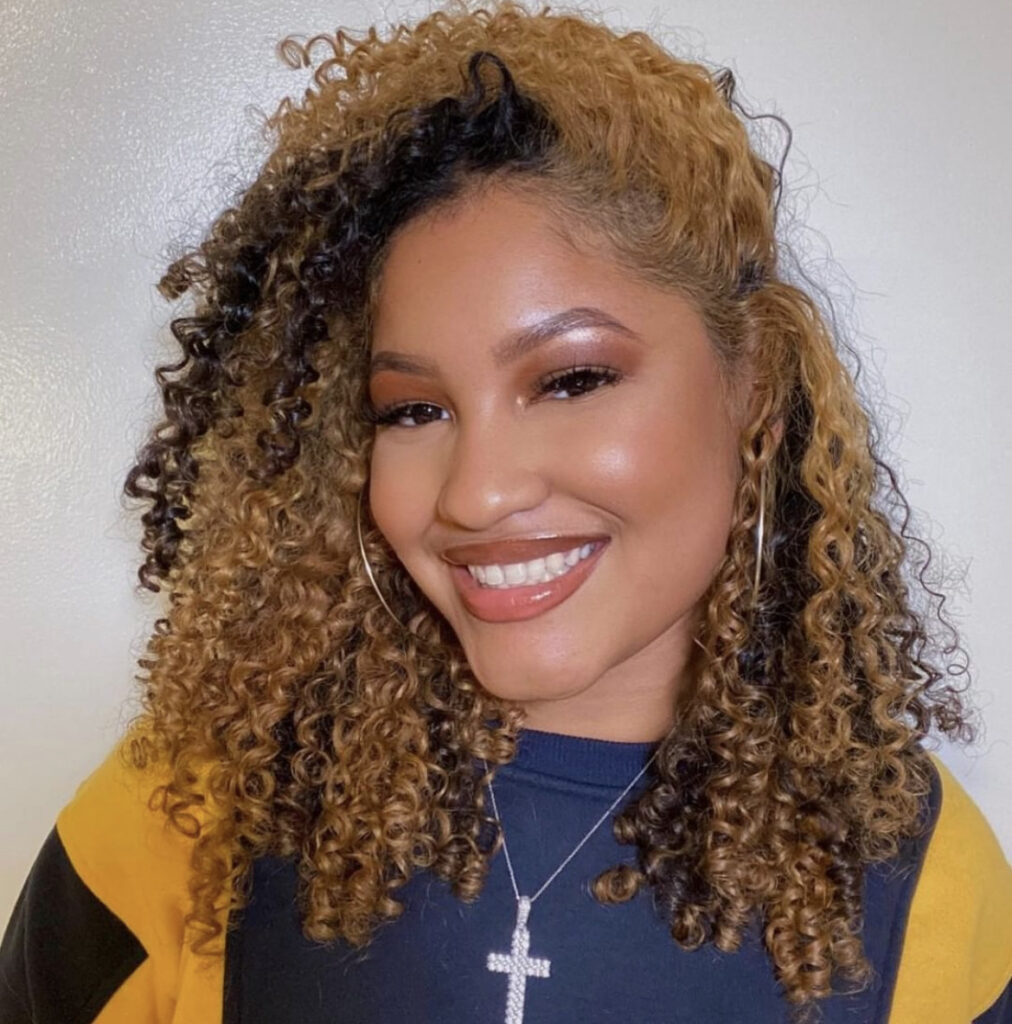 If you're looking to make a statement with your hair color, color blocking is becoming increasingly popular.
The technique of color-blocking your hair can be a fun way to add some personality to your mane. This involves coloring your hair in large blocks of one solid hue.
You can ask your hairdresser for a single section of color-blocked hair, or add a few different shades throughout, depending on how bold you want to go.
12. Hot Pink
When it comes to curly hair colors this year, bright and bold hues are going to be all the rage. One of them is hot pink!
It's been seen on everyone from Cardi B to Ariana Grande and it's not going away anytime soon.
If you're feeling daring, hot pink is the perfect way to show off your personality and make a statement.
FAQs
How often should you cut your hair if you color it?
If you don't do anything to your hair, you can probably get away with a haircut every 12 weeks. If you often dye, heat style, or chemically process your hair, though, you'll likely need to go half that amount.
If you color your hair, there is no definitive answer to this question, as the optimal hair-cutting schedule will vary from person to person depending on a number of factors. Some people may find that it is necessary to get their hair cut more frequently when they color it, while others may only need to trim their locks every few months or so.
One factor that can affect how often you need to cut your colored hair is the type of dye or color treatment you use. Some products can be quite harsh on the hair, causing it to become dry and brittle over time, which can lead to more frequent hair cuts.
On the other hand, gentler color treatments may not affect your hair as much and allow you to go for longer periods without needing a trim.
Another important factor is the condition of your hair prior to coloring it. If your hair is already in poor health due to damage or breakage, it may need more frequent haircuts to keep it looking and feeling healthy.
On the other hand, if your hair is in good condition before you color it, you may be able to go for a longer period of time between cuts without any noticeable deterioration in its appearance or feel.
Ultimately, there is no right or wrong answer when it comes to how often you should cut your colored hair. Some people may need to trim their locks more frequently than others, and there are many different factors that can influence this.
By experimenting with different cutting schedules and paying attention to the condition of your hair over time, you should be able to determine what works best for you and your personal hair care needs.
Wrap-Up
We rounded up the trendiest curly hair colors to try this season. From auburn to blonde to pink, these colors are sure make your curls pop!
If you're looking to update your hair color this year, there are plenty of options and curly hair highlights you can choose from.
Let us know what color you've been eyeing in the comments below.