Last Updated on August 15, 2023 by Verna Meachum
If you have curly hair, you've undoubtedly had to deal with broken, stretched out, wonky hair ties at some point in your life. It's time to put an end to that nonsense!
If you are also searching for creative ways to hold your hair back without the crease or kink left behind by traditional hair ties, look no further than TELETIES Hair Ties!
When I first saw the TELETIES, I have to admit that I was a bit dubious. My initial thought was, there's no way I'm going to use it because I thought they would get all tangled up in my hair, and then I'd spend forever trying to untangle them.
They looked very similar to the invisibobble, and I wasn't sure if they would really be any better.
However, I decided to give them a try, and post my review!
What Are TELETIES Hair Ties?
TELETIES are spiral-shaped hair ties constructed of durable Thermoplastic Polyurethane material. that allows hair to effortlessly slip through. As a result, when you go to remove your Teletie, your hair comes out easily as well – no more tugging and yanking!
It is a woman-owned company and is a certified Women's Business Enterprise. How fabulous is that! The company was started by Lindsay, and like many of us, she found herself constantly frustrated with traditional hair ties. So, she set out to create a better hair tie, one that wouldn't constantly fall out and would be comfortable.
Because of their coiled shaped design, it means that they're perfect for all hair types and textures. TELETIES are different and are a gentle alternative to traditional hair ties, thanks to their unique design of putting less pressure on your strands.
TELETIES vs Traditional Hair Ties: How Are They Different?
Let's get one thing clear right away: if you regularly wear a tight ponytail or bun, you're going to have some creases and dents. You may also suffer from a headache at the end of the day. That's just a given.
Wearing tight hairstyles is not good for the follicles or the scalp, no matter what type of hair tie you use. Overtime, this can lead to traction alopecia or hair loss. So, the TELETIES are perfect for you if you are looking for a hair tie that will not damage your hair.
But, if you are like me and tend to wear your hair down or in loose styles, the TELETIES are an excellent alternative to traditional hair ties!
Here are some of the key differences between the teleties and traditional hair ties:
Teleties vs Traditional Hair Ties
TELETIES
The teletie is much more gentle on the hair, which means no more breakage or damaged hair!
More comfortable to wear, thanks to its spiral shape that contours to your hair.
It doesn't leave behind any creases or kinks in the hair, even when worn for long periods of time.
Perfect for all hair types and textures, from thin and fine hair to thick and curly hair!
Made of Thermoplastic Polyurethane material that won't absorb moisture and cause germs or bacteria. They're also a lot easier to keep clean – simply use a damp paper towel to wipe them down.
They will not get damp or wet, so they're perfect to use during your workouts and even in the pool!
They have a smooth surface that won't catch, pull, or tug at the hair.
Designed to stay in place, even when you're sweating.
Come in a variety of colors and styles, and they're really affordable.
TRADITIONAL HAIR TIES
They are often made of elastic, cotton, or rubber.
Can lead to headaches and breakage as it pulls on your hair.
They are at times uncomfortable and lose its shape quickly.
They break, stretch out, rip, and tangle your hair.
Being made of fabric and elastic, may carry germs and even mold and mildew if they are not properly cleaned.
Not ideal to be worn in pools.
Can slip out of your hair or may fall out of place.
Wearing around your wrist can leave dents.
Can cause hair to frizz or fray.
Not durable.
Easily breaks.
Can put stress on your strands.
Lastly, if you find yourself constantly readjusting your hair throughout the day, or constantly having to put your hair tie back in place, TELETIES might be for you.
My Experience
For those of us who are familiar with the thick, black, drug store elastic hair ties, you're familiar with the common issues that come with using them. They would leave creases and dents in my hair. And after a few uses they become loose, stretched out, and eventually break.
I was recently introduced to TELETIES, and I was really curious to see if they would be any different. Spoiler alert: they are! I was really surprised by how much more gentle they were on my hair. I didn't have any breakage nor did my hair get tangled.
They are really comfortable to wear, and I don't even notice or feel them in my hair. And because they don't leave any creases or kinks, my hair always looks great, even after wearing them all day long.
The real test was when I wore them during my workouts. I have really thick curly hair, and it can be a real pain to have a hair tie break or fall out in the middle of my workout. But with TELETIES, I don't have to worry about that anymore! They stay in place, even when I'm sweating, which is a huge plus!
They also don't give me a headache like some other hair ties do. Overall, I'm really happy with them and would definitely recommend them to anyone looking for a good hair tie. I'm definitely a TELETIES convert!
Ordering TELETIES
TELETIES are available in a variety of colors and styles, and they're really affordable. You can order them directly from the website or amazon.
Size Guide
Here's a quick guide:
Tiny: If you have fine thin hair, or need something for the kiddos, order this one. You can also use them for put your hair in a top knot, braids, and think about securing your bantu knots with them. Measurement: 2.5 cm wide and 0.5 cm thick.
Small: This size will work great for thin to medium thick hair. Measurement: 4.5cm wide and 0.5cm thick.
Large: These have a stronger grip and wider circumference to envelop all of your hair inside of it. If you have thick hair, or want to use them for a low ponytail or bun, order the large. You can also use them for braids or twists. Measurement: 6.5 cm wide and 1 cm thick.
Mix pack: You will get small and large with this mix pack. This is a great option if you are unsure of what size you need or have multiple people in your family with different hair types.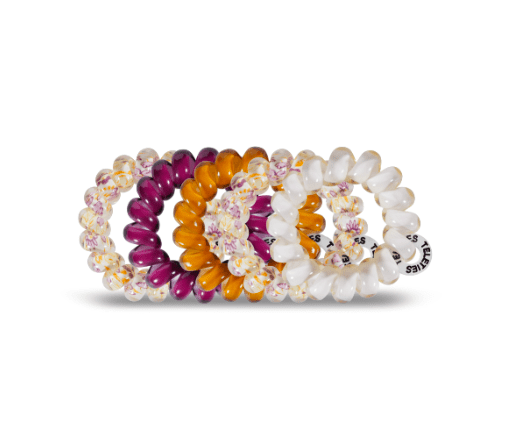 Still not sure what size to order? Check out the TELETIES size quiz to ensure you order the right size for your hair type!
Other products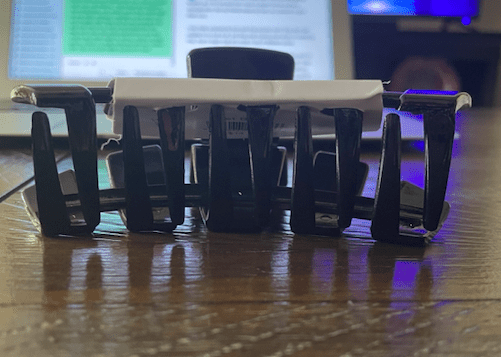 They have hair clips in various sizes. What I love about this one is that it is nothing like the traditional plastic claw clips that easily break.
These are gentle on the hair and are BENDABLE! They work on all hair types and have a strong hold.
Also available is the TELETIES headband. It has a no-slip rubber stopper that will keep your hairstyle in place. The headband is really comfortable to wear and doesn't give me a headache like some other headbands.
How to Use TELETIES
Teleties are really easy to use. Just follow the instructions on the packaging, or via their website (lots of great tips there).
Basically, you just loop the hair tie around your hair (as you would with the traditional elastic hair tie), and then pull the ends through the hole in the center. That's it!
They stay in place all day, and you can even wear them to bed.
Uses for TELETIES
I think TELETIES are great for anyone with any type of hair. Use them as bracelets, or to keep your hair out of your face. You can also use them to jazz up a simple hairstyle.
I've seen people use them to make all sorts of different hairstyles, including:
The possibilities are really endless! Play around with them and see what style works best for you!
As with any hair tie you use, these will stretch out as you wear them, but a quick fix for that is to put them in hot water to make them shrink back to its original size.
TELETIES vs Invisibobble
Teleties and Invisibobble are both hair ties that claim to be gentler on your hair than traditional elastic ties.
Both brands use a coiled design that is supposed to reduce the risk of breakage and damage. So, how do they differ?
Well, TELETIES are made with a Thermoplastic Polyurethane (TPU) material that is designed to grip hair without pulling or tugging. They come in a variety of colors and sizes, and can be worn as bracelets when not in use. Best of all, all products are BPA and phthalate free!
The spiral is yet another variation on the phone cord hair ties. They stay tighter for longer, don't pull at strands of hair when removing each tie, and don't leave dents or creases in hair. They also have individualized sizes, designs, themes, and colors to fit any hair type or style.
Although the TELETIES are a little on the pricey side, I have no issue splurging on a quality product that will last longer and that will not break my hair.
Invisibobbles, on the other hand, are made from a polyurethane material, also known as artificial resin. They're also available in a range of colors, but their coils are less flexible, which some users find to be less comfortable.
Ultimately, both brands offer a similar product, but it's up to you to decide which one is right for you.
What others are saying about TELETIES
These TELETIES spiral hair ties are highly recommended by customers. Users on Amazon love them! They have fun prints, like zebra, leopard, giraffe, tortoise, and zebra, as well as different themes. For a fashionable statement, wear the hair ties on your wrist as a bracelet when you're not using them in your hair.
Buyers say these hair ties hold up well, don't tangle hair, and are comfortable to wear. One reviewer with fine hair says she's tried lots of different types of hair ties, but these are the only ones that don't leave a crease in her hair.
Others say these are much better for your hair than traditional elastic hair ties, and that they don't pull or tug at hair.
Whether you have fine, thick, curly, or straight hair, these TELETIES spiral hair ties are definitely worth trying out!
Teleties have an impressive 4.7-star rating overall on Amazon with over 2,000 reviews!
FAQs
Are TELETIES worth it?
Absolutely! These hair ties are much better for your hair than traditional elastic ties. They don't pull or tug at hair, and they don't leave dents or creases in your hair.
Do TELETIES shrink back?
Yes, they do! Just put them in hot water and they will shrink back to their original size.
Can TELETIES get wet?
Yes, they can! They're made from a durable plastic material that is designed to grip hair without pulling or tugging.
Do TELETIES headbands stay in place?
Yes, they do! They have a comfortable, soft grip that will keep them in place all day long.
Please note, that they will need to be replaced after a few wears.
How many times should I wrap my hair tie?
It depends on the thickness of your hair. For thin hair, you should wrap it around 2-3 times. For thick hair, you should wrap it around less.
Conclusion
TELETIES Hair Ties are innovative and perfect for keeping your hair out of your face while you work out, play sports, or just hang out.
Made from a unique material that grips hair without pulling or damaging it, TELETIES are the perfect solution for active folks (or not) who want to keep their hair looking great.
And they come in a variety of fun colors and designs, so you can express your personal style.
So go ahead and put your hair up in a ponytail or bun, and don't let anything get in your way!